Political Headlines – grammar school, Brexit, Ministry of Defence and Leave.EU's breach of election law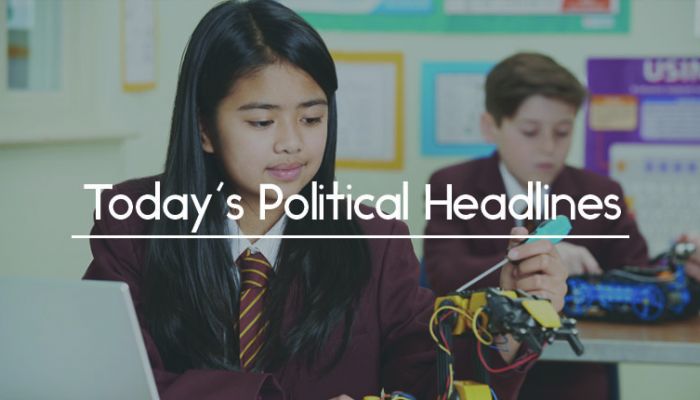 Today's Political Headlines include grammar school expansion, May's two Brexit groups, Ministry of Defence spending plans and Leave.EU's breach of election law. 
Government announces funding for grammar school expansion
The Daily Telegraph reports that Damian Hinds, the Education Secretary, will announce today a £50m Selective Schools Expansion Fund, allowing grammar schools to create up to 16,000 extra places over the next four years. He told the paper that grammar schools will be allowed to set lower pass marks in their entrance exams for disadvantaged children and that he was making money available to create new Voluntary Aided faith schools.
May divides Brexit sub-committee into two customs working groups
The Times reports that Theresa May has divided her Brexit cabinet sub-committee into two groups: one working on her favoured customs partnership plans, and one working on the 'max-fac' plan favoured by Brexiteers. The Financial Times adds that the Prime Minister has postponed Brexit legislation over fears that she could be defeated and does not expect a breakthrough on customs and border issues next week. The Guardian says that Labour backbenchers are keeping up their fight for Jeremy Corbyn to reconsider his opposition to EEA membership, as new polling shows majority support for a vote on the deal.
Ministry of Defence spending plans criticised by MPs
The BBC says that the House of Commons Public Accounts Committee has criticised the Ministry of Defence's spending plans for being unrealistic, warning that they could be more than £20bn over budget. The Ministry of Defence claimed that MPs were highlighting an 'unlikely worst-case scenario'. According to the Financial Times, Labour leader Jeremy Corbyn is to call for foreign companies to be blocked from a £1bn Royal Navy contract, which the paper warns 'could push up costs for the stretched Ministry of Defence'.
Leave.EU fined for breaching election law
The BBC reports that Leave.EU has been fined £70,000 for breaching election law during the referendum on EU membership. The group failed to report at least £77,380 it spent and a senior figure has been referred to the police. Co-founder Arron Banks has claimed that this is a 'politically motivated attack'.
Blair called on to apologise for rendition of dissident to Libya
The Times says that Tony Blair is being called on to apologise for the rendition to Libya of Abdul Hakim Belhaj, an opponent of the Gaddafi regime, and Fatima Boudchar, his pregnant wife, in 2014. Yesterday, Theresa May formally apologised to the couple as part of an out-of-court settlement.
MPs to debate votes at 16
The Daily Mail reports that MPs will debate a bill put forward by Labour MP Peter Kyle this morning, which would lower the voting age to 16 and put a polling station in every school. The paper reports that a growing number of Conservative MPs support the measure, with British Youth Council figures showing it has the backing of at least 314 out of 650 MPs.
Hunt and Hammond arguing about NHS budget increase
According to The Guardian, Health Secretary Jeremy Hunt and Chancellor Philip Hammond are in dispute over a funding increase for the NHS. Hunt wants the NHS budget to grow by at least £5.2bn a year but Hammond favours an increase of around £3.25bn. The Prime Minister is expected to announce an increase around 7 July, the NHS's 70th birthday.
Prime Minister 'blasted' by Grenfell families
The Daily Mirror says that families of those who died in the fire at Grenfell Tower have 'blasted' the Prime Minister following a meeting. The relatives want new members to be added to the panel leading the public inquiry, with a petition on the topic to be debated by MPs on Monday. However, Theresa May refused to commit herself either way in the meeting.
Do you need Vuelio political services? 
https://www.vuelio.com/uk/wp-content/uploads/2018/05/Grammar-School.jpg
430
760
Thomas Stevenson
https://www.vuelio.com/uk/wp-content/uploads/2019/09/vuelio-logo.png
Thomas Stevenson
2018-05-11 08:28:40
2018-05-11 08:28:40
Political Headlines - grammar school, Brexit, Ministry of Defence and Leave.EU's breach of election law