Political Headlines – Hammond, Salmond, Brexit and Berger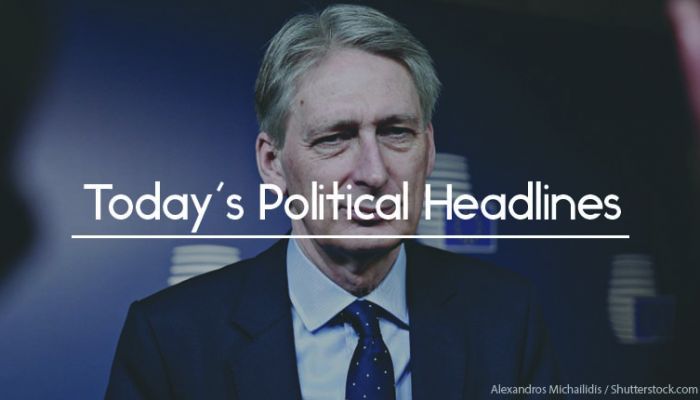 Today's Political Headlines include Hammond's no-deal warnings, Salmond accused of sexual assault, the no-deal Brexit papers and Luciana Berger feeling unwelcome in Labour as a Jew. 
Hammond warns of 'large fiscal consequences' of no-deal
According to The Daily Telegraph, Philip Hammond has been accused of undermining the Government's Brexit strategy by warning that a no-deal Brexit would have 'large fiscal consequences' for the UK in a letter which he wrote to the Commons Treasury Committee. The letter did not receive approval from Downing Street and the paper claims that it has been 'infuriated' by Hammond's intervention.
Salmond accused of sexual assault
The Daily Record says that former Scottish First Minister Alex Salmond has been reported to police over historic allegations of sexual assault, dating from his time in the role. Salmond denies the allegations and has launched legal action against the Scottish Government, claiming that its Permanent Secretary 'is behaving unlawfully in the application of a complaints procedure, introduced by her more than three years after I left office.'
Government publishes no-deal Brexit papers
The Times reports that the 24 technical papers outlining what would happen in the event of a no-deal Brexit published by the Government yesterday would increase bureaucracy, impede access to medicines and increase credit and debit card charges for holidaymakers.
Berger claims that Corbyn comments make her feel 'unwelcome' in Labour as a Jew
The Daily Mail reports that Labour MP Luciana Berger has attacked Jeremy Corbyn after footage emerged of him claiming that British Zionists 'don't understand English irony' despite 'having lived in this country for a long time, probably all their lives'. Berger said that the comments made her 'as a proud British Jew feel unwelcome in my own party'. Jewish Chronicle editor Stephen Pollard said that the recording showed that Corbyn thought Jews were 'somehow a breed apart from 'normal' English people'.
Tories block Arron Banks from joining party
The Guardian reports that the Conservatives have blocked an attempt by Leave.EU founder Arron Banks and Andy Wigmore, his business partner, to join the party. They claimed that they had joined the party to have their say in a leadership contest which they believe will happen shortly, arguing 'that the battle for Brexit is now within the Conservative party'.
Corbyn accused of 'hypocrisy' over BBC class plans
According to The Daily Telegraph, Jeremy Corbyn has been accused of hypocrisy after he urged the BBC to publish data on its journalists' class, despite the fact that much of his team went to independent schools. The Daily Mirror lists Corbyn's seven 'most radical ideas to shake up the media', including a digital licence fee, journalists electing editors and a state-owned version of Facebook.
Starmer slaps down Gardiner over second referendum claims
The Daily Mirror claims that Shadow Brexit Secretary Sir Keir Starmer has 'slapped down' Shadow International Trade Secretary Barry Gardiner for suggesting that a second referendum on Brexit might cause 'civil disobedience' and give 'succour to the extreme right'. While he refused to back another referendum, Starmer said that 'all options should be on the table'.
Gibb fails to explain new GCSE grading system
The Sun reports that Schools Minister Nick Gibb failed to explain the new GCSE grading system in an interview yesterday, telling LBC's Nick Ferrari that grade 8 is the 'midway point between grades 7 and 9'. Later, he refused to answer a maths question posed to him by TalkRadio's James Max, claiming that he'd been told 'not to answer them'.
Worried what the future holds for Brexit? Vuelio Political Services can keep you in the know.  
https://www.vuelio.com/uk/wp-content/uploads/2018/08/Philip-Hammond-2.jpg
430
760
Thomas Stevenson
https://www.vuelio.com/uk/wp-content/uploads/2019/09/vuelio-logo.png
Thomas Stevenson
2018-08-24 09:42:00
2018-08-24 09:42:00
Political Headlines - Hammond, Salmond, Brexit and Berger