Political Headlines – May in Africa, Macron on Brexit and plastic bag tax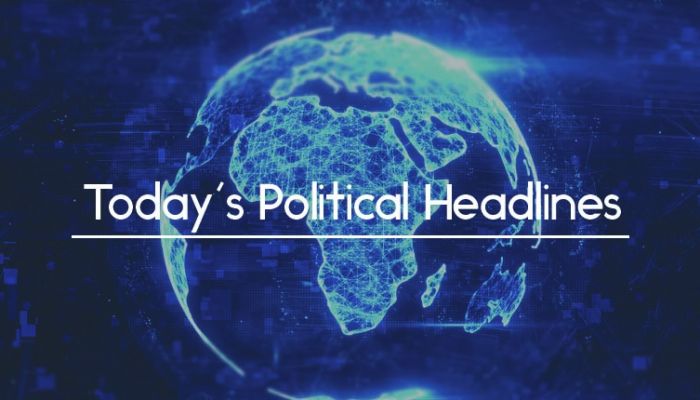 Today's Political Headlines include May's plan to increase investment via the private sector in Africa, Macron turning down the appeal for Brexit help, Treasury opposes plan to double plastic bag charge and Corbyn distances himself from plan to punish vexatious antisemitism complaints. 
May to announce plans to increase investment in Africa
The BBC says that Theresa May will use a visit to South Africa today to reveal plans to increase the UK's investment in Africa following Brexit. She will set a target of becoming the G7's largest investor in the continent by 2022, adopting an 'ambitious new approach' to aid by 'unleashing the entrepreneurial spirit' of the private sector. Her three-day trade mission will also see her visit Nigeria and Kenya.
Macron turns down appeal for Brexit help
The Times reports that French President Emmanuel Macron has turned down an appeal for help to break the deadlock in Brexit negotiations from Theresa May. He used a speech to warn that Brexit 'cannot come at the expense of the European Union's integrity', although France does want 'to maintain a strong, special relationship' with the UK. The Guardian adds that Theresa May has said that a no-deal Brexit 'wouldn't be the end of the world' and that the Government 'can make a success of it'.
Treasury opposes plan to double plastic bag charge
According to The Daily Telegraph, the Treasury is opposing Theresa May's plan to increase the tax on plastic bags to 10p, with a senior source telling the paper that it 'looks like profiteering' and that 'consumers don't want to feel like they are being hammered with more taxes on the cost of everyday living'.
Corbyn distances himself from plan to punish 'vexatious' antisemitism complaints
The Times says that Jeremy Corbyn is distancing himself from claims that Labour would penalise those it thinks have made 'vexatious' antisemitism allegations for 'factional' reasons. The claim was made by The Skwawkbox, a website with close ties to Corbyn's team, but a party spokesman described it as 'inaccurate'.
Immigration rules doubled in length since 2010
The Guardian reports that over 5,700 changes have been made to immigration rules since 2010, causing them to double in length to almost 375,000 words. Lord Justice Irwin has described this as 'something of a disgrace' and the Law Commission is currently working on a review of the rules.
Thinktank calls for more use of stop and search
The Daily Mail carries details of a new report by Iain Duncan Smith's Centre for Social Justice, which calls for a dramatic increase in the use of stop and search in order to tackle increasing violence driven by drugs gangs. Duncan Smith claims that this would help 'the poorest communities in our country'.
Taxpayers funded non-disclosure agreement between MP and his aide
The Daily Telegraph says that the taxpayer has funded the cost of a non-disclosure agreement between Khalid Mahmood and his parliamentary assistant and former lover Elaina Cohen, who is Jewish, after she accused him of religious discrimination at an employment tribunal. The cost was covered by insurance funded as part of the expenses system.
Watson calls for investigation into Russian interference during Brexit vote
The Guardian reports that Shadow Digital, Culture, Media and Sport Secretary Tom Watson has called on the Government to confirm where the National Crime Agency is investigating Russian interference with the leave campaign during the EU membership referendum. He suggested that the vote may have been 'stolen' and called for a full public inquiry.
Is more investment an opportunity for you? See the bigger picture with Vuelio Political Services.  
https://www.vuelio.com/uk/wp-content/uploads/2018/08/Africa.jpg
430
760
Thomas Stevenson
https://www.vuelio.com/uk/wp-content/uploads/2019/09/vuelio-logo.png
Thomas Stevenson
2018-08-28 09:49:46
2018-08-28 09:49:46
Political Headlines - May in Africa, Macron on Brexit and plastic bag tax