Political Headlines – Johnson's immigration system and social care bosses warn that services may be cut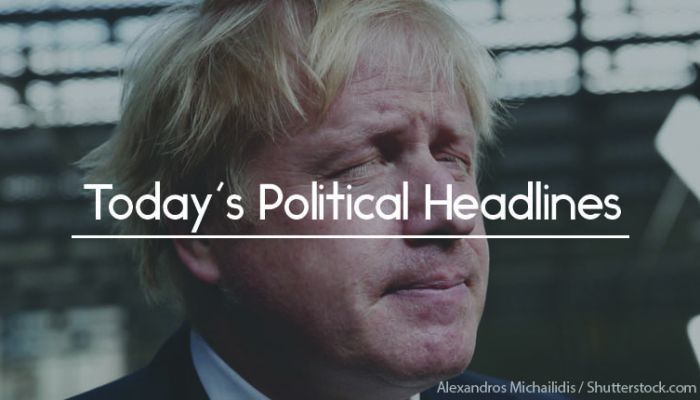 Today's political headlines includes Johnson pledging Australian-style immigration system, social care bosses warn that services may be cut, new plan to block n0-deal Brexit and pro-cannabis Tory group is funded by cannabis manufacturers. 
Johnson pledges Australian-style immigration system
According to The Daily Telegraph, Boris Johnson has promised that he will bring in an Australian-style points-based immigration system in order to restore 'public faith'. Migrants won't be allowed to 'cut ahead in the queue' by taking jobs which could be done by British workers and won't be entitled to benefits when they first arrive in the UK. He also called for the country to be 'much more open' to highly-skilled immigrants, but didn't say what his immigration target would be as he wanted to consult the Migration Advisory Committee.
Social care bosses warn that services may be cut
The Guardian carries details of the Association of Directors of Adult Social Services' annual survey, which warns that the social care system is 'not only failing financially, it is failing people', putting them at risk of being denied basic support. Without urgent funding guarantees, local authorities might have to start decommissioning services this autumn. The association is calling for an urgent cross-party agreement.
New plan to block no-deal Brexit
The Times says that Dominic Grieve and Margaret Beckett are putting forward a plan to block Government spending if the new Prime Minister attempts a no-deal Brexit without Parliament's approval. The move, expected to be backed by Labour in Tuesday's vote, would make approval of the latest 'estimates' (Government expenditure) on policies including schools, benefits and aid contingent on MPs approving either a deal or no-deal.
Pro-cannabis Tory group is funded by cannabis manufacturers
The Daily Mail reports that a new pro-cannabis legalisation group, the Conservative Drug Policy Reform Group, is to launch today, chaired by the MP Crispin Blunt. The group, which is not affiliated to the party, has received £400,000 from firms which sell cannabis for recreational and medicinal use in Canada and the USA.
Johnson plans to turn on the 'spending taps' with Javid as Chancellor
The Financial Times says that Sajid Javid is emerging as Boris Johnson's 'favoured choice' of Chancellor, as he has worked at the Treasury before and has links to the City. A source close to the Johnson campaign told the paper that Johnson 'really is planning to turn on the spending taps'.
Hunt pledges to protect pensioners' free TV licence
The Daily Mirror claims that a new poll shows that 85% of senior citizens would refuse to pay for a TV licence if they lose their entitlement to a free one. Jeremy Hunt has said that he would protect the benefit if he is elected, expressing concern that failing to do so 'would be against our manifesto'.
Williamson readmitted by Labour
The Guardian says the Labour Party has readmitted the MP Chris Williamson, who had been suspended after he claimed that it was 'too apologetic' about antisemitism. Other MPs have expressed their displeasure, with Ruth Smeeth saying that she was 'horrified' while Jess Phillips claimed to be 'disgusted'. Party investigators had recommended tougher sanctions, but were over-ruled by a panel which included MPs Keith Vaz and George Howarth.
Party conference recess may be scrapped
According to The Sun, talks are underway to axe the parliamentary recess for the party conferences in late September and early October. A Eurosceptic claimed that the move would to give 'MPs more time to stop us leaving', but a senior Tory told the paper that the new Prime Minister would need more time to get a deal through Parliament.
Keeping up with the race to be PM or need intelligence beyond the headlines? Vuelio Political Services.  
https://www.vuelio.com/uk/wp-content/uploads/2018/09/Boris-Johnson-eyes.jpg
430
760
Thomas Stevenson
https://www.vuelio.com/uk/wp-content/uploads/2019/09/vuelio-logo.png
Thomas Stevenson
2019-06-27 10:02:01
2019-06-27 10:02:01
Political Headlines - Johnson's immigration system and social care bosses warn that services may be cut