Political Headlines – Johnson's latest campaign activity and the Salisbury attackers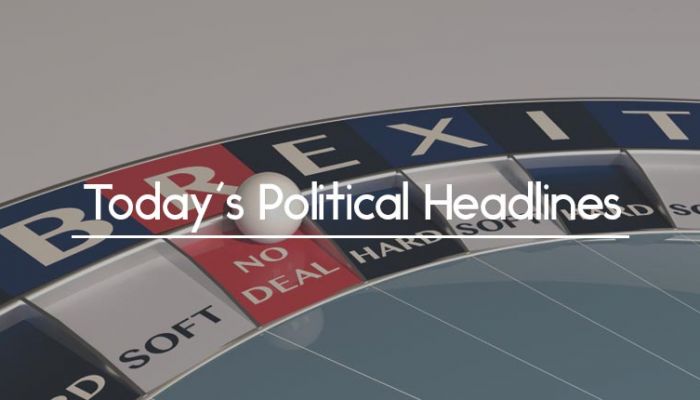 Today's political headlines includes Johnson's no-deal Brexit budget, BBC censoring Johnson calling the French turds, May to urge Putin to hand over Salisbury attackers and Verhofdtadt attacks Johnson's false promises. 
Johnson plans no-deal Brexit budget
According to The Times, Boris Johnson is preparing an emergency budget for a no-deal Brexit, including tax cuts, reforms to stamp duty and cutting regulation. He reportedly offered Sajid Javid the role of Chancellor at the weekend, with Javid expected to endorse him in the next fortnight. Johnson's budget plans will be discussed next week at a meeting chaired by Sir Edward Lister, who is planning Johnson's first 100 days as Prime Minister.
BBC censored Johnson calling the French 'turds'
The Daily Mail claims that the BBC covered-up Boris Johnson accusing the French of being 'turds' about Brexit after the Foreign Office requested that it be removed from a fly-on-the-wall documentary. A Government memo said that broadcasting the remark would have made relations between the two countries 'awkward', while senior diplomats claimed that it would have made reaching a good Brexit deal even harder.
May to urge Putin to hand over Salisbury attackers
The Daily Telegraph says that Theresa May will use a meeting with Vladimir Putin at today's G20 summit in Japan to urge him to hand over the suspected Salisbury attackers so that they can be 'brought to justice'. She will also call on Russia to stop undermining 'our collective security'. The Russian President has given an interview to the Financial Times in which he claimed that 'the liberal idea has become obsolete' but expressed hope that 'a few preliminary steps' could be made in restoring relations between the countries.
Verhofstadt attacks Johnson's 'false promises'
Writing in The Guardian, the European Parliament's Brexit co-ordinator, Guy Verhofstadt, attacks Boris Johnson's 'false promises, pseudo-patriotism and foreigner-bashing', saying his claims showed that he is 'a man who continues to dissemble, exaggerate and disinform'.
Johnson refuses to rule out proroguing Parliament, says ministers must support no-deal
The Times says Boris Johnson has refused to rule out proroguing Parliament to enable a no-deal Brexit, despite his ally Liz Truss having claimed that Johnson had ruled it out. Johnson has also said that he will only appoint Cabinet ministers who are 'reconciled' to the idea of a no-deal Brexit, suggesting that he might be able to win round some opponents, such as Amber Rudd. He will today promise a 'bold vision to rejuvenate our high streets'.
Leaked Home Office report criticises hostile environment policy
The Guardian says that a leaked version of a report into the causes of the Windrush scandal, commissioned by the Home Office, says that the department failed to follow its legal duty to counter racial discrimination when it implemented the hostile environment policy. The report says that the Home Office's failure to effectively evaluate its policies' effectiveness was 'particularly reckless' and recommends making an 'unqualified apology'.
Vaz calls for Williamson decision to be reconsidered
The Daily Mirror reports that Labour MP Keith Vaz has called for the party's decision to readmit Chris Williamson to be 'reconsidered', despite the fact that he sat on the panel which made the decision and voted for it, overruling the recommendations of party staff. He argues that as details of the meeting were leaked, the decisions it made 'cannot stand'.
Government plans 'fat tax' on milkshakes
In an exclusive, The Sun reports that the Government is planning a 'fat tax' by extending the 'sugar tax' to 'sugary milk drinks' such as milkshakes unless manufacturers improve their recipes. The proposal is contained in a new green paper on improving children's health and air quality and was apparently inserted by Number 10.
Get meaningful political intelligence with Vuelio Political Services.  
https://www.vuelio.com/uk/wp-content/uploads/2018/11/Brexit-roulette.jpg
430
760
Thomas Stevenson
https://www.vuelio.com/uk/wp-content/uploads/2019/09/vuelio-logo.png
Thomas Stevenson
2019-06-28 09:31:10
2019-06-28 09:31:10
Political Headlines - Johnson's latest campaign activity and the Salisbury attackers