Political Headlines – Labour moves towards Brexit compromise and Independent Group makes Umunna spokesperson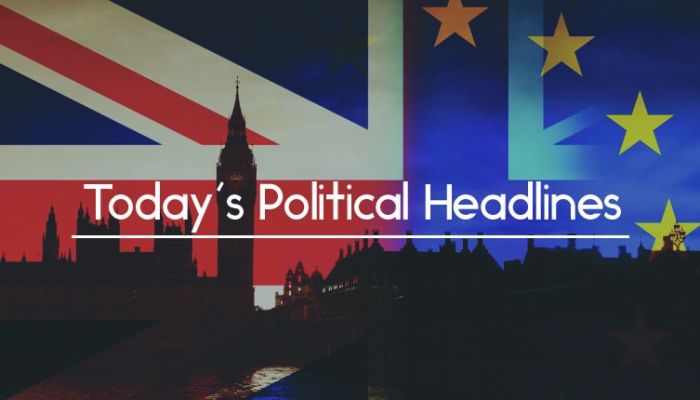 Today's political headlines include Labour's plans to compromise on Brexit votes, Umunna named spokesperson of the Independent Group and NHS to scrap A&E target. 
Labour moves towards Brexit referendum compromise plan
The Guardian says that the Labour Party is 'moving towards a compromise plan' under which it would abstain on Theresa May's Brexit deal, allowing it to pass through Parliament, but would back an amendment put forward by Peter Kyle and Phil Wilson 'withholding support' from the deal until it had been voted on by the public. Kyle claims to have 'every reason to believe' that Parliament will vote for his proposal.
Independent Group makes Umunna spokesperson
The BBC reports that the Independent Group of MPs has appointed Chukka Umunna as its lead spokesperson, while Sarah Wollaston has been given responsibility for 'new colleagues'. Each member of the group has been allocated a group of policy areas on which they will lead. Umunna said that these drew on 'the talents and experiences of our group'.
NHS to scrap A & E four hour target
The Times says that NHS England wishes to axe the target for hospitals to treat A&E patients within four hours because it leads to the system being gamed, rather than the best care being provided. New targets, focused on those requiring a hospital bed rather than those with minor injuries, will be piloted in the spring.
Tory Brexiteers prepared to back deal if May announces plan to quit
According to The Sun, Brexiteer MPs have told the Prime Minister that they will support her deal, even if she only gets minor amendments to it, so long as she outlines a timetable for her departure as Prime Minister this year. This would allow her successor to negotiate the future trade deal with the EU.
Eustice quits over Brexit extension
The Times reports that Agriculture, Fisheries and Food Minister George Eustice resigned yesterday, citing the Government's 'series of rather undignified retreats' over Brexit. According to the paper, he criticised the Prime Minister's decision to seek an extension to Brexit negotiations at a meeting she held with 16 Brexiteer ministers the night before.
Salary increase for MPs sparks outrage
The Daily Mail claims that a decision to increase MPs' salary by 2.7% sparked 'fury'. The announcement by the Independent Parliamentary Standards Authority has been criticised for outstripping increases for parliamentary staffers and civil servants, while Leave campaigner John Longworth said there should be no rise until Brexit had been 'sorted out'.
Grayling's probation reforms criticised
The Daily Telegraph carries details of a 'damning report' by the National Audit Office on probation reforms introduced by Chris Grayling while he was Justice Secretary. According to the report, the number of offenders returned to prison for breaching their licence conditions has increased by 47% while a plan to end contracts early will cost an extra £467m.
Fox criticised over expensive 'vanity project' podcast
The Daily Mirror reports that International Trade Secretary Liam Fox has spent over £100,000 on a podcast series hosted by Nick Hewer which was designed to encourage firms to export their goods, but just 8,398 people have listened to it, with each listener therefore costing the taxpayer £12.70. Lib Dem MP Layla Moran called the podcast a 'vanity project'.
The UK is due to leave the EU this month. Stay in the loop with Vuelio Political Services.
https://www.vuelio.com/uk/wp-content/uploads/2018/10/Brexit-parliament.jpg
430
760
Thomas Stevenson
https://www.vuelio.com/uk/wp-content/uploads/2019/09/vuelio-logo.png
Thomas Stevenson
2019-03-01 10:33:34
2019-03-01 10:33:34
Political Headlines - Labour moves towards Brexit compromise and Independent Group makes Umunna spokesperson