Political Headlines – new fund facing bribe allegations and UKIP's shift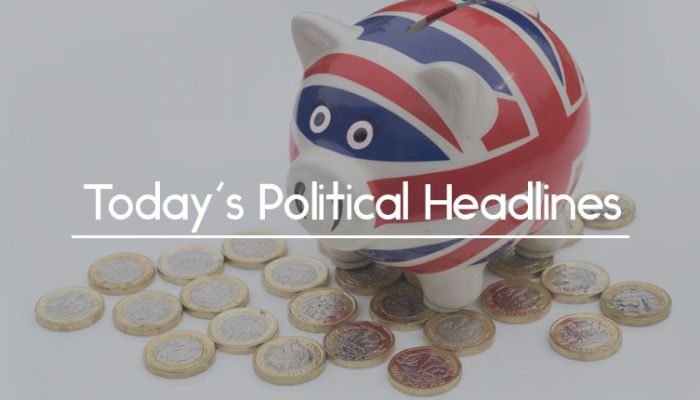 Today's political headlines include the new fund for deprived communities facing bribe allegations, UKIP's shift to the far-right, Cox abandons attempt to secure backstop changes and Chancellor to announce 'windfall' in Spring Statement. 
New fund for deprived communities faces Brexit deal bribe allegations
The Times says that a new £1.6bn fund for 'struggling communities' announced by the Government is being seen as an attempt to secure Labour MPs' support of Theresa May's Brexit deal. The Stronger Towns Fund, which will be spent over four years, faces criticism both from Labour MPs, who believe that it does not go far enough, and Conservative MPs, with Sheryll Murray suggesting that it was 'pork-barrel politics' targeted at Labour areas and disadvantaging 'Conservative-voting communities'.
Investigation reveals UKIP's shift to 'far-right'
The Guardian leads with an investigation into UKIP, which finds that a membership surge has led the party to move to the far-right, with moderates replaced by those 'attracted by an anti-Islam agenda based on street protest'. Membership has increased by 50% in the last year, but many senior figures and organisers have left, hampering the party's election-fighting capabilities.
Cox abandons attempt to secure backstop time-limit or unilateral exit
The Daily Telegraph says it has been told that Attorney General Geoffrey Cox has abandoned his attempts to secure either an unilateral exit from or a time-limit on the Irish backstop, and is instead seeking an arbitration mechanism outside the European Court of Justice. This falls short of the demands of Brexiteers such as Bill Cash and Steve Baker, leading ministers to conclude that Theresa May will lose the next vote on her deal.
Chancellor to announce 'windfall' in Spring Statement
The Financial Times claims that Chancellor Philip Hammond is set to announce a 'multibillion-pound windfall' due to higher tax receipts in the Spring Statement next week, and that this could be spent on public services if a no-deal Brexit does not occur. There will be no new tax or spending announcements in the statement – instead the money would be made available to this year's spending review.
Miller criticises NDA reforms
The Daily Telegraph reports that Maria Miller, Chair of the Commons Women and Equalities Committee, has said that Government plans to clarify the use of non-disclosure agreements do not go far enough if they 'simply reiterate the existing law'. Consultation on the proposals opens today, but doesn't cover sexual harassment at work as this is a civil offence.
Inquiry into politicians and child sexual abuse opens
The Guardian reports a three-week long inquiry into allegations of child sexual abuse involving politicians and officials begins today, including 'potentially explosive' claims about the whips' offices withholding details of criminal offences. The Times adds that former MI5 Director-General Dame Eliza Manningham-Buller is to be questioned about the suppression of allegations relating to Sir Peter Morrison, once an aide to Margaret Thatcher.
Ministers to consult on junk food advert 'watershed'
The Daily Telegraph says that ministers have approved the launch of a consultation on banning junk food adverts before 9pm in a bid to prevent children from being exposed to advertising for unhealthy foods. The plans are opposed by broadcasters, who believe that advertisers would spend money online instead.
Mann and Flint say as many as 35 Labour MPs could back May's Brexit deal
The Sun says that Labour MP John Mann has claimed that up to 35 Labour MPs are prepared to support Theresa May's Brexit deal because they wished to avoid both a no-deal Brexit and a second referendum, a stance which fellow Labour MP Caroline Flint agreed with.
Don't be blinded by Brexit – stay up-to-date with public policy with Vuelio Political Services.
https://www.vuelio.com/uk/wp-content/uploads/2019/03/Brexit-cash.jpg
430
760
Thomas Stevenson
https://www.vuelio.com/uk/wp-content/uploads/2019/09/vuelio-logo.png
Thomas Stevenson
2019-03-04 10:11:23
2019-03-04 10:11:23
Political Headlines - new fund facing bribe allegations and UKIP's shift