Political Headlines – May to make pledge on workers' rights to secure Labour MPs' support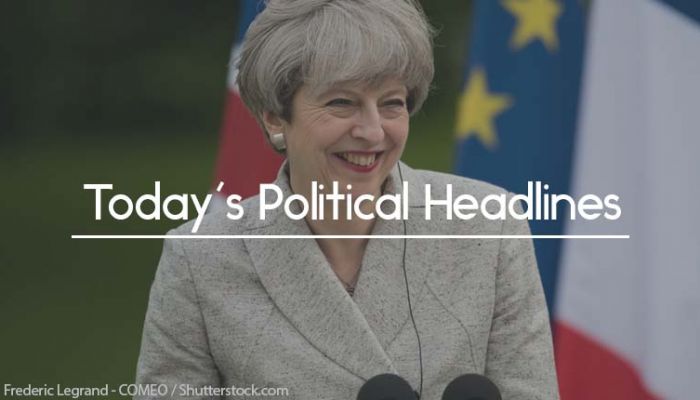 Today's political headlines include May's pledge to secure Labour support, Labour confirms backing for second referendum and Tory MPs rebel over plan for extending Brexit vote. 
May to make pledge on workers' rights to secure Labour MPs' support for Brexit deal
The Guardian says that Theresa May is expected to use a ministerial statement next week to set out a series of pledges on workers' rights and to reduce restrictions on trade unions in a bid to secure Labour MPs' backing for her Brexit deal/ Measures to be offered include a 'non-regression lock' after Brexit, votes by MPs on adopting future EU rules on workers' rights, and a reporting mechanism involving trade unions and the CBI on these. Housing, Communities and Local Government Secretary James Brokenshire is expected to announce a £1.6bn fund for towns and coastal communities before the next meaningful vote.
Labour confirms backing for second referendum
As the BBC reports, Labour leader Jeremy Corbyn has confirmed that his party is now backing a new Brexit referendum after MPs voted against his Brexit plans, and that he would vote to remain a member of the EU. He added that he will continue to pursue 'other available options', such as a general election or Labour's plan for a 'close economic relationship'.
Tory MPs rebel over plan for vote on extending Brexit negotiations
The Daily Telegraph reports that over 100 Conservative MPs revelled yesterday against Government plans to give MPs a vote on extending Article 50 if Theresa May's deal is rejected. 20 of them, including Esther McVey, voted against the proposal with a further 88 choosing to abstain in protest, including Boris Johnson, Dominic Raab and Jacob Rees-Mogg.
Norwegian sovereign wealth fund to increase investments in the UK despite Brexit
The Times says that Norway's sovereign wealth fund, the world's largest, has decided to increase its exposure to British investments whatever the outcome of the Brexit negotiations, claiming that the UK was still an attractive destination over the next 30 plus years. Brexiteer Jacob Rees-Mogg welcomed the news, but Chris Leslie of the Independent Group said that Brexit meant that 'British assets are in the global bargain basement'.
Economic sentiment lowest in six years over no-deal Brexit fears
The Financial Times reports that economic sentiment in the UK has fallen this month, reaching its lowest level in six years according to a European Commission indicator. The CBI said that the best way to improve this was to avoid a no-deal Brexit and agree 'a deal that commands a majority in parliament and is acceptable to the EU and protects our economy'.
Williamson suspended after Labour MPs revolt over antisemitism
The Daily Mail claims that Labour only suspended its MP Chris Williamson for saying that the party was 'too apologetic' for antisemitism because 38 MPs and deputy leader Tom Watson pressed for this, with leader Jeremy Corbyn having initially 'intervened personally to block his suspension', pledging only to 'investigate' the remarks.
Burns under investigation over Thatcher library charity
The Times claims that Conservative MP Conor Burns is 'under scrutiny' from the Charity Commission over his involvement in a campaign to build a library and museum dedicated to Margaret Thatcher. Much of the money raised by the campaign has apparently instead been spent on other things, including student exchanges between the UK and the USA.
May to defend aid budget
The Sun says that Theresa May is to use a speech at a conference on Jordan today to defend the £14bn aid budget, pledging to continue spending 0.7% of GDP on foreign aid. She will promise that the UK will continue to be a 'global champion', spending aid 'innovatively and in a way that delivers value of money for the UK taxpayer'.
Don't play catch up with the news – see what's coming with Vuelio Political Services.
https://www.vuelio.com/uk/wp-content/uploads/2018/11/Theresa-May-smile.jpg
430
760
Thomas Stevenson
https://www.vuelio.com/uk/wp-content/uploads/2019/09/vuelio-logo.png
Thomas Stevenson
2019-02-28 10:46:45
2019-02-28 10:46:45
Political Headlines - May to make pledge on workers' rights to secure Labour MPs' support