Political Headlines – May abandons cross-party approach to Brexit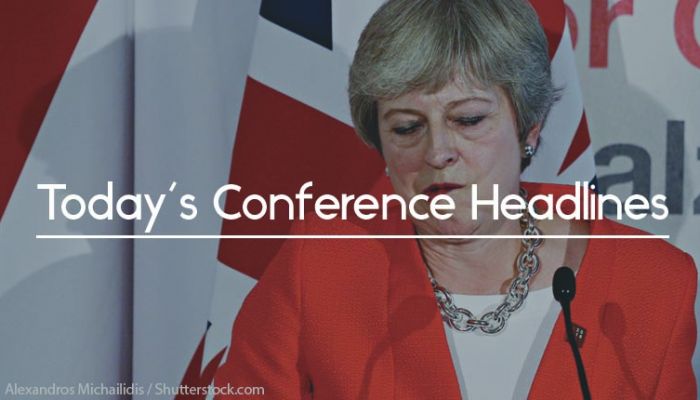 Today's political headlines include May abandoning the cross-party approach to Brexit and considering amendments to the Good Friday Agreement, the new legislation on domestic abuse and Starmer saying Labour's general election demand is not realistic. 
May abandons cross-party Brexit approach
The Times says that Theresa May has stopped her cross-party Brexit approach, instead telling the Cabinet last night that she will focus on trying to get the EU to agree to changes to the backstop that would placate rebel Tories and the DUP. She blamed Jeremy Corbyn for this, claiming that it was the result of his refusal to meet for talks unless a no-deal Brexit was taken off the table, and said that she would use the result of a vote on January 29 to demonstrate that the changes she wants would deliver a majority for the deal.
May considers attempt to amend the Good Friday Agreement
In an exclusive, The Daily Telegraph claims that Theresa May is considering trying to amend the Good Friday Agreement in an attempt to assure Ireland that the UK is committed to no hard border between the two countries after Brexit, in an attempt to avoid having to commit to the backstop. According to the paper, senior EU sources regard the plan as a 'non-starter' while UK Government sources are 'sceptical'.
Government announces new domestic abuse legislation
The BBC reports that new legislation to protect domestic abuse victims has been announced by the Government. The legislation will create a legal definition of domestic abuse, including economic abuse and control, prevent abusers from cross-examining victims, create a national 'domestic abuse commissioner' and force abusers into rehabilitation schemes.
Starmer says Labour's general election demand is not 'realistic'
The Financial Times reports that Labour's Shadow Brexit Secretary Keir Starmer said yesterday that his party's demand for a general election was not 'realistic', claiming that the realistic options were instead 'a close economic relationship and a public vote'. Meanwhile, Labour backbencher, David Lammy, warned that Labour's stance was leaving some MPs so frustrated that they might 'go off and form another party'.
Airlines criticised for not warning passengers about no-deal Brexit impact
The Times says that airlines are being criticised for not telling customers that plane tickets might be cancelled and passports might not be valid if no Brexit deal is reached. According to the International Air Transport Association, as many as five million tickets could need to be cancelled, as EU legislation would cap flight levels at the same level as last year.
Tory backbenchers behind plans to take control of Brexit to meet
The Daily Telegraph reports that Dominic Grieve and Nick Boles, two of the Tory MPs planning attempts to take control of Brexit from the Government, are meeting today to discuss their strategy and whether they should combine forces. International Trade Secretary Liam Fox claimed at the weekend that 'Parliament has not the right to hijack the Brexit process' and 'steal the result from the people.'
Farage lined-up to lead new pro-Brexit party
The Guardian says that Nigel Farage is being lined-up to lead a new pro-Brexit party should the UK not leave the EU by 29 March. The party is being registered by Catherine Blaiklock, once UKIP's economics spokesperson, who told the paper that she thought 'people feel treason has been committed. It's democracy.'
Speaker considers delaying retirement
The Sun claims that Commons Speaker John Bercow is 'seriously reflecting' on whether he should continue longer than planned, following reports that the Government is considering denying him the peerage normally given to former Speakers, with friends suggesting that Bercow is 'seriously annoyed' about what he views as 'an attempt to bully him'.
Keep up with all the latest political news with  Vuelio Political Services.
https://www.vuelio.com/uk/wp-content/uploads/2018/10/Theresa-may-conference.jpg
430
760
Thomas Stevenson
https://www.vuelio.com/uk/wp-content/uploads/2019/09/vuelio-logo.png
Thomas Stevenson
2019-01-21 10:33:10
2019-01-21 10:33:10
Political Headlines - May abandons cross-party approach to Brexit