Political Headlines – Threat of mass resignations for both May and Corbyn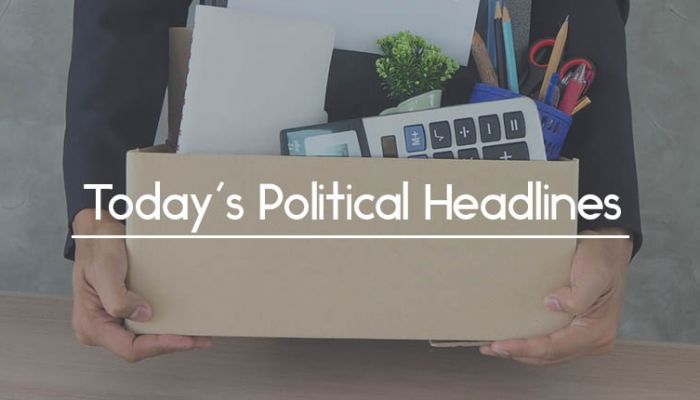 Today's political headlines include May warned of mass resignations if she tries to stop MPs from blocking no-deal Brexit, Corbyn warned of resignations if he backs another referendum, Bercow may miss out on peerage and UK could extend EU membership without electing new MEPs. 
May warned of mass resignations if she tries to stop MPs from blocking no-deal Brexit
The Daily Telegraph reveals that Theresa May has been warned by members of her Cabinet that she will face 'mass resignations' if she tries to stop MPs from blocking a no-deal Brexit, with up to '20 mid-ranking ministers' have indicated that they are prepared to quit the Government to do so. One Cabinet minister has told the paper that the Prime Minister would be 'wise' to give a free vote on the issue. The paper has also obtained Cabinet Office guidance suggesting that a second referendum would take over a year to organise.
Frontbenchers might resign if Corbyn backed another referendum
The Guardian claims that up to a dozen Labour frontbenchers might resign if Jeremy Corbyn were to back a second referendum on Brexit. The paper claims that 'a string of junior shadow ministers' have told the paper that they worry that doing so would lead to a backlash in constituencies which voted to leave the EU. The Times adds that a number of Labour MPs have defied their leadership's instructions by meeting Theresa May for talks on Brexit yesterday, claiming that both May and Corbyn 'are battling not to be sidelined'.
Government may not give Bercow peerage
The Times suggests that John Bercow might be the first Speaker in 230 years not to be given a peerage by the Government. A Cabinet source told the paper that they couldn't 'imagine we would look favourably on those who've cheated centuries of procedure' and insiders have said that the Prime Minister has the power to refuse to award the peerage.
UK could extend EU membership without electing new MEPs
European Parliament legal advice has been leaked to the Financial Times, showing that the UK would be able to extend its membership of the EU beyond this summer without needing to elect MEPs. The UK would not have any seats, but they would only be reallocated to other members once Brexit has happened. However, some European Commission and Council lawyers are concerned that this would undermine the parliament's authority.
Johnson to make pitch for Tory leadership
The Daily Mail says that Boris Johnson will today make a 'thinly-veiled pitch for the Tory leadership' at the HQ of JCB in Staffordshire. He will call for 'no new taxes', express his concerns about the 'worrying' gap between London and the rest of the country, and call for investment in 'great public services'.
UK fails to agree post-Brexit trade deals
The Financial Times has obtained a Government memo which shows that the UK has not finalised most of the trade deals needed to replace the 40 agreements made by the EU, and will not have done so by the time the UK leaves the EU on 29 March. Without a transition period, the memo warns, most of these deals will lapse.
Hitachi ditches plans for nuclear power stations
The Times claims that the UK's plans for new nuclear power stations are now 'in disarray' after Hitachi announced that it was suspending plans for two plants and writing off £2bn spent on preparations. This follows the decision of Toshiba to pull out of a project in November. The Government is currently developing a new way to finance nuclear plants.
Plans for calories on menus may be abandoned
According to The Sun plans to force restaurants to include calorie information on menus may be abandoned by the Government, with Chancellor Philip Hammond and Chief Secretary to the Treasury Liz Truss claiming that the policy would be burdensome for businesses, especially small ones. The Department of Health and Social Care is also unsupportive.
Who's in and who's out – keep up to date with any political moves with  Vuelio Political Services.
https://www.vuelio.com/uk/wp-content/uploads/2019/01/Resignations.jpg
430
760
Thomas Stevenson
https://www.vuelio.com/uk/wp-content/uploads/2019/09/vuelio-logo.png
Thomas Stevenson
2019-01-18 11:07:41
2019-01-18 11:07:41
Political Headlines - Threat of mass resignations for both May and Corbyn