Political Headlines – May humiliated, Tories clash and Labour to increase pressure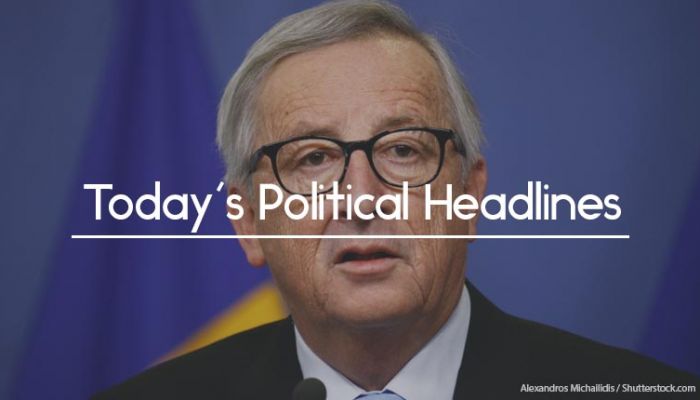 Today's political headlines include May left humiliated after meeting with EU leaders, Tory factions clash in aftermath of vote, Labour to throw the parliamentary kitchen sink at May and Brexit vote to be held on 14 January. 
May left 'humiliated' after meeting with EU leaders
According to The Daily Telegraph, Theresa May was left 'humiliated' after last night's European Council meeting. EU leaders rejected her attempts to win concessions on the Northern Ireland backstop, with European Commission President Jean Claude-Juncker saying it was time for the UK 'to say what they want instead of asking us to say what we want'. The statement issued at the end of the meeting was much worse for May than a draft version drawn up before the leaders met.
Tory factions clash in aftermath of vote
The Times claims that senior Tories believe that the Conservatives are 'facing an irrevocable split over Brexit' with factions clashing in the aftermath of the failed vote of no confidence in Theresa May. Apparently some MPs in the European Research Group are threatening to go 'on strike' and not vote on some legislation, while rival cabinet members are pressing for different strategies. Some want Parliament to vote on all options, including another referendum, while others want a no-deal Brexit to become the main planning assumption.
Labour to 'throw the parliamentary kitchen sink' at May
The Guardian reports that Jeremy Corbyn is to increase pressure on Theresa May in Parliament by using urgent questions and emergency debates, with a source claiming that the party may 'throw the parliamentary kitchen sink' at the Government. It adds that Shadow Brexit Secretary Sir Keir Starmer has been calling for a motion of no confidence in the Government to be tabled by the party before Christmas.
Brexit vote to be held on January 14
In an exclusive, The Sun says the Government is planning to hold the rescheduled vote on Theresa May's Brexit deal on January 14, with the process restarting and allowing five further days of debate. Number 10 said the vote will be held 'as soon as possible' in January.
£970m boost to police funding
The Daily Telegraph says that Home Secretary Sajid Javid has announced a £970m increase in police funding, to be paid for by increased council tax. He said that the funding would allow forces to 'recruit more detectives', which would 'ensure they are better placed to respond to the increasingly complex crimes they face'. He cautioned that the funding boost 'must be matched by improvements in policing led by the police themselves'.
Labour would break up accounting firms
The Financial Times reports that Labour would force the big four accounting firms to break up their UK businesses, splitting audit from other services, and to cap their share of the audit market at 50% of the country's largest listed companies. The plans are contained in a report commissioned by Shadow Chancellor John McDonnell.
Army recruitment contract won't deliver promised savings
The Times says that a report by the National Audit Office has found that the army's recruitment contract with Capita, which has missed its targets each year and left the army undermanned, will not achieve the predicted savings of £270m and has 'significant problems', with changes made not yet allowing targets to be met.
Councils to be allowed to raise council tax by 3%
The Sun reports that that Housing, Communities and Local Government Secretary James Brokenshire has announced that councils will be allowed to raise council tax by up to 3% next year, with some able to add a further 2% in order to cover the cost of providing social care. The Local Government Association has warned that this is not enough.
Don't be humiliated by poor political intelligence, get bespoke reports from Vuelio Political Services.
https://www.vuelio.com/uk/wp-content/uploads/2018/12/Juncker.jpg
430
760
Thomas Stevenson
https://www.vuelio.com/uk/wp-content/uploads/2019/09/vuelio-logo.png
Thomas Stevenson
2018-12-14 10:05:43
2018-12-14 10:19:24
Political Headlines - May humiliated, Tories clash and Labour to increase pressure