Political Headlines – May, Cox, workers' rights and Blair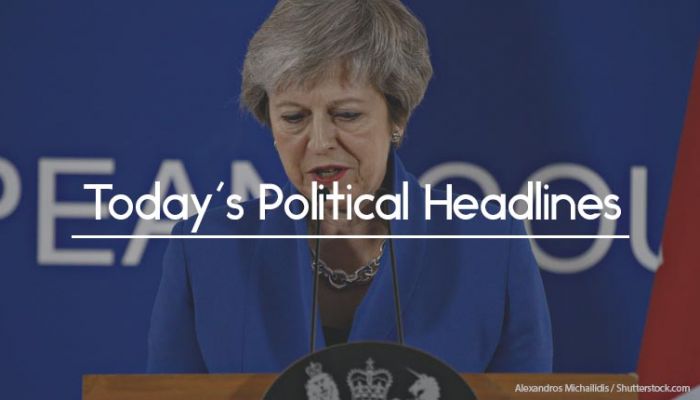 Today's political headlines include May's thoughts on a second referendum, the Attorney General, Geoffrey Cox, telling Cabinet that May will be removed next year, the biggest package of employment reforms for a generation and Blair's criticisms of May's Brexit tactics. 
Another referendum would 'break faith with British people'
The BBC reports on remarks Prime Minister Theresa May is set to make on a new referendum on Brexit. May will say that a second vote would do 'irreparable damage' to British politics and she does not think it would solve any problems. These remarks come after two former Prime Ministers, Tony Blair and John Major, called for a second vote if MPs cannot agree the course of action to take from here.
Attorney General told Cabinet May will be removed next year
The Telegraph reports on allegations that the Attorney General told members of the Cabinet that Theresa May must be removed from her office after Brexit. Geoffrey Cox has reportedly told others to 'swallow' the deal for now and renegotiate when May is gone.  It is rumoured that Cox said that May should be removed by April of next year so others can take over the process, it is also reported that this is not the first time that Cox has made such comments.
Biggest package of employment reforms for a generation
The Sun gives details of reforms around workers' rights. These reforms could see companies that mistreat their staff fines up to £20,000. The changes that will be revealed today by Business Secretary Greg Clark, he will also reveal the companies that have shown 'malice, spite or gross oversight' to employees. Further reforms include closing a loophole that allowed agency workers to be employed on cheaper rates than permanent staff. This reform come after the Taylor review into modern working practices.
Blair criticises May's Brexit tactics
The Metro reports on criticism Theresa May is facing from Tony Blair for the way in which she is attempting to get her Brexit deal through Parliament. Blair called the PM 'irresponsible' for the way in which she is attempting to 'steamroller' her deal through Parliament. This follows the former PM campaigning for a second referendum, he has also defended his own interventions saying he is within his rights to offer advice to the country.
Review into overseas patients use of the NHS kept secret
The Independent has revealed that a review that says that overseas patients are being wrongly denied NHS treatment after being told to pay up front is being kept out of the public. The review states that care is not being safety withheld when payment is not provided. Shadow Health Secretary, Jonathan Ashworth, has asked why the findings are being kept hidden.
Will there be another referendum? Keep up to date with Vuelio Political Services.
https://www.vuelio.com/uk/wp-content/uploads/2018/12/Theresa-May-speech.jpg
430
760
Daniel Loman
https://www.vuelio.com/uk/wp-content/uploads/2019/09/vuelio-logo.png
Daniel Loman
2018-12-17 10:07:11
2018-12-17 10:07:11
Political Headlines - May, Cox, workers' rights and Blair