Political Headlines – no deal, no confidence and a second referendum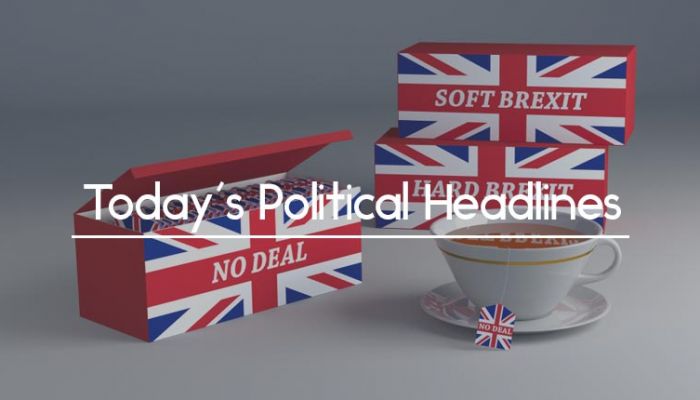 Today's political headlines include the Government's no-deal preparations, Leave figures confident of winning a second referendum, business leaders in call for second referendum and Corbyn's motion of no-confidence in PM. 
Government ramps up no-deal preparations
In an exclusive, The Sun is reporting that the Cabinet will today sign off plans to order businesses to immediately begin preparations for a no-deal Brexit. Businesses exporting to the EU will receive correspondence from the Government outlining what steps to take, in a clear shift towards increasing preparations for no-deal. The measures are part of an emergency package that Brexit Secretary Stephen Barclay will present to Cabinet.
Leading Leave figures confident of winning again
The Times is reporting that key members of the Vote Leave campaign are confident of winning a possible second Brexit referendum. While several pro-Brexit Conservative MPs are against holding another vote, it is claimed that Leave figures are more sympathetic to the idea, lining up a potential campaign slogan of 'tell them again' and framing the vote as a 'Remoaner' referendum pushed by 'sore losers'.
Business leaders in call for second referendum
In The Telegraph, over 50 business leaders have signed a letter to the Prime Minister, calling on her to abandon the current deal and pursue a second Brexit referendum. Among the group are several former FTSE chairmen, chief executives and entrepreneurs, including Richard Sykes, chairman of Imperial College NHS Trust, and Sir Mike Rake, former chairman of BT. The letter describes May's deal as 'impossible to resuscitate'.
Corbyn tables motion of no-confidence in PM
The BBC is reporting on Labour leader Jeremy Corbyn's decision to table a motion of no-confidence in Theresa May, describing the delay to the Brexit vote as leading the UK into a 'national crisis'. The motion is targeted at May herself rather than the whole Government, despite the other opposition parties favouring a full no-confidence vote in the Government. According to BBC political editor Laura Kuenssberg, the motion is not expected to be allocated time to be debated.
Labour commits an extra £100m to help rough sleepers
The Guardian reports that Labour have committed an additional £100m of funding to help get rough sleepers off the streets in freezing weather. The rough sleepers cold weather fund would require local councils to work with charities to provide enough accommodation for those in need, with Labour saying nearly 500 homeless people died last year.
Government launches bottle deposit scheme
The BBC reports that consumers will have to pay a returnable deposit on bottles, cans and disposable cups under a new government strategy. The strategy is designed to help combat climate change, safeguard resources and reduce the flow of plastic to the ocean. The Green Alliance have welcomed this policy, whist the British Retail Consortium remain sceptical.
Worried about no deal? Find out what it means with Vuelio Political Services.
https://www.vuelio.com/uk/wp-content/uploads/2018/12/No-deal-brexit.jpg
430
760
Oliver Nicholson
https://www.vuelio.com/uk/wp-content/uploads/2015/10/vuelio-logo-transparent.png
Oliver Nicholson
2018-12-18 10:03:15
2018-12-18 10:03:15
Political Headlines - no deal, no confidence and a second referendum