Political Headlines – May wins her vote of no confidence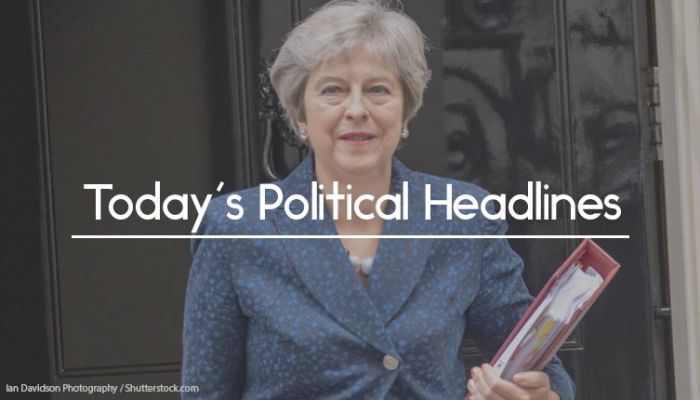 Today's political headlines include May winning the vote of no confidence, the row after MPs have whip reinstated prior to the vote, May seeking backstop assurances from the EU and Javid as Conservative councillors' favourite to be next leader.  
May wins vote of no confidence, but promises she'll stand down before election
As The Times reports, Theresa May won the vote of confidence in her leadership by 200 votes to 117. The paper suggests that her margin of victory was less than had been hoped, with May calling for the party to now 'come together in the national interest'. However, Jacob Rees-Mogg said that the result was 'terrible' and May should 'go and see the Queen urgently and resign'. Ahead of the vote, May promised MPs that she would not lead at the next election, while Philip Hammond claimed that it would 'flush out the extremists'.
Row after MPs have whip reinstated prior to vote
The Daily Telegraph claims that a row has broken out after the reinstatement of the Conservative whip to two MPs before the vote of no confidence. The votes of Andrew Griffiths and Charlie Elphicke, each suspended following sex claims against them, are believed to have cancelled each other out, with Griffiths voting for May and Elphicke against. Sam Smethers of the Fawcett Society said the decision was 'an insult to all women'.
May seeks backstop assurances from EU
The Financial Times reports that Theresa May is now heading to Brussels for a meeting of the European Council, at which she hopes to obtain legal assurances about the Northern Ireland backstop. Draft summit conclusions suggest that the EU will say that the arrangement 'does not represent a desirable outcome' and would last only for 'as long as is strictly necessary' but officials have resisted calls for the statement to have full legal force.
Javid is Conservative councillors' favourite to be next leader
The Daily Mail carries the results of a poll by Survation which finds that Sajid Javid is the first choice of Conservative councillors to be the next party leader, followed by Jeremy Hunt and Dominic Raab. By contrast, Boris Johnson only came seventh in the survey, which also found that 67% of councillors thought that it was wrong to call the confidence vote.
Corbyn accuses May of being 'contemptuous'
The Guardian reports that Jeremy Corbyn used Prime Minister's Questions to demand that Theresa May's Brexit deal be put to the vote before Christmas, though he largely avoided the subject of the vote of no confidence. May replied only that the date would be 'announced in the normal way', which Corbyn claimed was 'totally and utterly unacceptable' and 'contemptuous of parliament'.
Cabinet could block deal before it reaches Parliament, Fox suggests
The Daily Telegraph reports that International Trade Secretary Liam Fox has claimed that cabinet ministers could prevent Parliament from voting on Theresa May's Brexit deal unless 'changes to the backstop' are agreed. He also suggested that a no-deal Brexit would be more likely unless progress was made on this.
Government increases no-deal recruitment
According to the Financial Times, the Government is increasing its recruitment for a no-deal Brexit, adding 50 new staff to the Cabinet Office's civil contingency secretariat, which manages major events and responds to civil emergencies, and is playing a leading role in cross-Government planning, which goes by the name of 'Operation Yellowhammer'.
Universities could be fined if they don't recruit more white working class students
The Daily Mail reports that Education Secretary Damian Hinds has accused universities of not doing enough to admit disadvantaged groups, especially from provincial white backgrounds, and of not doing enough to support black students, who are more likely to drop out in their first year. Universities who don't take action could be fined.
Clients of Vuelio Political Services knew Theresa May won the vote as the result was announced.
https://www.vuelio.com/uk/wp-content/uploads/2018/12/Theresa-May-action.jpg
430
760
Thomas Stevenson
https://www.vuelio.com/uk/wp-content/uploads/2019/09/vuelio-logo.png
Thomas Stevenson
2018-12-13 10:51:19
2018-12-13 10:51:19
Political Headlines - May wins her vote of no confidence