Political Headlines – plastic, housing, Brexit and Windrush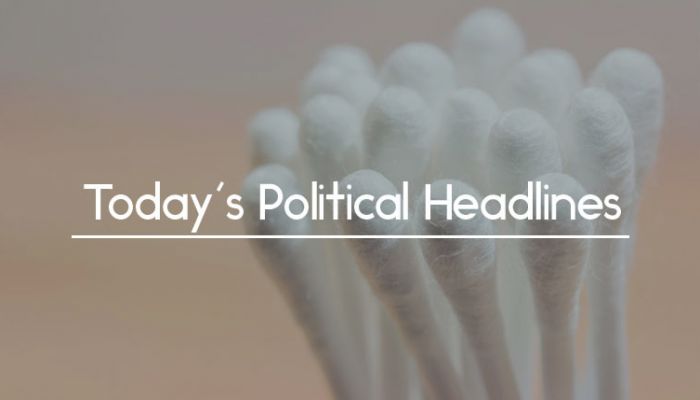 Today's Political Headlines include banning plastic items such as cotton buds, Labour's housing policy, Government's defeat in the Lords and the continuing chaos around Windrush. 
Straws, plastic stirrers and cotton buds to be banned
The Times reports that the Government is to ban plastic stirrers and cotton buds, alongside straws, and that the measure could come into force as early as next year. Michael Gove writes in the paper that they have been targeted 'because they are already available (or can be developed) in alternative forms but when discarded they remain a polluting presence for hundreds of years.' In the Daily Mail, Theresa May writes that she will use the Commonwealth summit to encourage the other member countries to join the campaign against plastic pollution, and that the UK is 'leading by example'.
Labour to launch housing policies
The Guardian says that Labour is to launch its plans for housing today, publishing a report called Housing for the Many. Jeremy Corbyn will accuse ministers of stretching the definition of affordable housing, and pledge to replace it with a measure linked to people's incomes. Labour would create a Department of Housing and an independent watchdog, end the right to buy, and lift the cap on borrowing by local authorities, so they can build social housing.
Government defeated by Lords over customs union
As the BBC reports, the Government has been defeated in the House of Lords over the issue of the UK staying in a customs union with the EU. Lords voted by 348 to 225 in support of a plan which requires ministers to report on steps to negotiate a continued customs union. Lord Callanan signalled that the Government would seek to overturn the amendment at a later stage.
Government 'in chaos' over Windrush crisis
The Guardian claims that Theresa May's 'attempt to get a grip on the Windrush crisis' has descended into chaos. The paper reports that May promised that a man denied cancer treatment despite living in the UK for 44 years would now be treated, but he was not aware of this decision. It adds that May attempted to blame Labour for the decision to destroy landing card slips, but one of the decisions to do so was actually made when she was Home Secretary. Separately, The Times reports that the Government has been accused in a House of Lords report of overcharging for citizenship applications.
Davis urges May to publish detailed plan for the future UK-EU relationship
The Financial Times reports that Brexit Secretary David Davis is urging Theresa May to 'get ahead of the EU' by publishing detailed proposals for the UK-EU relationship, rather than waiting for the EU to move first. The proposal is that the UK produces a document setting out detailed plans, but there are concerns that this may break the Cabinet truce.
Johnson calls for more use of stop and search, and for a 'liberal' migration policy
Speaking to The Daily Telegraph, Boris Johnson has warned against 'going soft' on knife crime, calling for increased use of stop and search powers. He said that the approach worked when he deployed it as Mayor of London. He also called for a 'liberal' approach to migration, claiming that 'a society that isn't open to talent will die'.
Modi pledges closer India-UK ties after Brexit
The Sun says that Narendra Modi, India's Prime Minister, has pledged that India will be a closer partner to the UK after Brexit, which he described as an opportunity to 'further increase trade ties' between the UK and India. Canadian Prime Minister Justin Trudeau said that he wanted the current Canada-EU trade deal 'to flip over the day after Brexit'.
Rogue landlords should have their properties confiscated, MPs says
The Times carries details of a report by the Commons Housing, Communities and Local Government Committee that recommends that rogue landlords should have their properties confiscated. The report says that there is a 'clear power imbalance', which deters tenants from complaining about problems, and calls for greater legal safeguards.
These headlines and all of our political content is created by Vuelio political services.  
https://www.vuelio.com/uk/wp-content/uploads/2018/04/Cotton-buds.jpg
430
760
Thomas Stevenson
https://www.vuelio.com/uk/wp-content/uploads/2019/09/vuelio-logo.png
Thomas Stevenson
2018-04-19 08:17:15
2018-04-19 08:17:15
Political Headlines - plastic, housing, Brexit and Windrush