Political Headlines – positive Brexit talks and Conservative MEP candidates keeping a low profile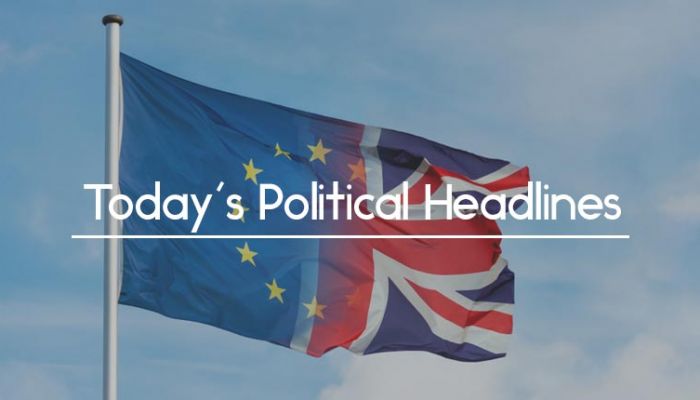 Today's political headlines includes positive Brexit talks, Conservative MEP candidates keeping a low profile, Corbyn under pressure to accept a second referendum and the Government to back revised climate change target. 
Brexit talks more positive, sources say
The Guardian says sources on both sides of the Brexit talks between the Government and Labour have suggested that discussions have become more positive, although no new offer has been made. Shadow Environment Secretary Sue Hayman said the negotiations were 'really constructive' and engaged more with 'the nuts and bolts of the detail', while Cabinet Office Minister David Lidington said he was encouraged by the 'need for greater urgency'.
Conservative MEP candidates told to keep a low profile
According to The Times, Conservative candidates for the European Parliament have been told to 'lie low' in order to avoid antagonising voters before the local elections. The official launch of the party's campaign is expected to be held on 7 May, with a senior Conservative explaining that canvass returns had improved over recess as 'Brexit was off the boil and attention was away from Westminster'.
Corbyn under pressure to accept second referendum
The Daily Mirror claims that Jeremy Corbyn is resisting pressure to agree to a referendum on any Brexit deal ahead of a meeting of Labour's National Executive Committee today. The party is coming under pressure to do so from many of its own MPs, as well as the Unison, GMB and Usdaw trade unions. However, it is likely to maintain its stance of only having a referendum on a Conservative or no-deal Brexit.
Government to back revised climate change target
The Times suggests that the Government will back a revised climate target from the Climate Change Committee when it is announced this week. Although Cabinet ministers have yet to back the move, Theresa May is likely to endorse the proposed target of net-zero carbon emissions by 2050, although the Government won't back all of the suggested measures to reach it. The new target is likely to be included in the new Environment Bill, which is due to be included in the Queen's Speech in the autumn.
Hunt warns Brexit deal with Labour could lose Tory support
Foreign Secretary Jeremy Hunt has told The Daily Telegraph that if the Government reached a Brexit deal with Labour it risked creating a situation where 'you lose more Conservative MPs than you gain Labour MPs'. He questioned if Jeremy Corbyn was 'serious about delivering Brexit', adding that he didn't expect a 'rose garden moment'. He also warned against holding a leadership contest before Brexit had happened.
May to face grassroots confidence vote
The Sun says that Theresa May is to become the first Conservative leader to face an emergency vote from party activists demanding her resignation. The first emergency general meeting in the party's history has been called, after the threshold of signatures from constituency chairmen needed to call one was passed. Theresa May has been invited to address the meeting, though the vote on her leadership will not be binding.
Victims' Commissioner attacks need to pay to report crime
Writing in The Daily Telegraph, Baroness Newlove, the Victims' Commissioner, warns victims of anti-social behaviour are being forced to pay to report crimes to the police as, unlike 999, the 101 non-emergency phone number is not free. She criticises police and councils for not treating anti-social behaviour seriously and says 'little has changed' since her husband was kicked to death after confronting teenagers vandalising their car twelve years ago.
May must present final Brexit deadline to Parliament next week or she'll miss deadline
In an exclusive, The Sun claims that, according to a Cabinet minister, Theresa May has until the end of next week to return her Brexit deal to Parliament, or she will miss her 30 June deadline for leaving the EU. This is because the Withdrawal Agreement Bill to implement the deal will need around six weeks to pass through Parliament.
Brexit and elections alongside domestic policies means there's hundreds of potential issues you need to monitor. Don't do it alone, get Vuelio Political Services.  
https://www.vuelio.com/uk/wp-content/uploads/2018/12/Brexit-flag.jpg
430
760
Thomas Stevenson
https://www.vuelio.com/uk/wp-content/uploads/2019/09/vuelio-logo.png
Thomas Stevenson
2019-04-30 09:06:39
2019-04-30 09:06:39
Political Headlines - positive Brexit talks and Conservative MEP candidates keeping a low profile