Political Headlines – Ministers fear May will 'cave in' to Labour and Corbyn faces down second referendum advocates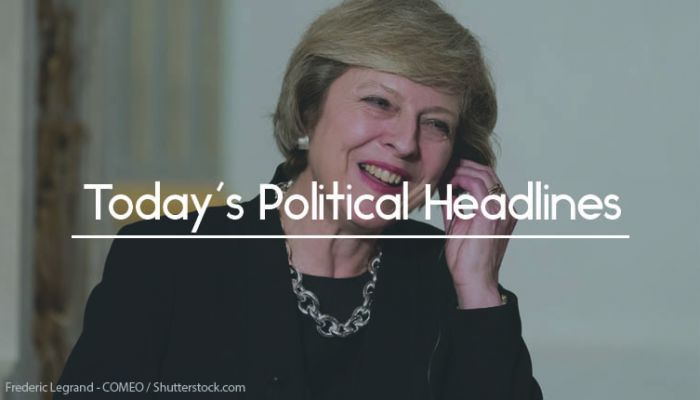 Today's political headlines includes ministers fearing May will 'cave in' to Labour, Corbyn faces down second referendum advocates, May's dinner with Russian oligarch's wide and Corbyn to urge MPs to declare a climate emergency. 
Ministers fear May will 'cave in' to Labour over Brexit
According to The Daily Telegraph, Eurosceptic ministers fear that Theresa May is 'preparing to cave in to' Labour's Brexit demands and agree a post-Brexit customs union with the EU, with May indicating that she wants talks finished by the middle of next week. At yesterday's Cabinet meeting, Michael Gove said that an 'unpalatable' deal with Labour was better than no Brexit, while Chief Whip Julian Smith said that ministers needed to 'get real'.
Corbyn faces down second referendum advocates
The Guardian says that Jeremy Corbyn has 'faced down' a challenge by second referendum advocates, including Labour's deputy leader Tom Watson. At a meeting yesterday, the party's National Executive Committee decided that its European election manifesto would be 'fully in line' with its existing Brexit policy of an alternative plan for Brexit, with a public vote only if the Government's deal isn't changed and a general election doesn't happen.
May's dinner with Russian oligarch's wife
The Daily Mail reveals that Lubov Chernukhin, the wife of a Russian oligarch, had dinner with Theresa May and six other female ministers after paying £135,000 for the privilege at the Conservative Party's Black and White Ball. The meal was revealed after the Chief Secretary to the Treasury, Liz Truss posted a photo of the gathering in Instagram. A source told the paper 'it was bit like Cabinet at the start, very polite, but then a fair amount of wine was drunk and then it became a very relaxed and talkative dinner.'
Corbyn to urge MPs to declare climate emergency
The Daily Mirror reports that Jeremy Corbyn will today urge MPs to do their 'historic duty' by calling the world's first climate emergency, forcing a vote to demand the Government to act on climate change 'with commensurate urgency'. Yesterday, Environment, Food and Rural Affairs Secretary Michael Gove said he was 'open to a higher level of ambition'.
Corbyn wrote foreword to antisemitic book
The Times says Jeremy Corbyn wrote the foreword to a book arguing that Jews controlled the banks and the press. The book, a reissue of JA Hobson's Imperialism: A Study, first published in 1902, came out in 2011 before he became Labour leader. In the foreword, Corbyn said it was a 'great tome' with 'brilliant, and very controversial at the time' analysis.
Hancock says people shouldn't have to sell their home to fund their care
The Daily Telegraph reports that Health and Social Care Secretary Matt Hancock has told a House of Lords committee that people shouldn't have to sell their home to pay for social care, saying that ensuring 'that the home is in the means test under all circumstances' would extend 'one of the injustices' of the current system. Care Minister Caroline Dinenage separately said that she had found the delays to the social care green paper 'frustrating', telling the paper that a draft had been ready since December.
Social mobility has stagnated, commission warns
The Financial Times says that the Government's Social Mobility Commission's State of the Nation report warns that class privilege is still entrenched in the UK, with the ability to gain higher pay and social position having stagnated since 2014. It blames Government policies for the lack of progress, including schools funding cuts and disadvantaged young people being less likely to undertake apprenticeships or relocate to other regions.
Trump unlikely to address Parliament
The Times reports that Donald Trump is unlikely to address Parliament during his visit next month in order to avoid embarrassing the Queen. She would have to formally request permission for him to address Parliament from the Speakers of both houses, but Commons Speaker John Bercow is opposed to such a speech taking place.
Leadership troubles are a tiny part of the much bigger picture – don't miss anything, get Vuelio Political Services.  
https://www.vuelio.com/uk/wp-content/uploads/2018/10/Theresa-May-happy.jpg
430
760
Thomas Stevenson
https://www.vuelio.com/uk/wp-content/uploads/2019/09/vuelio-logo.png
Thomas Stevenson
2019-05-01 10:17:07
2019-05-01 10:17:07
Political Headlines - Ministers fear May will 'cave in' to Labour and Corbyn faces down second referendum advocates