Political Headlines – Raab, Macron, Timothy and energy drinks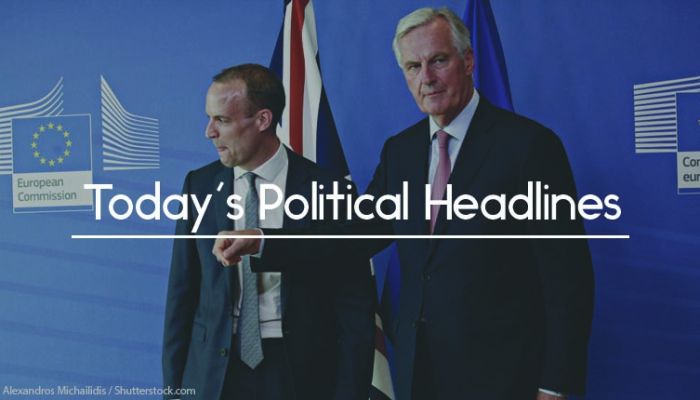 Today's Political Headlines include Raab's admittance that Brexit talks are unlikely to be completed by October, Macron's fears that a no-deal scenario would poison European relations, Nick Timothy criticising May's Chequers plan and energy drinks ban for children.  
Brexit talks unlikely to achieve October deadline – Raab
The FT has splashed on the latest admission by Brexit secretary Dominic Raab that the October deadline for UK-EU talks is unlikely to be met, with both sides struggling to reach agreement over the Irish border and future trade relationship. Raab conceded that there would be 'leeway' over the signing of a deal, with many Brexit analysts viewing the Irish border as the main obstacle to agreement.
Macron fears that a no-deal scenario would 'poison' European relations
The Times reports that French President Emmanuel Macron is calling on the EU to push for a close relationship with Britain. The French president will use next month's EU summit in Salzburg to call for a new structure for European alliances based on 'concentric circles', with the EU and the euro at its core, and Britain in a second ring.
May's former chief-of-staff criticises May's Chequers plan
Writing in The Telegraph, the Prime Minister's former chief of staff Nick Timothy has said that the PM is set to compromise even further on her Chequers proposal and agree to a 'worst of all worlds' Brexit deal, that would be worse than no deal at all. Nick has called upon the PM to revive David Davis' discarded white paper for a post-Brexit trade deal.
Energy Drinks to be banned for children
The Daily Mail reports that school children will be banned from purchasing energy drinks such as Red Bull and Monster Energy. The drinks' high level of caffeine and sugar have been blamed for disruptive behaviour in classroom, and health campaigner Jamie Oliver has backed the campaign. No. 10 has said that it has not yet decided whether the ban should apply to under-16s or under-18s.
Corbynites plan to lobby Labours NEC meeting to stop U-turn on antisemitism
The Times reports that pro-Corbyn supporters in the Camden branch of Momentum are now planning a 'mass lobby' of next Tuesday's meeting of Labour's ruling executive, when the party is expected to finally adopt its new code on anti-Semitism.
Farage considers bid for Mayor of London
The FT has revealed that former UKIP leader Nigel Farage is considering running in the London mayoral election, in an attempt to push the Conservatives into third place. A senior Conservative official has said that Number 10 was braced for embarrassment if Farage decided to run, fearing electoral defeat despite not having selected a candidate yet.
Salmond resigns from SNP
The Telegraph is reporting on Alex Salmond's resignation from the SNP. The former leader has quit the party following two sexual harassment allegations, saying he did not want to 'facilitate opposition attacks on the SNP'. Salmond announced his resignation alongside a crowdfunding appeal, set up to raise money for his upcoming legal challenge against the SNP Government for their handling of the allegations.
Police and Crime Commissioners call for Spice to be reclassified as Class A
The Independent reports that a group of more than 20 Tory police and crime commissioners have written to the home secretary calling for the synthetic 'zombie drug' known as Spice to be reclassified as Class A. In an open letter, the crime czars warn the Class B substance poses the 'most severe' threat to public health in decades.
Ready by October or still more to negotiate? Don't miss out on the latest political updates, get Vuelio Political Services.  
https://www.vuelio.com/uk/wp-content/uploads/2018/08/Raab-and-Barnier.jpg
430
760
Jake O'Neill
https://www.vuelio.com/uk/wp-content/uploads/2019/09/vuelio-logo.png
Jake O'Neill
2018-08-30 09:37:51
2018-08-30 09:37:51
Political Headlines - Raab, Macron, Timothy and energy drinks