Political Headlines – Trump's criticisms of May's deal and MPs want May to set resignation date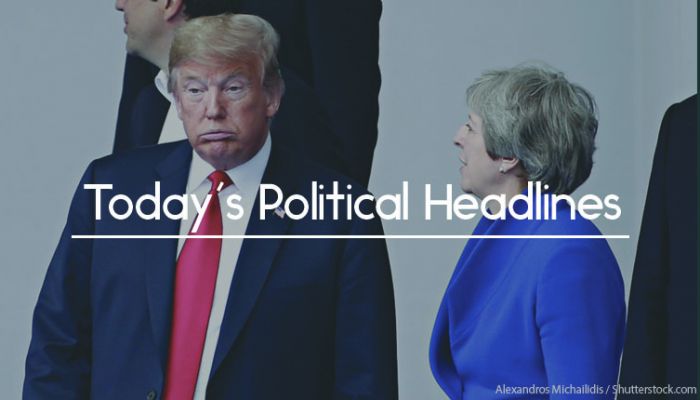 Today's political headlines include Trump's criticism of May's Brexit deal, MPs want May to set a resignation date and judges to consider if UK can withdraw the Brexit notification. 
Trump criticises May's Brexit deal
The Daily Telegraph reports that US President Donald Trump has claimed that Theresa May's Brexit deal means that the UK 'may not be able to trade with the US', and that it 'sounds like a good deal for the EU'. The paper claims that his comments 'will spark panic in Downing Street', with Theresa May having hoped that she could promote her deal to world leaders, including Trump, at this weekend's G20 summit.
MPs want May to set resignation date to secure their support for bill
The Times suggests that some Tory MPs are calling on Theresa May to set a date for her departure if she wants to secure their support for her Brexit deal, allowing them to push for a Canada-style agreement after Brexit. The paper adds that May has established a Whitehall unit, made up of Downing Street advisers, Brexit negotiators and Brexit department civil servants, to work with the chief whip to co-ordinate efforts to sell her deal to MPs.
Judges to consider if UK can withdraw Brexit notification
The BBC reports that the European Court of Justice is to start examining whether the UK can revoke its Article 50 notification that it is leaving the EU, in a challenge brought by a group of Scottish politicians. A ruling is not expected immediately, but those supporting the case believe that if they are successful, it would give MPs an extra option.
Hunt suggests that May should debate Blair
The Daily Telegraph says that Jeremy Hunt, the Foreign Secretary, used yesterday's Cabinet meeting to suggest that Theresa May should debate senior remainers, such as Tony Blair, rather than Jeremy Corbyn if she wanted to win MPs over to her deal, while Eurosceptic Tory MPs have called for a Leave campaigner, such as Boris Johnson, to take part.
Labour would block People's Vote from appearing in TV debate
The Guardian claims that the Labour Party would block a representative of the People's Vote campaign from taking part in the television debate between Theresa May and Jeremy Corbyn, believing that this format would allow the Labour leader to broaden the debate to include issues such as austerity. Formal talks with broadcasters have yet to start.
Research warns May's deal would hit living standards
The Financial Times carries details of new research by a consortium of academics and thinktanks, which warns that the Prime Minister's Brexit agreement would hit living standards by up to £2,000 per person a year, with GDP between 1.9% and 5.5% lower by 2030.
Gauke blocks Javid's knife crime plans
According to the Daily Mail, Justice Secretary David Gauke has blocked Home Secretary Sajid Javid's plans to introduce ASBO-style 'knife crime prevention orders', whose breach could be punishable by imprisonment. Gauke warned they would 'accelerate the criminalisation' of young people and questioned their affordability, given the pressures faced by the prison service.
Foodbanks face record demand this Christmas
The Mirror reports that foodbanks will be facing record demand this Christmas due to the five-week delay to the first payment of Universal Credit, with volunteers expecting to serve 1.5m meals. Labour leader Jeremy Corbyn has called on the Government to open 'its eyes to the misery its causing'.
Can May sell her deal? Find out with Vuelio Political Services.
https://www.vuelio.com/uk/wp-content/uploads/2018/11/Trump-May.jpg
430
760
Thomas Stevenson
https://www.vuelio.com/uk/wp-content/uploads/2015/10/vuelio-logo-transparent.png
Thomas Stevenson
2018-11-27 10:18:11
2018-11-27 10:18:11
Political Headlines - Trump's criticisms of May's deal and MPs want May to set resignation date