Political Headlines – May and Juncker's warnings, TV debate and the Norway option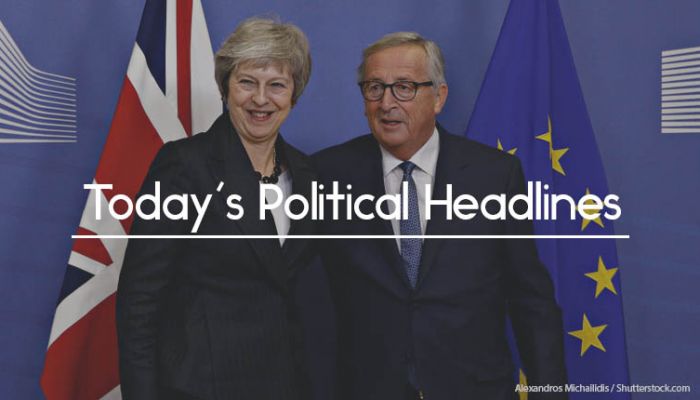 Today's political headlines include May's warning to MPs about voting down her deal, May's challenge to Corbyn to a TV debate, Juncker's warning is the only deal possible and Cabinet ministers pushing for a Norway option. 
May warns MPs against voting down her deal
The Times claims that Theresa May will use a statement in the Commons today to warn MPs that if they vote down her Brexit deal, they risk going 'back to square one' and that they should listen to constituents who want to 'move on' from Brexit. The paper adds that up to 90 Conservative MPs are currently threatening to vote against the agreement with the EU.
May to challenge Corbyn to TV debate over deal
According to The Daily Telegraph, Theresa May is to challenge Jeremy Corbyn to a debate over her Brexit deal. The vote is expected to take place on December 12, and she will outline her plans for a fortnight's 'media blitz' at a meeting of the Cabinet today. Her plans also include visiting 'every part of the UK' and a major speech the day before the vote. A Labour spokesperson welcomed the proposed debate.
Juncker warns agreement 'is the only deal possible'
The Financial Times reports that European leaders approved the Brexit deal at a summit yesterday which 'felt more like a wake than a breakthrough', with European Council President Donald Tusk saying that EU leaders has achieved 'one of the hardest tasks of our lives' and European Commission President Jean-Claude Juncker adding that 'this is the only deal possible'.
Cabinet ministers push for Norway option if May's deal fails
The Sun claims that cabinet ministers Amber Rudd and Michael Gove have joined forces to push for the UK to join the European Free Trade Association, but will only push for this if the meaningful vote fails, followed by attempts to call for a general election and a people's vote, in order to ensure maximum support from Labour MPs.
New analysis shows economic cost of May's Brexit deal
The Times outlines new analysis by the National Institute of Economic and Social Research, commissioned by the People's Vote campaign, which reveals that Theresa May's Brexit deal would leave the country's GDP around 3.9% lower than remaining in the EU. Remaining in the backstop, GDP would be 2.8% lower, while in a no-deal scenario it would be 5.5% lower.
Academic pardoned by UAE following lobbying by Hunt
The Guardian reports that the Durham University academic Matthew Hedges, jailed by the UAE on spying charges has been pardoned following lobbying efforts by the Foreign Secretary Jeremy Hunt. The country continues to claim that Hedges was an MI6 agent, and that clemency had been given in response to a letter from his family.
Jenrick to embrace 'new methods of construction'
The Sun says that Treasury minister Robert Jenrick will today call for 'new methods of construction' to be 'embraced' as he announces £600bn of infrastructure spending, allowing building projects to be sped up by pre-building components in factories, cutting the construction time of a school from a year to four months and reducing waste by up to 90%.
Shortage of carers will increase costs for pensioners
The Daily Telegraph carries details of a new report by the thinktank IPPR, which warns that there will be a shortage of 350,000 social care workers by 2028, unless their pay increases. The problem will especially affect pensioners, who could face rising care costs as a result.
Deal or no deal? Keep up to date with the latest political announcements with Vuelio Political Services.
https://www.vuelio.com/uk/wp-content/uploads/2018/11/May-Juncker.jpg
430
760
Thomas Stevenson
https://www.vuelio.com/uk/wp-content/uploads/2015/10/vuelio-logo-transparent.png
Thomas Stevenson
2018-11-26 10:27:24
2018-11-26 10:27:24
Political Headlines - May and Juncker's warnings, TV debate and the Norway option