Political Headlines – UK leaving the customs union, Windrush and children of alcoholics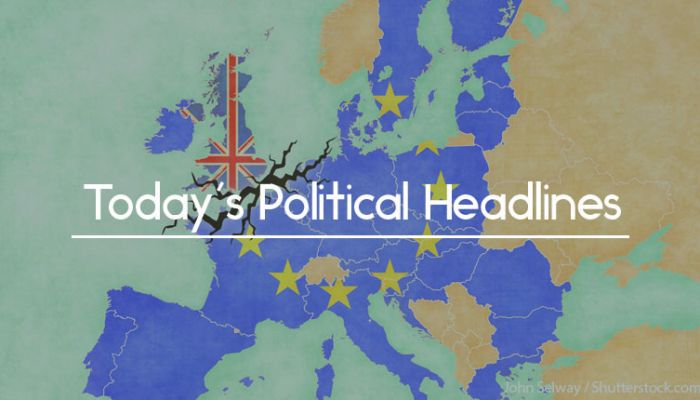 Today's Political Headlines include the UK leaving the customs union, the hostile environment made for Windrush generation, help for children of alcoholics and Hammond blocking the betting machine curb.  
Government insists that the UK will leave EU customs union
The BBC reports that the Government has insisted that the UK will not be in a customs union with the EU, ahead of a symbolic vote of the issue this week. The Times reveals that Brexit-supporting cabinet ministers are to call on Theresa May to abandon her proposals for a customs partnership with the EU, which they view as unworkable, and urge her to focus on an option which minimises but does not eliminate checks. The paper reports that May will respond by telling ministers that the Government needs room for manoeuvre on the issue.
Letter shows Government knew that 'hostile environment' hurt Windrush generation
According to The Guardian, a May 2016 letter from James Brokenshire, the then immigration minister, shows that the Government has known about the impact of its 'hostile environment' policy on the Windrush generation for years. The paper says that Home Office sources have indicated that legislation could be rushed through Parliament to give those affected, citizenship.
£6m to help children of alcoholics
The BBC reports that the Government has announced £6m to help children with alcoholic parents get support and advice, including fast access to mental health services and programmes to treat addiction. The move, announced by Health Secretary Jeremy Hunt, has been welcomed by Shadow Health Secretary Jon Ashworth, who grew up with an alcoholic father and says that the plans 'would have made a tremendous difference to my childhood.'
Hammond blocks curb on betting machines
The Times claims that Philip Hammond has prevented a cut to the maximum stake on fixed odds betting terminals, with the Treasury refusing to sign off a decision as it is not confident that lost tax revenues would be replaced. The issue has reportedly been left until after the local elections, with bookmakers hoping to reach a 'backroom deal' with ministers.
Labour to make St George's Day a national holiday
The Independent reports that Labour would make St George's Day a national holiday, with the plan to be announced in a speech by Jeremy Corbyn today. He will say that it will be a day to 'celebrate our country's tradition of fairness, inclusivity and social justice'. UK-wide public holidays would also be held on St David's Day, St Patrick's Day and St Andrew's Day.
Labour to force vote on Office for Students
The Guardian reports that Labour is to force a final debate and vote on the Office for Students tonight. If the vote was lost, the watchdog would not have powers enabling it to regulate universities. Shadow Education Secretary Angela Rayner said that the regulator had become ministers' 'puppet' and was not pursuing 'the sector's best interests'.
Firms to be forced to publish pay ratios
The Financial Times says that legislation to be put forward next month will force companies to publish the ratio of their chief executive's salary to that of their average worker. The move forms part of a wider programme of corporate governance reforms, which will introduce several other reporting requirements.
Labour to consult local leaders over £250bn infrastructure plan
The Guardian says that Labour is to open a series of consultations with regional mayors and councils over its plans for £250bn of transport and infrastructure spending, promising to prioritise projects to productivity and help the rest of the country catch-up with London.
Find out more about Vuelio political services.  
https://www.vuelio.com/uk/wp-content/uploads/2018/04/Brexit.jpg
430
760
Thomas Stevenson
https://www.vuelio.com/uk/wp-content/uploads/2019/09/vuelio-logo.png
Thomas Stevenson
2018-04-23 08:29:35
2018-04-27 10:46:34
Political Headlines - UK leaving the customs union, Windrush and children of alcoholics