Politics on Sunday – Windrush dominates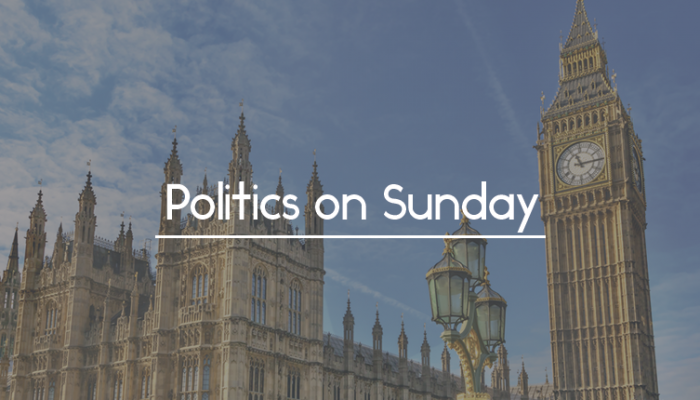 Discussion around the awful treatment of the Windrush generation dominated the Sunday political shows, which included all the usual shows but with Nick Robinson standing in for Andrew Marr.
Robinson asked David Gauke, the justice secretary, if he is ashamed of what has happened to people who were invited to this country and have spent the majority of their lives here. Gauke said he was and that the treatment of the Windrush British Citizens was wrong. The Justice Secretary was played a clip from 2004 of Theresa May on Question Time saying politicians should not blame other people for mistakes that are made – Robinson then suggested Amber Rudd should resign due to the failures that have occured.
Rudd is not popular with Brexiteers in her party and it was also revealed that she had boasted about her harsher immigration strategy. Gauke said Rudd should 'absolutely' stay in her job despite the clear issue. Throughout Gauke's interview, he kept reiterating the point that addressing illegal immigration is right, however he did keep clarifying that those from the Windrush generation are not illegal immigrants.
Unsurprisingly, Robinson's next guest Emily Thornberry, shadow home secretary, disagreed with Gauke and said that Rudd should quit as 'she is clearly doing very badly at her job at the moment'. Thornberry made a strong case pointing out that people have died and lost their jobs and she does not see how Rudd apologising makes any of this better. Thornberry stated a few factors to show how the policy was deliberate, these are:
Government commitment to get immigration to the tens of thousands despite not being able to control EU immigration
The hostile environment policy and the 'go home vans'
In new legislation on immigration checks protection for citizens born in the Commonwealth was removed
Thornberry was also asked whether she felt ministers are racist or was it the policy that was racist; she replied by saying she was not going to fling such accusations at people. She said, 'it is unfair' to have different rules for people that have not come from or are not coming from the EU.
Poet Benjamin Zephaniah also appeared on Marr and spoke about Windrush. He feels the black community is united and angry about their treatment – he said even black people who do not have any connections to the Commonwealth are angry. He also called for action to be taken 'immediately' to assist people who have been affected.
The talk around Windrush was not limited to the Marr show, as all the shows had guests who spoke on the matter. Shadow chancellor John McDonnell, spoke about the hostile environment policy and how it was a terrible. When asked who he thought was responsible, McDonnell said he thinks it is Theresa May as she was home secretary at the time and Amber Rudd as she is the current home secretary.
Baroness Warsi, a former chair of the Conservative Party, was interviewed on Peston and said it could have been her family that were victims of the current scandal and many first and second-generation migrants feared a circumstance like this happening and their fears have come true. Warsi was a member of the Government that oversaw the 'go home vans' and she was questioned on this by Peston. She said she was not publicly happy with the policy and privately she was 'appalled'. She also referenced that the kind of thing she never thought would appear again in British politics has appeared again in the last few years.
James Brokenshire, former minister for security and immigration, was asked by Peston whether he felt personally responsible for what has happened. He replied by saying he thinks it is right the Government have apologised and he never foresaw this.
On Sunday with Paterson, Labour MP Dawn Butler said the Prime Minister is leading a Government that is putting institutionally racist policies into place. Butler said that May should consider her own position and an apology is not enough in this circumstance. Butler also said she sees the Windrush scandal as a disgrace. Tobias Ellwood, Conservative MP, represented the Government on Sunday with Paterson – he said the situation needs to be rectified as these are not people who should be facing the current situation they are in.
While Windrush dominated, there was some discussion with Emily Thornberry on anti-Semitism in the Labour Party – where she said it will be sorted out. She also told a story of how a woman started a conversation with her and started being anti-Semitic to show support to the Labour Party, Thornberry condemned this by saying it is unacceptable. Ellwood spoke on whether Parliament should be consulted on military action, he said it could give your strategy away. He also said the rules around war are being eroded.
John McDonnell said the mandate of the Bank of England could be changed, but its independence would be maintained. The change in mandate would likely be looking at giving the bank some responsibility over employment like the American model. Olympian Tom Daley also appeared on Marr and spoke about LGBT rights across the Commonwealth. He said he does not need to be worried about being who he is in the UK but if he was born in another country in the Commonwealth this would not be the case.
Check out our Canvas of all the best coverage from the Sunday Political shows here and find out how to make your own Canvas here.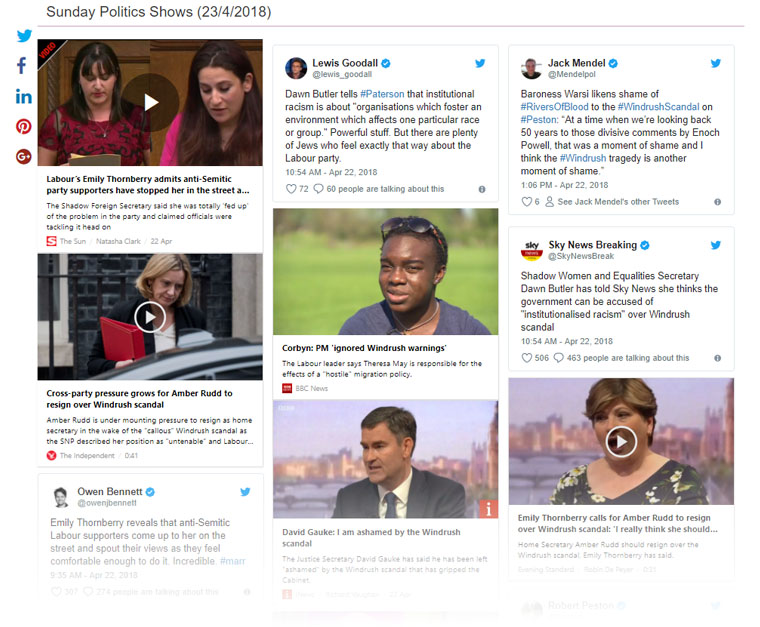 https://www.vuelio.com/uk/wp-content/uploads/2017/11/Politics-on-Sunday.png
430
760
Daniel Loman
https://www.vuelio.com/uk/wp-content/uploads/2019/09/vuelio-logo.png
Daniel Loman
2018-04-23 12:30:27
2018-04-23 12:31:48
Politics on Sunday - Windrush dominates