Political Headlines – Windrush, Syria debate, generation rent and voter targeting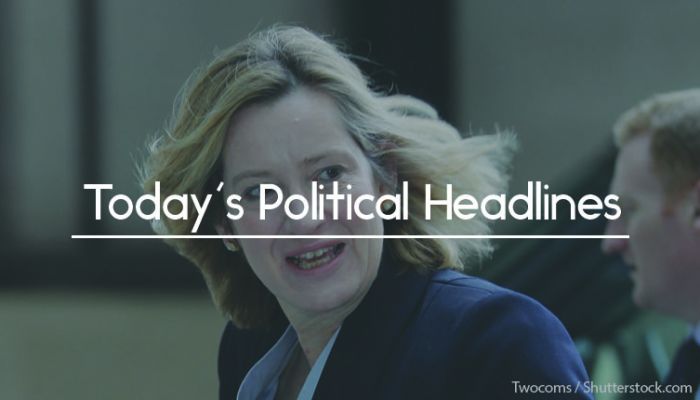 Today's Political Headlines include Amber Rudd's apology over the Windrush fiasco, MPs debating the Syrian intervention, millennials renting until retirement and voter targeting in the EU referendum. 
Rudd apologises over Home Office's treatment of Windrush generation
The Guardian reports that Home Secretary Amber Rudd has issued an 'unprecedented apology' for the actions of the Home Office towards Windrush-era citizens, admitting that the department had 'lost sight of individuals'. She has announced the creation of a new team to resolve cases, while Theresa May will meet Caribbean leaders to discuss the issue. Rudd was responding to an urgent question from David Lammy, who criticised the Government for its 'inhumane and cruel' treatment of those affected.
MPs debate Syrian intervention as GCHQ warns of Russian cyber-attack
The BBC says that MPs are to consider Parliament's role in approving military action in Syria today, after Jeremy Corbyn secured an emergency debate. Last night, Theresa May defended her position during six hours of debate. The Daily Telegraph reports on a warning from GCHQ and the FBI that Russia is targeting the home internet networks of tens of thousands of British households to spy on them and mount cyber-attacks.
Third of millennials will rent into their retirement
The Financial Times says that research by the Resolution Foundation has found that half of millennials will rent homes into their forties, with one-third renting into their retirement, unless there are radical changes to taxation, new funding for public housing and a reform of the private sector.
Commons committee raises concerns over voter targeting in EU referendum
The Guardian reports that the Commons Digital, Media, Culture and Sport Committee has published experts from interviews with individuals connected to Leave.EU and SCL which it claims raise concerns about the targeting of voters in the EU referendum. In one clip, the founder of SCL compares Donald Trump's campaign strategy to that of Adolf Hitler. The Daily Mirror reports that Andy Wigmore, Leave.EU's communications director, has been recorded saying that they used propaganda techniques similar to those of the Nazis.
Lords committee calls for stricter regulation of polling
The Times says that a report by a House of Lords committee has called for stricter regulation of polling firms during elections, with mandatory disclosure of survey funders. The British Polling Council should regulate media coverage, and 'name and shame' examples of poor reporting of polls, complaining to Ipso or Ofcom in the case of 'significant misreporting'.
Theresa May announces funding to increase female education in the Commonwealth
The BBC says that Theresa May is to call for 'concrete measures' to ensure that girls in Commonwealth countries spend at least twelve years in education. The UK is to pledge £121m more funding, allowing around one million more girls to go to school. The Times reports that the Prime Minister supports Prince Charles succeeding the Queen as head of the Commonwealth, despite criticism from Jeremy Corbyn.
Number of nurses leaving NHS per year increased by 17% over last five years
The Daily Mirror reports that 159,134 nurses have left the NHS over the last five years, with the number leaving each year increasing by 17% in that period. Shadow Health Secretary Jonathan Ashworth said that 'The Government's disregard for nurses and years of squeezed wages are forcing good people out.'
Merging NHS quangos could save £800m, report claims
The Sun has details of a report by the TaxPayers' Alliance, which claims that merging NHS quangos could save £800m. The report proposes reducing the number of NHS management bodies from 19 to seven, and suggests modelling NHS England on the BBC or the Bank of England, with ministers setting budgets but not interfering in day to day management.
Find out more about Vuelio political services.  
https://www.vuelio.com/uk/wp-content/uploads/2018/04/Amber-Rudd.jpg
430
760
Thomas Stevenson
https://www.vuelio.com/uk/wp-content/uploads/2019/09/vuelio-logo.png
Thomas Stevenson
2018-04-17 08:22:47
2018-04-17 08:22:47
Political Headlines - Windrush, Syria debate, generation rent and voter targeting