Politics on Sunday – Brexit, Vote Leave and the NHS on Marr, peston and Sunday with Paterson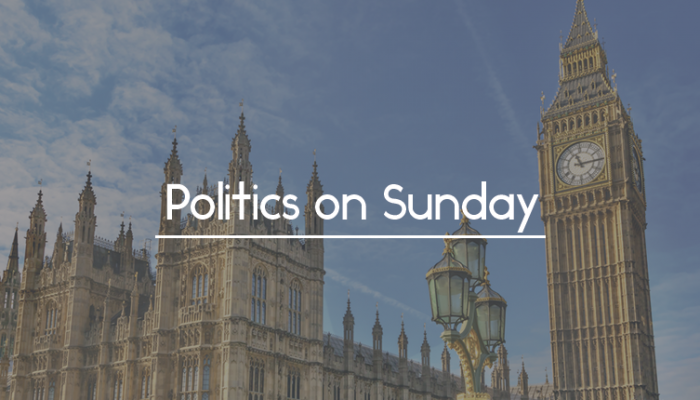 There was no way Brexit would be upstaged for a second consecutive weekend on the Sunday shows, dominating the weekend's coverage. It was discussed on both Peston and Marr, who each hosted several high-profile guests.
There are allegations that Vote Leave gave money to BeLeave (a group allegedly controlled by Vote Leave) so they could get around spending rules. These allegations came from a whistle blower who was not only in Vote Leave but in a relationship with senior Vote Leave figure, Stephen Parkinson. Stephen Parkinson is now a political secretary for the Prime Minister.
There were different calls for different steps to be taken.
Caroline Lucas (Marr) thinks there should be a police investigation, she does not think the Electoral Commission has either the resource or the power to act. She also referenced the Information Commissioner having to wait a week to get a warrant to enter Cambridge Analytica's office.
Deputy Labour leader, Tom Watson (Marr) said the ministers that were involved in Vote Leave should answer questions to find out what they knew and when they knew it. Watson backed Lucas' view that the Electoral Commission needs the powers and resources to further investigate. David Davis (Marr) attempted to calm the matter saying we should wait for the Electoral Commission to come to a conclusion.
Health Secretary, Jeremy Hunt (Peston) defended Stephen Parkinson, saying as far as he knew Parkinson works with the highest integrity. Hunt went on to say the legal matters are for the Electoral Commission to decide on.
Ben Bradshaw (Peston) said it is for the Information Commissioner, the Electoral Commission and the police to decide on whether anything illegal happened. Heidi Allen (Peston) called for the facts to be separated from the gossip, on the wider story, she said, 'the whole thing feels pretty filthy'.
David Davis was not just asked about the Vote Leave issue. He made the following claim on the UK's future relationship with the EU: 'It will be a free trade deal, a comprehensive one, the most comprehensive one ever'. Davis went on to say that the deal will not be like Norway's.
The question of Northern Ireland was, of course, raised. Davis said the preferred and 'likely' way of resolving this issue will be the UK getting a customs agreement and free trade agreement making the issue easier to solve. The Brexit Secretary went on to say a backup plan does exist and this plan involves Northern Ireland remaining in the customs union. Marr challenged Davis on this saying that kind of arrangement does not exist anywhere in the world, to which Davis suggested the use of new technology could solve any old problems.
The Shadow Brexit Secretary, Keir Starmer was interviewed by Robert Peston and asked about where the Labour Party thinks the new British passports should be made. Starmer said the new blue passports should be made by a British company. When Robert Peston pointed out this could cost £120 million, Starmer replied by saying 'To put it to a French company is the wrong thing to have done'.
After Tom Watson said a second referendum was something the Labour Party was open to but not calling for, Starmer had to answer a question on this topic where he made clear it was not a policy Labour were putting forward. Watson was asked about the sacking of Owen Smith; he said that when you join the shadow Cabinet you are bound to collective responsibility and your personal views should be put to the side. Watson said he did not think Corbyn had much choice but to ask Smith to step down.  Shadow Transport Secretary Andy McDonald backed up what Watson said, later on Sunday Politics.
One of the biggest non-Brexit stories to come out of the shows was Jeremy Hunt and the NHS. Hunt said he thinks a '10-year settlement' will suit the NHS much better. He said it takes seven years to train a doctor and three to train a nurse, and to be able to structurally plan for this, the NHS needs longer term financial planning. He also said that the public wants more resources for the NHS and this can only really happen when tax is increased and the economy grows.
Hunt also hinted towards making the NHS more efficient in the way data is recorded, explicitly mentioning IT systems. The Health Secretary also dampened speculation that an extra £4bn a year is going to announced for the NHS in the summer, linking back to his earlier comments that he does not like the 'feast or famine' way the NHS is currently funded. Hunt didn't stop there, he went on to set out a policy where mothers would see the same team of midwives through pregnancy and birth. Hunt himself said more midwives will be needed for the policy to become a reality.
Not for the first time since Jeremy Corbyn became Labour leader, the opposition leader's views on anti-Semitism were questioned. This comes from 2012 when Corbyn defended an anti-Semitic mural on Facebook. The Labour leader has said he was defending free speech and did not realise the mural was anti-Semitic, though he has now said it is. Andy McDonald (this time on Sunday with Paterson) said Jeremy Corbyn has fought anti-Semitic behaviour for a long time. Starmer said the mural was very clearly anti-Semitic and that Corbyn 'can speak for himself'. Peston thought it would worry people that someone who wants to be Prime Minister did not look closely enough at something before commenting on it.
Check out the Canvas, which has all the reaction and coverage from the Sunday shows, here. Make your own Canvas here.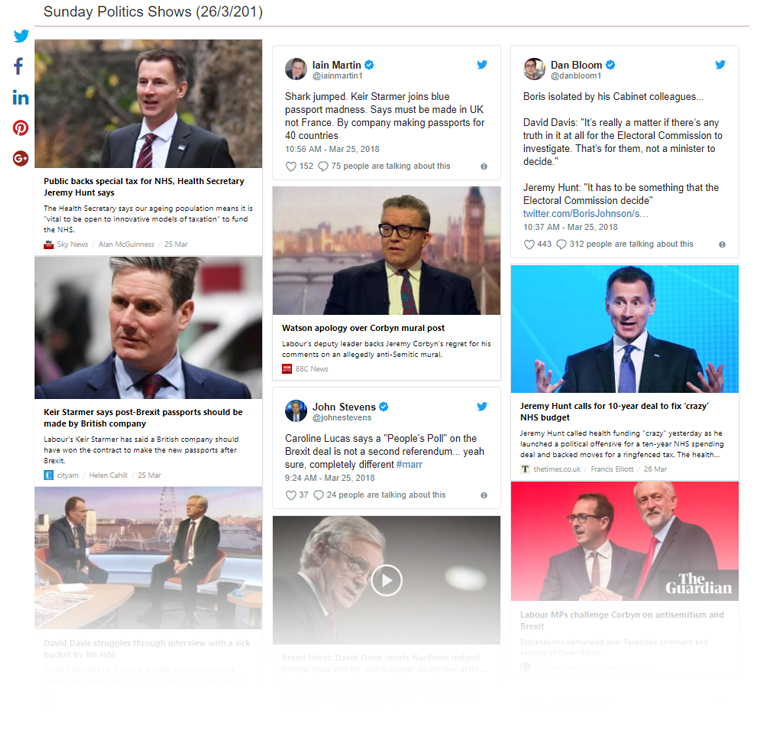 https://www.vuelio.com/uk/wp-content/uploads/2017/11/Politics-on-Sunday.png
430
760
Daniel Loman
https://www.vuelio.com/uk/wp-content/uploads/2023/09/vuelio-logo-200px.png
Daniel Loman
2018-03-26 09:55:46
2019-02-21 18:24:12
Politics on Sunday - Brexit, Vote Leave and the NHS on Marr, peston and Sunday with Paterson