PR and Journalist 'Blind Date': When Stir PR met a daddy blogger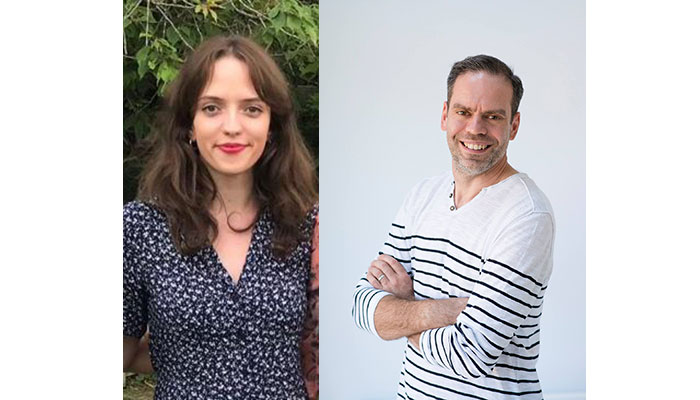 Our latest professional pairing were Jessica Bottomley, account manager at Stir PR and John Adams, a daddy blogger at Dad Blog UK. Here's what happened when they met for their PR and content creator lunch. 
How was your lunch?
Jessica: I had a lovely lunch with John and it was exciting to arrive 'blind', not knowing who I was meeting. In PR, I often arrange breakfast or drinks with journalists, many of whom I haven't met before, so it felt quite natural and I was looking forward to learning about this person's role.
John: This was a superb opportunity to engage directly with someone from the PR world and find out how they work, what they need from bloggers and so on. It was great to get feedback from Jessica on all these issues.
The food was great and Paternoster Chop House is an awesome venue. Conversation really did flow, possibly a bit too freely as we somehow got on to discussing how I talk to my daughters about periods! Not the kind of thing you expect to discuss over lunch, but that was an authentic insight into life as a dad blogger! Anyway, moving swiftly on. . .
Did you learn anything new about their role? If so, what?
Jessica: We work with parenting influencers and content creators regularly at Stir, so I felt like I had a good understanding of John's role. However, my experience has been primarily with 'mummy' bloggers, so it was interesting to get the perspective of a 'daddy'. I also found it really interesting to discuss John's views on an appropriate level of exposure for children in the blogging world – the type of images to share and not to share, fair remuneration, borderline exploitation, etc.
John: My little secret is that I have worked in PR, but not for a good few years so my knowledge is a bit 2010 as opposed to 2019. What surprised me was the amount of effort Jessica puts into selecting which content creators to work with. This seems to be 90% of the role when working on online campaigns. It was also good to hear that the value bloggers and content creators bring to campaigns is widely recognised these days. That's not always been the case.
Were you surprised by anything they told you about their job?
Jessica: I wasn't surprised by anything John said about his role specifically, but it's worth saying that for content creators, this is usually their full-time job, and I think a lot of people don't realise this when hoping to work with them. We also spoke about the need for a hard-working code of conduct; yes, the ASA plays a part in policing things like disclosure (#ad), but there's a lot more that can be done to guide influencers and those working with them.
John: If I were to be totally honest, not really. That's possibly because of my background having worked in PR and communications myself. That said, it was great to hear that, as an account manager, Jessica seems to have a lot of autonomy as to how she runs her campaigns.
If you could share one top tip from lunch what would it be?
Jessica: Top tip – embrace every opportunity to meet new people and learn about different career paths and attitudes; in this day and age, we get so caught up in our own lives (and mobiles!) that speaking to those outside of our inner circle, e.g. on the morning commute, doesn't happen very often.
John: If an agency approaches you with a good idea, but it doesn't quite work, don't be afraid to go back with your own suggestions. Jessica was quite clear she encourages this kind of engagement. At the end of the day, if something is more likely to work for the content creator and agency then it works for the client as well.
Do you think this lunch will change how you interact with PRs/journalists in the future?
Jessica: While I don't think this meeting will necessarily change how I interact with content creators, I think it's reinforced my appreciation of their job.
John: If I am approached to work on a campaign, I will have a greater appreciation as to the effort that has gone into selecting me. Not that I am shy of putting forward my own ideas, but if I have a suggestion for improving or amending a campaign so it could work better, I will be more confident in saying so.
Did you disagree on anything? If so, what?
Jessica: No disagreements!
John: No, although Jessica is probably going to reply to his question saying yes, which will make me look very daft!
If you could change one thing about PRs/journalists what would it be and why?
Jessica: I'm lucky to have had a good experience working with content creators, but sometimes I've found that agents can slow down the process. I acknowledge their role in filtering requests and managing the work, but it can be frustrating for PRs when things seem to take twice as long…
John: When asked this by Jessica, I put forward one, practical point. When I or my agent are approached to work on a campaign, very rarely does the agency state what the deadline is for producing content. I appreciate these things move with the whim of the client, but if I can have a rough indication in the earliest stages, it's enormously helpful.
Finally, do you think you'll stay in touch?
Jessica: Yes, I'd like to stay in touch with John – perhaps he'll work with us for a future campaign!
John: I hope so, yes. Lunch was great and it was wonderful to engage with someone from the PR world in this way. We did talk about one or two clients Jessica represents so watch this space!
Jessica and John's 'blind date' took place at the Paternoster Chop House aka the First Dates restaurant! If you're a PR or a journalist and you'd like to be set up on one of Vuelio's professional 'blind dates', please email Rebecca Potts.
https://www.vuelio.com/uk/wp-content/uploads/2019/05/Jessica-and-John.jpg
400
700
Rebecca Potts
https://www.vuelio.com/uk/wp-content/uploads/2019/09/vuelio-logo.png
Rebecca Potts
2019-05-30 11:45:33
2019-05-30 11:53:48
PR and Journalist 'Blind Date': When Stir PR met a daddy blogger