PR Interview with Sara Hailan, head of digital at Full Fat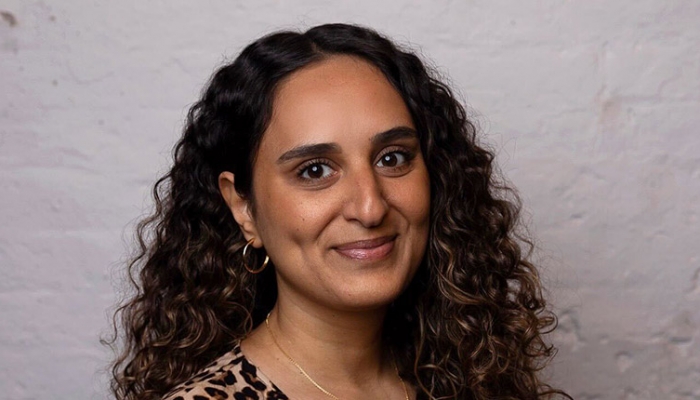 'I love the creativity of digital – it's constantly evolving,' says Full Fat's Sara Hailan. Recently promoted to head of digital, Sara oversees the division dedicated to online, which has grown from a team of one to a full department.
With the evolution of the PR industry speeding up as the needs of the world change, we catch up with Sara to talk about the benefits of digital, the importance of inclusive campaigns and how to go beyond 'tick box' exercises to keep pushing PR forward.
What are you most looking forward to getting stuck into in your new role?
Lots of exciting briefs and new biz! With the digital landscape forever changing, it's important we always have our finger on the pulse. Reviewing our services will also be a key focus this year as we expand our offering.
Having originally started at Full Fat over two years ago, what do you love most about working with the team there?
It's by far the most progressive place I've worked. Everyone has a lot of autonomy and gets a say in what they want to work on. It's also really sociable, with an expansive employee programme and lots of wellness and culture experiences. Plus, I sit on the DEI committee which I'm super passionate about, as is the rest of the agency. We're big on feedback, personal growth and continuously improving in order to make Full Fat the best agency to work at.
How did you originally get into comms, and what keeps you in the industry?
I kickstarted my career post-university as a lifestyle journalist freelancing at titles like Time Out and VICE. I'd always loved writing, so I knew I wanted to work in the comms sector.
I initially fell into PR as my sister worked in it and thought I might quite like it, too. After a few years of working my way up to a senior manager position on big brands at leading agencies, I realised digital was where my heart was at. I love the creativity, the fact it's constantly evolving, and steering conversation and human behaviour online, which is where we, as consumers, spend most of our time these days. I moved over into digital and haven't looked back since!
You will also be working on the agency's DEI Committee – do you think the comms and creative industries are doing enough on DEI?
Definitely not. Unfortunately, many companies merely see DEI as a tick box exercise in a bid to seem 'woke'. I'm really proud of our commitments which we take seriously and underpin everything we do – from campaigns and clients, to suppliers, recruitment and social activities. The problem is creative industries continue to be dominated by straight white men, which obviously isn't representative. I would love to see the industry support students and grads from diverse backgrounds to ensure everyone is given an equal opportunity regardless of their background.
Full Fat works with trans-inclusivity charity Not A Phase – how do you ensure that Full Fat's creative work, across all the brands it works with, is inclusive and representative of marginalised communities?
Not A Phase is just one of the brilliant charities we've worked with so far as part of our pro-bono initiative. We have also worked with Compliments of the House (food surplus), I Like Networking (creative mentorship) and The Vavengers (female genital mutilation/cutting).
We ensure that everything we do – whether it's the media titles we're pitching to, or influencers we're working with – are representative of our DEI values and that marginalised communities are always considered and included. We also organise regular training sessions with external experts to ensure we're always educating ourselves on topics relating to DEI e.g. The Other Box, Deafblind UK.
What are the big trends you see coming up in your sectors over the next few years?
Increased consumer demand for authenticity, especially in influencer marketing. Purpose-led content and brand activations online – people want to know that the brands they love stand for something and align with their values. The creation of more 3D virtual worlds focused on social connection to compete with the metaverse. Augmented reality becoming more commonplace.
How do you form and develop connections with C-suites? Any advice for professionals/teams finding that difficult?
Keep an eye on what they're up to and show how you can add value to their company. Network, connect with people on LinkedIn and always be personable in your approach. Create a wishlist of brands you'd love to work with then approach and build relationships with their CEOs. Sometimes it takes a few goes, but you'll hear back eventually!
How much has the measurement and metrics Full Fat uses to gauge success changed since the start of the pandemic?
While we still measure metrics in a similar fashion dependant on brand objectives (e.g. reach, engagement, sentiment, ROI, sales), what's really important is keeping on top of consumer conversation online, which is where social listening comes into play.
The landscape is changing so much and we're facing price hikes across the board, so it's important whatever we're marketing, especially when it comes to sales driving, is sensitive and relatable in order to be successful.
What are the benefits of a purely digitally-focused team?
Digital is a beast that is forever changing. A purely digitally-focused team is necessary to keep on top of every aspect, whether that's new social media guidelines, paid advertising testing or the latest content trends. Frequent re-strategising is essential to ensure we're delivering what our target audiences want to see and keeping up with the times.
What would be your dream campaign to work on?
Twitter's recent campaign where they took over billboards and infiltrated social feeds, posting celebrities' historic tweets where they manifested their dreams and it came true. So very inspirational for all ages!
For more from Full Fat PR, check out our previous post on getting through Blue Monday and other tough times at the office for details of the agency's charity work and other ways to keep motivation high.
For tailored, qualitative metrics on the success of your agency or brand's campaigns, try Vuelio Insights and our Media Monitoring services.
If digital PR is also a focus for you in your work, book a demo with our sister brand Pulsar to find out more about its social listening solutions.
https://www.vuelio.com/uk/wp-content/uploads/2022/05/Sara-Hailan-Full-Fat.jpg
430
760
Phoebe-Jane Boyd
https://www.vuelio.com/uk/wp-content/uploads/2019/09/vuelio-logo.png
Phoebe-Jane Boyd
2022-05-03 13:37:46
2022-05-03 13:37:46
PR Interview with Sara Hailan, head of digital at Full Fat