PRCA makes updates to its board of directors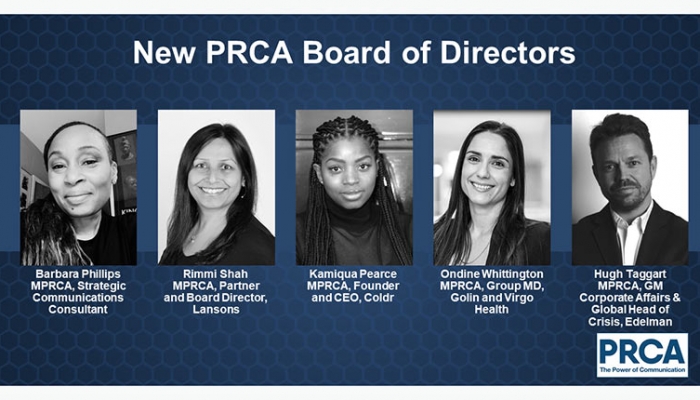 The PRCA has revealed changes to its Board of Directors following last week's announcement of amendments to its governance structure.
Joining the board are Kamiqua Pearce, Rimmi Shah, Ondine Whittington and Hugh Taggart MPRCA. Barbara Phillips joined last week following her announcement as Race and Ethnicity Equity Board Chair. Standing down from the board are Tony Langham, Jon Hughes, David Gallagher and Ed Williams.
'I am deeply grateful for the vast contributions Tony, Jon, David and Ed have made as PRCA Board members,' said PRCA director general Francis Ingham of the departing board members.
'Their desire to inspire and fast-track the next generation of leaders has never been more evident. I'm delighted to welcome Barbara, who joined last week, and Kam, Rimmi, Ondine and Hugh, who all have a proven track record in championing the aspirations we hold as a Board.'
Those joining the board bring a wealth of industry experience. Rimmi Shah is partner and board director at Lansons, advising senior teams and boards on corporate comms, public policy and stakeholder engagement. She also serves as an Advisory Board member of the Lloyds Bank National Business Awards.
Kamiqua Pearce is a senior PR and communications consultant, a BME PR PRO mentor and the founder and CEO of Coldr and the UK Black Comms Network.
Golin and Virgo Health group managing director Ondine Whittington brings experience across pharmaceutical, OTC and the public sector.
Hugh Taggart is global crisis practice chair for Edelman and leads London's Corporate Affairs practice, spanning its Corporate Reputation, Public Affairs and Financial Communications teams.
Barbara Phillips brings over 20 years of experience in strategic communications and is a certified NLP (neuro linguistic programming) coach, as well as an accredited Mediator and a director of a specialised teambuilding and leadership organisation. Barbara also sits on the advisory board of an education social enterprise teaching Black British History in schools and corporate settings and is current sitting Magistrate.
'All of the changes underway are essential to delivering on the commitments we made and to set the example for the wider industry,' added PRCA chairman Jim Donaldson.
'I am thrilled to welcome Barbara, Ondine, Hugh, Kam and Rimmi. All of them bring exceptional expertise and leadership as we continue to navigate through the COVID-era and all of the challenges of the last few months. It is vital for the industry to have strong and diverse perspectives on the Board to tackle these critical issues and to lead from the front.'
Read more about changes to the PRCA Board of Directors here and our interview with Race and Ethnicity Equity Board chair Barbara Phillips.
https://www.vuelio.com/uk/wp-content/uploads/2020/07/PRCA-Board-of-Directors-2020.jpg
430
760
Phoebe-Jane Boyd
https://www.vuelio.com/uk/wp-content/uploads/2019/09/vuelio-logo.png
Phoebe-Jane Boyd
2020-07-30 11:48:38
2020-07-30 11:48:38
PRCA makes updates to its board of directors