PRspective: Kyly Bird of Make Architects
Make is an award-winning international architectural practice with studios based in London, Beijing and Hong Kong. It was founded by Ken Shuttleworth in 2004 and has established itself as one of the UK's foremost architectural firms. The practice has designed, planned and built iconic projects worldwide ranging from urban masterplans to residential and office developments. Some of Make's most prominent projects include the City of London Information Centre next to St Paul's Cathedral, The Copper Box Olympic venue, The Cube in Birmingham and the Grosvenor Waterside residential development.
In an interview with Vuelio, Kyly Bird, digital marketer and partner at Make discusses the pressures of urban development today and the resulting effect it has had on communications and PR in the architecture and design sectors.
Getting to know Make:

How does the architecture and design industry use media? The industry is a very visual one. There is always a plethora of images or photographs, even videos, to make use of when communicating with the press and the public. The industry has also been quick to integrate with social media and there are a large number of practices using social media channels to communicate about their projects and other news.
Over 50% of the world's population live in towns and cities, putting pressure, and undoubtedly increasing competition, on urban developers, architects and planners. Has this changed communications within your business? The rise in urban population has placed more of an onus on architects and urban developers to create places that not only serve their purpose but that cater, and are beneficial to the growing and changing urban demographic.
It is important for us to engage with the public on upcoming projects and to communicate in a way that is logical and free of jargon. Their input is vital to the success of a project.
How important is digital media in your communications and PR strategy?  Very important. While we're still focused on mainstream channels a large section of our core audience of journalists and clients are on networking sites such as LinkedIn and Twitter. We need to be there, interacting and connecting with them.
What has been the most effective digital campaign for Make? We launched a fun campaign recently around 'A Dolls' House' – a charity initiative where 20 architects  were asked to design and build a dolls' house to be auctioned to raise money for an organisation called Kids.  We launched a microsite to support the project which generated over 3,000 visits over a week. We've been promoting the project on Twitter and LinkedIn and have received great feedback.
What is the road ahead for the practice? Make is celebrating its 10 year anniversary in 2014. We want to celebrate this milestone by creating a film that celebrates the past, captures the essence of Make and looks to the future.
Getting to know Kyly Bird: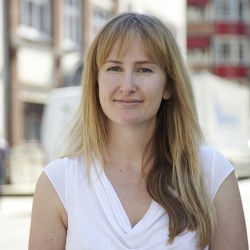 The first thing I do when I come into work is: check Hootsuite. Mainly to see what journalists have been tweeting about.
My favourite website design: I have to say it's the Dolls' House website we launched. It's simple, clean and beautiful.
My biggest social media peeve is: Internet trolls. I just don't get it. (Will I get "trolled" for saying that?)
If I wasn't in digital marketing I would be: outdoors. Sitting at a desk all day has really made me appreciate being able to get outside and get moving. So if I wasn't a digital marketer, I would like to do something with plants or animals.
The best think I like about my job is: the variety it offers. From my typical digital marketing activities to events to PR to creative thinking.
Priyanka Dayal
https://www.vuelio.com/uk/wp-content/uploads/2019/09/vuelio-logo.png
Priyanka Dayal
2013-10-28 11:18:47
2017-11-10 16:29:12
PRspective: Kyly Bird of Make Architects