Royal Baby: Name of Thrones
Kate and Wills are expecting the future king or queen any day now, and speculation of what they'll name it is at fever pitch. What are the most likely options from Twitter?
The bookies currently list Charlotte as favourite, closely followed by Alexandra, Elizabeth, Victoria, Diana, George, Eleanor, Alice, Mary and James. It is likely that the royal baby will have multiple names, like father-to-be 'William Arthur Philip Louis' or uncle-to-be 'Henry Charles Albert David'. It is also presumed the baby will be female, as Kate apparently 'let it slip' (though St James' Palace deny that the couple know the sex of the baby).
Using Vuelio Social Media, we can see which names from the bookies' top ten have been predicted for the #royalbaby: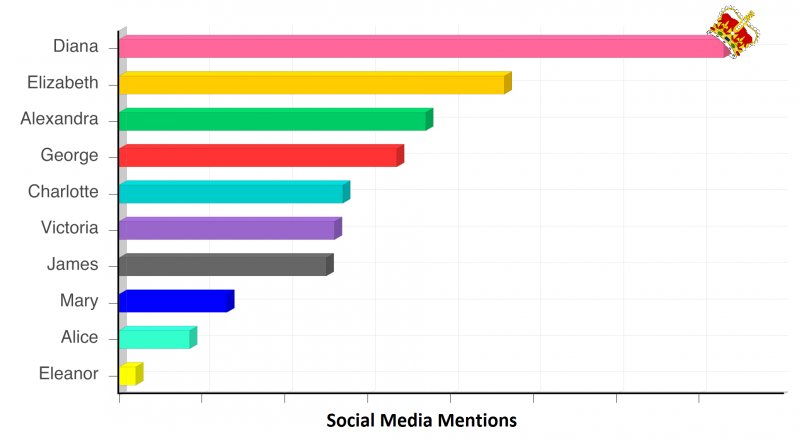 Diana, possibly unsurprisingly, comes out on top with many people predicting it will be included at least as a middle name, if not the first name. Bookies' favourite Charlotte isn't a popular choice at all, placing behind the Queen's (and Kate's Middle) name, and top boy's name George.
These names are more traditional suggestions but there are other choices open to the royal couple. The Metro has suggested Khaleesi, from the über popular Game of Thrones, is in the mix, and Kate's own mother's name – Carole – should surely be considered? Then there's the baby's uncle Harry, who is popular among the masses.
Across the blogosphere, the topic is also a popular post with theories about the naming process being discussed intently:
Political and social blog, Mars Hill, discusses the difficulties of choosing a non-royal baby name and the extra challenges Kate and Wills are facing. It suggests name such as Richard, John, Matilda and Jane may be controversial as they have negative connotations with monarchs past. Mars Hill suggests the will be original – so Khaleesi it is then.
PopSugar UK include Princess Diana's maiden name Spencer as a possibility, though highlights the fact royal babies tend to have classic, historical family names.
The Gingerbread House reports that Baby TV launched a royal baby-naming competition, with Philip and Diana the most popular choices for each gender. The blog also reveals that 60% of British mums choose their child's name with dads having just 21% influence (is Kate a Game of Thrones fan?).
So we have our new list of possible names: Khaleesi, Carole, Harry, Spencer and Philip. There is, of course, the possibility that any name will be chosen; Ladbrokes has given 'Psy' and 'North' odds of 5000/1. Instead of copying Kim and Kanye exactly, the royals could make their own humorous first and last name combination:
Best suggestion I've heard so far for the royal baby's name: Legoland (as in 'Legoland Windsor').

— John Stratford (@johnstratford) December 4, 2012
Using Cision Social Media once again, we can create the top 'Alternative Royal Baby Names':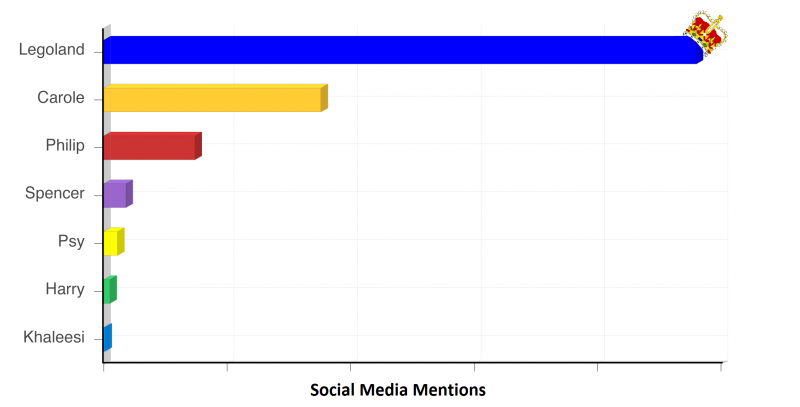 Unsurprisingly, considering Twitter's sense of humour, Legoland has come out on top and is therefore the favourite alternative name. Carole, while untraditional, probably has a fair chance of making into the future monarch's name. Vuelio's hopes still rest with Khaleesi, not a popular choice but a name clearly fit for the future queen of England.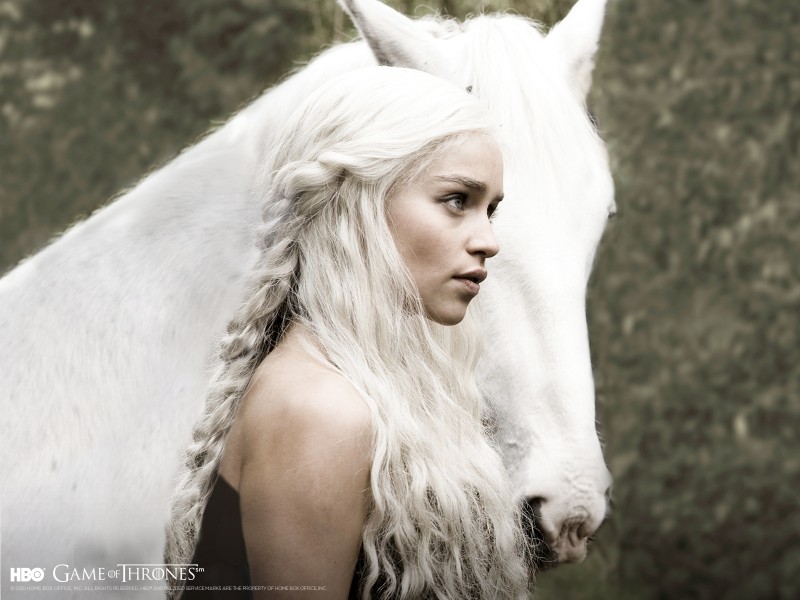 Vuelio has already experienced royal baby fever and published the top 10 UK baby blogs.The graphs were made with data from Vuelio Social Media. All of the blogs mentioned feature in the Vuelio Media Database.
https://www.vuelio.com/uk/wp-content/uploads/2019/09/vuelio-logo.png
0
0
Priyanka Dayal
https://www.vuelio.com/uk/wp-content/uploads/2019/09/vuelio-logo.png
Priyanka Dayal
2013-07-05 12:57:22
2017-11-10 15:58:02
Royal Baby: Name of Thrones