Running Blogger Spotlight: Becca Burns, This Bunny Runs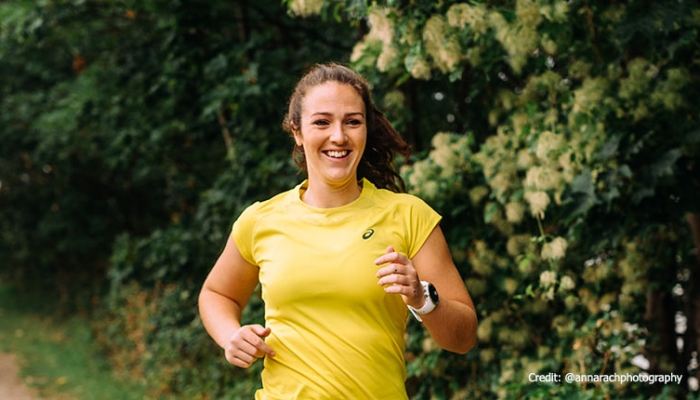 'I think that the fear of the unknown is often a huge barrier to participation and enjoyment of running, cycling or swimming and I want to help and encourage others by taking some of the mystery away,' says Becca Burns, who encourages new runners to follow her into the unknown with blog This Bunny Runs.
Believing that running can be whatever you want it to be, Becca shares her favourite things to post about, the best runs she's gone on and how to get started with the sport.
What got you into running as a hobby and what keeps you passionate about it as a way to keep fit?
I originally started running as a way to become more active as a student, then I returned to running in 2016 to deal a stressful time and it really has changed my life. Physically, I've lost a third of my bodyweight and I'm much fitter, but mentally I find running teaches me discipline, coping with challenges and gives me a great deal of headspace and freedom. I like that running can be whatever you want it to be; you can challenge yourself to a tough speed session, chase times or distance goals, or just enjoy the thrill of lacing up and heading out.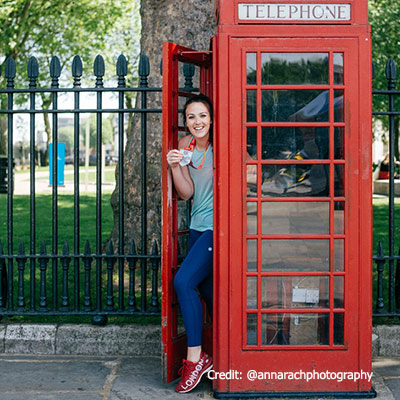 What's your favourite thing to post about and why?
I enjoy posting hints, tips and reviews to encourage and empower others. Along my journey from running into triathlon I've found there were a lot of things I found confusing, daunting or unclear. I've had to learn a lot through asking questions (to Google, or real-life people!), putting myself out there and being prepared to fail. I think that the fear of the unknown is often a huge barrier to participation and enjoyment of running, cycling or swimming and I want to help and encourage others by taking some of the mystery away.
Did you take part in the London Marathon this year?
I did! I originally wasn't lucky enough to get a ballot place but the virtual format gave me the chance to be part of the race.
Do you think the different format of the Marathon, in light of the COVID-19 pandemic, was a good idea?
I think some really tough decisions were made in light of completely unprecedented circumstances. Organisers had to navigate a global pandemic and balance public health and changing restrictions with the need to support charities and care for their runners (from elites to the masses). The virtual format for the other runners has allowed people like me who have been unlucky in the ballot the chance to run, and it's given those training a chance to have their moment. While it wasn't the London Marathon we know and love, I'm excited to have run it on my own terms in a way that felt safe. Even though we can't physically run together right now, we can run together in spirit and that is what the London Marathon is about.
How did you change your approach and content during lockdown?
My content always focuses around my training and the things I've learned along the way. As I shifted from gearing up for my first half ironman to just training to stay fit and healthy (physically and mentally) my content naturally changed with this. I've spent more and more time out on my bike, open water swimming or speaking with friends who took up running when the gyms were closed. I've seen first-hand the spike in cycling, running and swimming and my content has largely been around encouraging those new to these sports. I've shared a lot of the things I've learned along the way (but wish I had known from the start) such as tips and jargon busting for buying your first road bike, advice for open water swimming, fuelling your runs in hot weather, tips for new runners and trail running in/around London (where I'm based). It can be challenging starting a new sport, and now more than ever we need to support each other.
What's the best route you've ever taken for a run?
Last year I was invited to run in the South of France – on the fourth day of the trip, we stayed overnight in some mountain cabins high in the Pyrenees. That morning I woke up really early and watched the sunrise over the mountains; the air was so fresh. We then ran from our refuge back down to the coast along a mountain ridge that divided France and Spain. It was one of the best experiences I've ever had. The views were spectacular; it was a real 'pinch me' moment.
Best snacks/drinks to take along for a race?
If I'm cycling, I love some home-made flapjacks. For running, I mainly use gels as I find these work for me.
What advice would you give to someone who's never been into running but would like to start?
That everyone has been a beginner once – don't compare the start of your journey to someone who is much further along their path. Focus on you and strive for progress over perfection. Yes, there will be days it feels hard, you might even hate it at first (I did!) but keep showing up, stay positive, be kind to yourself and give it a go.
How do you collaborate with brands, and which kind of brands do you really like working with?
I've been a brand ambassador for ASICS since 2017 as part of their FrontRunner team and I recently became a swim ambassador for zone3 who make wetsuits. I really enjoy representing both these brands – I use the kit in all my training and I really like the quality, feel and performance. I really enjoy working with brands that I use in my everyday life.
For PRs looking to work with you and your blog/website, how would you prefer they approach you and with what kind of content?
I love content that aligns with my values and focuses on experiences, empowerment and being active. I'm open to things that are adventurous or quirky, in fact I think these are often the most exciting collaborations. I don't mind how people approach me; I'm always open to have a chat.
What other blogs do you check out regularly?
Quite a few who feature in the recent Running Blogs Top 10! They're all such incredible blogs – I particularly enjoy Charlie and Elle's content (TheRunnerBeans and Keep it simpELLE) and really admire their commitment to blogging. I also love Sarah's Dreaming Of Footpaths as the race recaps really make me laugh and Livvy Mason RD's The Nutritious Runner, as I've watched her grow from dietetics student to qualified NHS dietitian, combining her love of running, the great outdoors and nutrition.
https://www.vuelio.com/uk/wp-content/uploads/2020/10/This-Bunny-Runs-Becca-Burns.jpg
430
760
Holly Hodges
https://www.vuelio.com/uk/wp-content/uploads/2019/09/vuelio-logo.png
Holly Hodges
2020-10-26 12:00:46
2020-10-26 12:00:46
Running Blogger Spotlight: Becca Burns, This Bunny Runs