Speedy Spotlight: Becki Dunn's Life Looks Perfect
An interview with Becki Dunn, author of the beauty and lifestyle blog Life Looks Perfect.  Becki spoke to us about writing honest reviews, going solo and why she hates the 'freebie' word.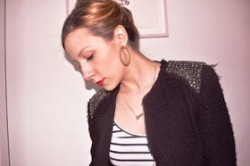 Why should people read your blog?
I think people will read my blog if they like beauty, honest reviews and a bit of personality. 
What makes your blog different?
Since going solo at the start of this year (as I used to run Life Looks Perfect with my younger sister), I have found it tricky to find my place within the blogging world and find what makes me different. There are so many talented people out there writing about beauty and their lives, just like I do. 
 I think people should read my blog if they like personal beauty reviews and enjoy reading about my own personal life and the trials and tribulations that go along with it. If you are a skincare addict too- I am for you! I wouldn't say I am that different in the blogging world, as we all love a lippy and the latest beauty launch but I do try to share parts of my life with my readers, involve them in my blog as much as I can and share the blog love a little. I think it is so important that bloggers show love for each other's work and communicate it.  The blogging community has saved me in so many ways and I couldn't live without it.
What's your favourite blog and why?
I don't know if I have a favourite blog as I read so many across all areas of life on a daily basis. But the one that always stands out is the lifestyle blog Bleubird Vintage. James shoots the most incredible photography and her life is full of everything that I adore- vintage, love and happiness. She is certainly an inspiration to me. One day if I ever find myself with a family or being able to travel, I would like to share it on LLP like James does. Oh to dream!
What advice would you give to someone who wants to start a blog?
Have a passion for writing. I started up LLP purely as a hobby to share a bit of what I loved online with my sister. I would never dream that a year later, I would have become a beauty blogger, things just settled into place and I found something that I truly am passionate about. 
Make sure you love blogging for the right reasons. If you are going into it, thinking oh i'll get some freebies- don't bother, as you have to put alot of time and effort into your site before something like working with PRs even comes into play. For me, I have never once called a sample a 'freebie' – I hate the word. For me, it is a sign that companies appreciate what you are doing and want to work with you. 
Don't compare yourself to anyone. Blog the way you like to blog. At start, I got caught up buying the latest product and  thinking 'what has she done that I haven't' – its a dangerous place to be in. Make your blog an extension of yourself and readers will follow.
How does a good communications professional work with you?
I have been so lucky to work with some amazing PR companies that are full of dedicated, wonderful and friendly people that represent brands that I love. A good PR company is one that gets to know you. A PR company that takes the time to find out what you like, your skin tone, your personality, your likes and dislikes – all those things that makes you feel like a person and not just another client.
What do PR do that's bad?
I have never had any bad experiences with PR's but I do get a little disheartened if you have tried to contact a company and they just don't have the time of day for you. As I work with a PR company in my day job, I am aware that PRs must get bombarded with so many emails every day from bloggers, showcasing their stats etc and it's tough getting noticed, but I think just a quick email is better than no contact at all. 
What was your blogging highlight of 2013?
It's a bit of a silly one but finally getting noticed by fellow bloggers and them telling me that they love reading my blog, means the world to me, along with PR companies and brands that I really admire contacting me is something that I never fail to appreciate. As I suffer with severe anxiety, going to events have always been a problem for me but attending just a handful last year, really gave me confidence in not only myself but in knowing that what I was doing with LLP was a step in the right direction.
What will be big in your blogosphere in 2014?
I think this is always tough to tell, as things come and go and happen so quickly as a blogger. I think keeping up a great collection of posts weekly and building up my readership is something that I am working on this year. On a personal note, making it to events and meeting bloggers that I chat to almost everyday, is something I really want to pursue this year.
Editorial information on Becki Dunn, Life Looks Perfect and thousands of other media contacts and outlets, can be found in the CisionPoint Media Database.
Priyanka Dayal
https://www.vuelio.com/uk/wp-content/uploads/2023/09/vuelio-logo-200px.png
Priyanka Dayal
2014-03-25 11:40:42
2014-03-25 11:40:42
Speedy Spotlight: Becki Dunn's Life Looks Perfect