Father's Day Special: Speedy Spotlight with Danny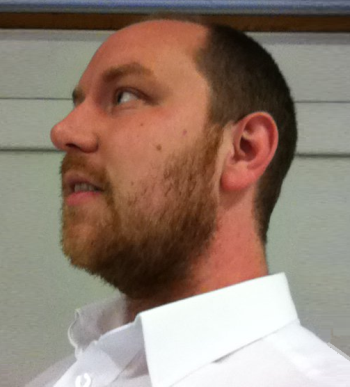 An interview with Danny, a father of four from Essex and author of the blog Danny UK. He spoke to us about keeping his posts relevant to the average online reader and the do's and dont's of working with brand marketers.  
What makes your blog different? My blog is full of stuff – It's been going in some form for ten years or so.  You can read about my experience of becoming a parent, a visit to an underground tunnel, things my kids say ("When I grow up I want to be a cat" is my personal favourite), fiction stories that are less than sixty words and everything in between.
I try and write from the heart with a smile that comes across in my posts. As it's my blog, it goes by my rules, so though it's primarily visited by parent bloggers and Twitter users (as they are the online circles I associate with) there's no post topic that is out of bound.  I believe the average tweeter will be as happy reading about my funny Durex condom review as the parents that the post was aimed at, simply because my writing style is fairly all-encompassing.
How do you measure the success of your website? Success is an objective word.  I started blogging as a way to record my life.  Way back in the early 2000s, no one was reading my blog and I was fine with that.  Success then was blogging regularly, and it was an aim that I sometimes achieved and sometimes didn't.  These days I judge success in different ways.
Having worked in sales for close to two decades, the thrill of having a post break my personal best for views is great. Equally, having someone comment that they found the content useful, funny, or worth sharing is a measure of success for me.
I had a guest post about depression at the start of the year from a reader who wanted to remain anonymous.  The response I got to that was fantastic, and though in my mind the article didn't get the coverage I wanted to for such an important subject, the fact that people emailed me to say that it helped them is amazing.  It's cliched, but you can't measure that.
What's your favourite blog and why? I have so many favourite blogs that it's hard to narrow them down.  So many important people in my life now have blogs which I read religiously.  Off the top of my head though, and keeping the aforementioned people aside, I look forward to www.postsecret.com/ on a Sunday, as well as the blog posts that appear on vevivos.com – run by Vic who has been amazingly helpful.
What advice would you give to someone who wants to start a blog? Blogging is a personal thing.  I could give all of the advice in the world about SEO, where to advertise your competitions, or how to utilise social media, but you may want to blog simply to record the memories of your baby for future reference, so what I've said is redundant.
If pushed, I'll keep it simple: Make sure you enjoy whatever you're doing.  If you're getting into blogging for freebies or for money, it's achieveable, but unsustainable if you don't like what you're doing.
Who do you work with in brand marketing? PRs? SEOs? Anyone else? I'll listen to any marketers and PRs, but will cherry pick what I feel suits my blog or what interests me.  Like any blogger, I'm open to paid posts, free samples and days out, but don't be upset if I say no.
I'm more inclined to work with you if you're fun, approachable and I don't just feel I'm being used.  Drop me an email when you don't particularly want anything, just to say hi.  I love a random email chat.
But if you want me to feature something on the blog, talk to me.  Ask if I'd be interested.  Ask if I know anyone else if you need more people.  Tell me what you can offer me.  Let's be honest, I want the money and the views as much as your clients want to be read about, but it needs to work for both of us.
What can marketers do better in working with you? Have an understanding of what I blog about!  Yes, I'm happy to consider anything, but nappies don't interest me as my youngest finished potty training six years ago.  Oh, and reply to your emails!
What was your blogging highlight of 2013? In 2013 I moved the blog to the DannyUK.com domain.  I lost a lot of goodwill in terms of Google Page Rank, but it was definitely the right thing to do.  The blog is much more recognisable now, the name matches the Twitter name I've used for years and it indicated a shift in focus from something occasional to something I started to take a lot of pride in.
What will be big in your blogosphere in the coming months?  The thing with blogging is that you never know what's coming up in the future.  There's an interesting mobile app that is due to be updated soon, which is going to be interesting to see and review, as in those circles it will make some big waves.
Editorial information on Danny UK and thousands of other media contacts and outlets, can be found in the CisionPoint Media Database.
https://www.vuelio.com/uk/wp-content/uploads/2014/06/Dan-3.png
387
350
Priyanka Dayal
https://www.vuelio.com/uk/wp-content/uploads/2023/09/vuelio-logo-200px.png
Priyanka Dayal
2014-06-13 14:58:24
2014-06-13 14:58:24
Father's Day Special: Speedy Spotlight with Danny