Speedy Spotlight: Kay Burgess, Mummy B
An interview with Kay Burgess, author of the parenting blog, Mummy B. Kay spoke to us about deriving inspiration from her daughter, mistaken identities and winning an award.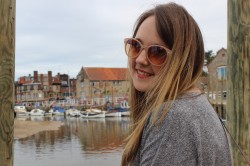 Why should people read your blog?
My blog is a place that I put my heart and soul into. I find blogging completely therapeutic and relaxing. Its a place where I can share my memories and share ideas and loves, I hope that people can enjoy and appreciate what I write.
What makes your blog different?
My blog is an extension of me and so there won't be another like it! I don't like to just write about the same topics, my line for my blog is 'Mummy B – Little D and all things pretty' I write a lot about Darcie (little D) as she was my inspiration for the blog but I also cover things like home decor, beauty and fashion. I like to about things that I love and things that inspire me at any given time.
What's your favourite blog and why?
I have different blogs I enjoy for different reasons, 'Oh So Amelia', 'Milk Bubble Tea' and 'The Londoner' are my reads that I look for first in my Bloglovin' feed. I like brilliant photography along with a nice writing style, which is partly why I'm drawn to these blogs.
What advice would you give to someone who wants to start a blog?
To write about things you love rather than things you think other people would love. If you do this readers will see your genuine passion for blogging. 
How does a good PR work with you?
I like it when I receive an email from a PR company who clearly has taken the time to read my blog and get to know me. Good PR is all about building good relationships and a PR company taking a genuine interest in you is a good start!
What do PRs do that's bad?
I have not had many negative experiences, one time a PR company got me confused with another blogger and even when I corrected them they continued mistaking me for someone else. As you can imagine I soon lost interest in them.
What was your blogging highlight of 2013?
At the end of 2013 I feel I really did 'grow' as a blogger. I won a blogger award from NEXT and also went to my first event, made me feel like 'someone' when really, I just started it as a way to keep our memories.
What will be big in your blogosphere in 2014?
Hopefully working with more amazing companies to create great content, whilst still making sure it remains a place for memories too. Who knows what the future may bring, I'm certainly excited. 
Editorial information on Kay Burgess, Mummy B, and thousands of other media contacts and outlets, can be found in the CisionPoint Media Database.
Priyanka Dayal
https://www.vuelio.com/uk/wp-content/uploads/2019/09/vuelio-logo.png
Priyanka Dayal
2014-03-12 10:44:49
2014-03-12 10:44:49
Speedy Spotlight: Kay Burgess, Mummy B