Speedy Spotlight: Naomi's Tattooed Mummy
An interview with Naomi, author of the blog, Tattooed Mummy. Naomi spoke to us about the 'public soapbox' her blog now is, festival-hopping and more talk on beards coming up in the months ahead.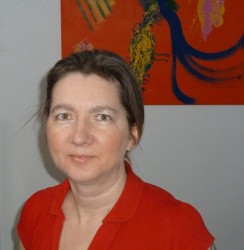 Why should people read your blog?
People should read my blog for the same reason they read any blog I think, it shows another viewpoint on the world and expanding our view is a good thing. You may not always agree with what you read, your idea of humour may be different and you may get angry at other things, but it can be good to stop and think about another person's outlook on life.
What makes your blog different?
My blog started as a personal diary but has morphed into my public soapbox! I use it to vent at what I deem injustice, to question things, to stand up for what I think is right. But I also use it to be funny (I hope), to share recipes, amusing stories and to review things I've found good (or bad!). My blog is a mishmash of ideas, I wouldn't really claim a 'theme' but it's always honest.
What's your favourite blog and why?
I love to read other blogs like mine (does that make me vain? maybe!) and one of my favourites at the moment is the BigFashionista's blog – she likes funny and odd things and can rant with the best of them.
What advice would you give to someone who wants to start a blog?
Just start it. I don't think all blogs need a theme (though I did start a spin-off blog about my camping and festival adventures when I worried they might take over.) Once you've started writing you'll find your niche and readers will come if the blog is good enough. You should not be afraid to tell people about it via Twitter, Facebook and other social media channels. And comment on other bloggers blog posts to get noticed. Decide early on if you want to be 'anonymous' or not – it's hard to change later if you realise you do.
And don't panic about 'stats' too much. It'll drive you mad.
How does a good PR work with you?
Honestly, I'm a chatty, pretty ordinary person and I tend to like people until they give me reason otherwise. So being courteous and honest, and getting my blog name correct all help. It's nice when a PR has obviously taken the time to read a blog post or two and the 'About Me' page on my blog, so that, for example, they don't ask me to review nappies (I have a teen daughter!)
What do PRs do that's bad?
See above. Send an obvious 'to everyone' email that is totally inappropriate for my blog.
What was your blogging highlight of 2013?
I was lucky enough to be sent to Glastonbury (for the first time, and with my daughter) as a citizen journalist for Ecover. That was amazing and the blogging afterwards just helped to extend the fun. So many memories.
What will be big in your blogosphere in 2014?
I can see that ranting will continue. Hopefully so will happiness though. It's nice to find some gold amongst the dirt I think. I'll try and keep a balance. But we'll have to wait and see if I manage. Oh and of course there will be talk of taxidermy, and beards.
Editorial information on Naomi, Tattooed Mummy, and thousands of other media contacts and outlets, can be found in the CisionPoint Media Database.
Priyanka Dayal
https://www.vuelio.com/uk/wp-content/uploads/2019/09/vuelio-logo.png
Priyanka Dayal
2014-03-13 10:30:29
2014-03-13 10:30:29
Speedy Spotlight: Naomi's Tattooed Mummy