Speedy Spotlight: This Mummy Loves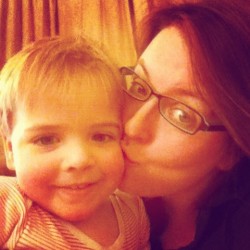 This Mummy Loves was featured in last week's Media Updates. Author Sonia Thorpe talks about sponsored posts, family life and giveaways.
Why should people read your blog?
Because I write honestly and from the heart. I cover many parenting related topics from breastfeeding to potty training; not because I think I know everything but because it helps me going through these experiences to get advice from others in similar situations and if i do help just one person then it's all been worth it. I regularly run great giveaways and do honest product reviews too.
What's the most important issue in your blogosphere?
I think there are many important issues in the parenting blog world but one that keeps rearing its head is the issue of follow/nofollow links and whether to disclose a sponsored post or not.
What's your favourite blog and why?
I have two favourite blogs; they belong to my sisters so i have to say that. Dawnie blogs at Knees Up Mother Brown and Cathy at Wishful Wonderings. There is also a very good friend who blogs at Innocent Charms Chats, which is full of her wonderful children and current pregnancy. I love to be able to keep up with her life.
How often do you aim to post?
I don't really have an aim, I just post when i feel like it. I don't like to go a whole week without posting and generally like to get a post up every couple of days, but I won't sacrifice my family life for it.
How do you feel about guest posts?
I often host guest posts from other bloggers – I run topics on my blog and it's nice to get different experiences.
How does a good PR work with you?
I have worked with a lot of great PRs. What separates these from the rest is a nice friendly email that isn't too forced and relates to me in some way. Letting me know what they want from me and how we can work together from the offset is always good. Understanding that I am a busy mum of three that runs her own business is also a bonus!
What do PRs do that's bad?
A PR asking me not to disclose a sponsored post doesn't sit very well with me but on the whole PRs are a lovely bunch – except when they address me 'dear blogger'.
Editorial information on This Mummy Loves, Sonia Thorpe and thousands of other media outlets and contacts can be found in the CisionPoint Media Database.
https://www.vuelio.com/uk/wp-content/uploads/2019/09/vuelio-logo.png
0
0
Priyanka Dayal
https://www.vuelio.com/uk/wp-content/uploads/2019/09/vuelio-logo.png
Priyanka Dayal
2013-04-17 08:55:57
2013-04-17 08:55:57
Speedy Spotlight: This Mummy Loves