Justin Bieber's guestbook comment
Justin Bieber may be the most followed individual on Twitter (or he may not) but apparently he's not a fan of Spider-Man as he hasn't seemed to have grasped: 'With great power comes great responsibility'.
On Friday evening Justin (J-Biebs to those in the know) visited the Anne Frank Museum while on tour in Amsterdam. According to the Anne Frank House Facebook page, Justin signed the guestbook: 'Truly inspiring to be able to come here. Anne was a great girl. Hopefully she would have been a belieber.' Unsurprisingly, this has caused a negative reaction across the internet.
Even with Cision Social Media, it is difficult to measure social media mentions for someone like Justin Bieber who regularly generates over one million mentions a day. A majority of the mentions come in the form of: 
@justinbieber you don't even understand how much you mean to me

— ♡ Jade ♡ (@JBiebsTC) April 15, 2013
Or:
@justinbieber please follow me

— Niloofarjb (@Niloofarjb) April 15, 2013
However, measuring mentions of Anne Frank in relation to Justin Bieber, Cision Social Media can create the following conversation cloud: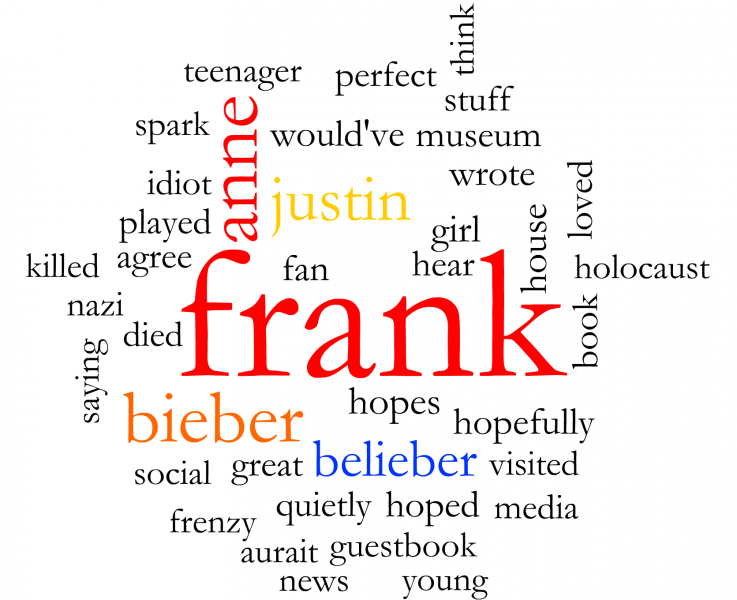 A few of the most common words came from retweets of Ricky Gervais': 'I agree with Justin Bieber. Anne Frank would've loved his stuff. It's perfect for being played really really quietly so no one can hear it.' 
Other words pick up on the actual story; his use of the 'belieber' and obviously the 'guestbook' where he wrote his ill-conceived message.
There are some who are using the opportunity to talk about the Anne Frank story. So perhaps Justin Bieber has done a good thing by forgetting to think before he writes and accidentally raising awareness. Maybe he even did it on purpose, if only for the sake of publicity: 
While Justin Bieber understands little about Anne Frank, he clearly understands that there's no such thing as bad publicity

— The Scissors (UK) (@scissorsuk) April 15, 2013
No matter how many 'haters' there are attacking Justin Bieber in his latest incident, he can rest easy knowing there will always be people who have got his back:
@justinbieber I hate to see how they insult you, it really hurts :'(I'll be there to support you

— ~ Fly~ (@LoveWithHoran_) April 15, 2013
Data and Conversation Cloud from Cision Social Media via CisionPoint. 
https://www.vuelio.com/uk/wp-content/uploads/2023/09/vuelio-logo-200px.png
0
0
Priyanka Dayal
https://www.vuelio.com/uk/wp-content/uploads/2023/09/vuelio-logo-200px.png
Priyanka Dayal
2013-04-15 12:13:20
2013-04-15 12:13:20
Justin Bieber's guestbook comment