Speedy Spotlight: Two Thirsty Gardeners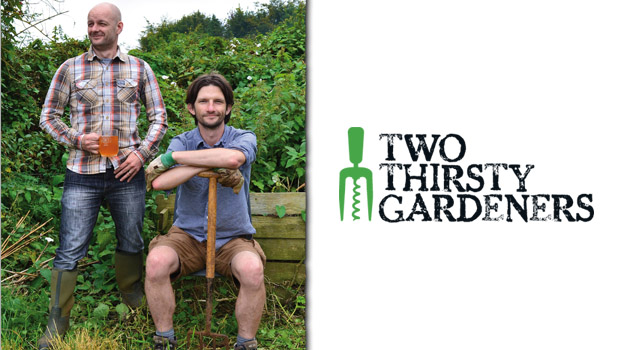 An interview with Rich and Nick, the Two Thirsty Gardeners whose blog ranks as one of the top gardening blogs in the UK. They spoke to us about gardening and booze – the two unlikely subjects that together make up their blog and by next year, a book. 
Why should people read your blog? What makes it different? We cover the twin pursuits of growing veg and making booze, hopefully providing our readers with useful information alongside a smattering of wit and irreverence. There aren't that many websites that cover both subjects and we've found that too many blogs writing about similar themes tend either to be vehicles for folk to show off their perfect produce or they take things a little too seriously.
We see ourselves as amateurs sharing our experience – if anyone wants more professional advice then we run a series of Q&As with expert specialists.
How do you measure the success of your website? We're quite keen to build the Two Thirsty Gardeners brand off the back of the website but don't have any specific goals. It's a fun and rewarding thing to do in its own right and we worry that if we start tailoring it for a particular piece of business then it might start to become a chore.
We've already received interest from book publishers (our first book will be out in spring 2015) and TV companies (we made our debut on the Alan Titchmarsh show last year), but most importantly it has introduced us to loads of great people who share the same interests as us.
What's your favourite blog and why? We've been introduced to loads of great bloggers through the website, so to pick just one out is tough! We occasionally share content with Vegetablism and admire them for their outrageous sense of humour and dedication to lazy gardening.
What advice would you give to someone who wants to start a blog? Don't waste time thinking about it, just get started and learn as you go along. We went from initial idea to fully launched website in five days – I think if we strategised for any length of time we would've come up with excuses not to do it.
How do you work with marketers and PRs? We've worked in the media industry for over 20 years (our day jobs are self employed designers with a lot of publishing clients) so we know the value of having good marketing and PR contacts. We get lots of approaches for collaborative work and always ask the question "will this be of interest or benefit to our readers". If the answer is "yes" then we take it to the next stage.
We like to work on a basis of trust and openness – sharing great ideas and information is a far better way of spreading the word than trying to standardise the value of every piece of content.
Who do you work with in brand marketing? PRs? SEOs? Anyone else? Most of the people we currently work with have approached us first and include SEO firms, PR companies, marketing managers and business owners. We aim to personally respond to every query – even if the initial request turns out to be incompatible with what we can offer it might trigger an idea for something else.
What can marketers do better in working with you? Respond to emails quicker! Sometimes we reply to an initial request immediately but don't receive a follow up response for weeks. Most of the best things happen on impulse…
What was your blogging highlight of 2013? We've used the site as an excuse to get out and meet some great people with a huge passion for what they do. A trip to The London Distillery Company was a particularly memorable experience – learning about the precision craft that goes into making gin, sharing those insights with our readers and, hopefully, helping the gin makers receive some positive publicity for a their amazing new business.
What will be big in your blogosphere in 2014? I suspect the end of 2014 will largely be gearing up for our book launch, so we'll probably be blogging about that and tapping up other blogging authors for information on how to survive the process!
https://www.vuelio.com/uk/wp-content/uploads/2014/05/twothirstygardeners.jpg
350
620
Priyanka Dayal
https://www.vuelio.com/uk/wp-content/uploads/2019/09/vuelio-logo.png
Priyanka Dayal
2014-05-28 14:19:43
2014-05-28 14:19:43
Speedy Spotlight: Two Thirsty Gardeners