Spotlight: The New Day Newspaper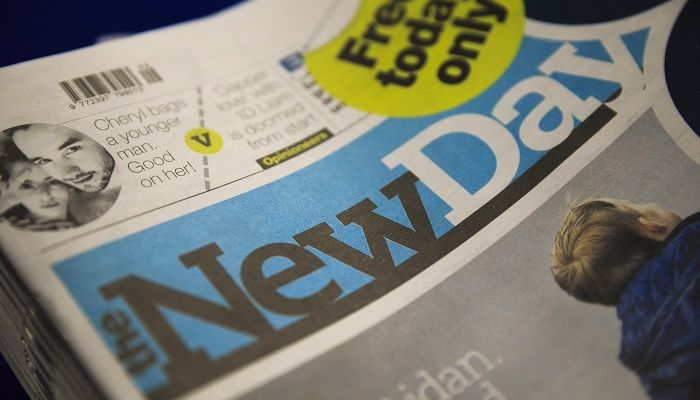 Launching a newspaper in today's market is a bold move and also high risk, but that's exactly what Trinity Mirror did last month when New Day became the first daily national to hit newsstands in 30 years. We spoke to Elizabeth Holloway, Head of Communications at Trinity Mirror, about why there is still a demand for print media in a digital world, and how The New Day plans to compete against its long-standing competitors.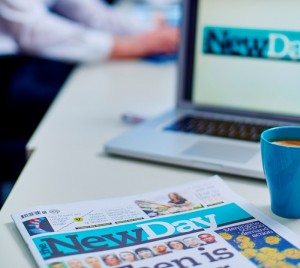 What makes New Day different from other existing newspapers? The New Day is an entirely different newspaper having been built from scratch for a modern society, based on extensive customer research and acknowledging the different ways people consume media and news. The first thing people will notice is that it looks and feels quite different. The masthead is a shade of turquoise and the design is modern, stylish and makes a lot of use of pictures, colour and space and the paper is thicker and brighter than standard newsprint. Inside, the layout and content is different as well. There are a lot of very short stories – if we can tell something in one paragraph we will – and then several longer pieces which select key topics to cover in more detail. The paper is only 40 pages long but you will notice the content does not hit the normal areas of pull out sections, TV listings or sport at the back. Instead, the content continues throughout the paper (there are a couple of spreads of sports news and sports opinion further up front in the paper). Content includes balanced opinion, features, lifestyle and topical content as well as news. Finally, when you read the content you will notice that the language is much more conversational, and the overall tone is upbeat and optimistic.
Who do you see your audience as being? Do you already have a particular demographic in mind? We are targeting a wide audience of anyone with a modern attitude who wants something different from a newspaper but wants to stay informed on news and topical content. We aren't ruling anybody out but we expect our audience will contain slightly more people around the 35 to 55 age range (as this is the group that buys more newspapers) and slightly higher ratio of women to men (because this group is a bit more dissatisfied with what else is currently available).
Are there any high-profile writers/commentators who will be writing for the paper? We are aiming to use a pool of opinioneers who will be writing for us when it is relevant and on topics that are relevant rather than with a set column on a set day, as well one off pieces. This has already included the Prime Minister David Cameron in the first edition, Cherie Blair, Robbie Fowler, Julie Burchill, Jenny Éclair and lots of other writers and experts. We have some who are more regular than others, for example Ugo Monye is writing for us on the Six Nations at the moment and Dr Christian Jessen has some health slots.
Half-million readers as stated by Trinity have chosen not to pick up a newspaper in the past 12 months, how do you plan to tempt people back to print? We've talked to those people to ask them what has made them stop buying a paper and tried to address these issues with The New Day. For example, the people we spoke to want a short read that covers everything they need to know but doesn't tell them things they don't need to know or know already. They don't want to be told what to think and they don't want newspapers to make them feel worse about the news than they already do.
You've made a bold decision to not publish any content online, can you explain the reasoning behind this? The New Day won't be publishing content online for a couple of reasons. Most significantly, the research identified a gap in the market for a different kind of newspaper but we don't think there is the same gap in the market online, where consumers are able to more easily access multiple newsbrands across a much broader variety of sources with lots of new alternative brands. Additionally, to compete in the online space of breaking news and covering a huge breadth of stories requires a different type of resource. We're concentrating on the paper at the moment but that may change.
What kind of social media presence do you see New Day having? The New Day has a Facebook page and Twitter account which will be used primarily as for brand engagement – we won't be publishing all of our content online but will be using the social media channels to engage with our readers and the public to have conversations with them about what is going on in the news and getting their views on various topics. The links are: www.facebook.com/thenewdayuk and www.twitter.com/thenewdayuk
What do print titles, like New Day offer that digital news doesn't? There is something really engaging about print – people still love newspapers and love taking the time to sit down and immerse themselves in them. There is a sense of satisfaction from finishing a paper and knowing that the content has been edited and curated to be consumed in a particular order and covering everything you need to know. There is so much information on the internet that it is impossible to ever finish it.
There have been claims that New Day will be politically independent, what was the reasoning behind this? The research we did right at the outset revealed that one of the main reasons people are dissatisfied with newspapers is because they don't like being told what to think. The main national newspapers all have a very political bias and clear editorial stance on certain issues. We want to offer people something different from what else is currently available and let them make up their own minds what to think, but helped by us giving them background information, context and sharing different points of view.The New Day is the first new national daily to hit newsstands in 30 years on Monday, do you feel apprehensive about this?
The New Day is the first new national daily to hit newsstands in 30 years on Monday, do you feel apprehensive about this? A little! Launching a completely new brand into a very well established yet declining market is a bold move. We have done a lot of research which told us there is a gap in the market for this, but you never know how that will translate to real life. It is fairly low risk for us as we already have the infrastructure and resource for producing newspapers (for example, The New Day is printed at our owned print plants in what is currently down time) but we will remain financially disciplined when assessing if it is working.
https://www.vuelio.com/uk/wp-content/uploads/2016/03/The-New-Day-first-issue-2-002.jpg
466
700
Jake O'Neill
https://www.vuelio.com/uk/wp-content/uploads/2019/09/vuelio-logo.png
Jake O'Neill
2016-03-09 14:34:58
2016-03-10 14:12:48
Spotlight: The New Day Newspaper