Spotlight with Top LGBT blog LesBeMums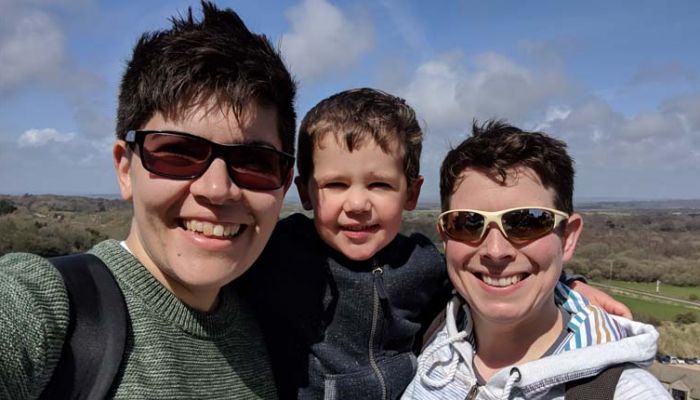 LesBeMums was created in 2012 by Kate Everall and her wife Sharon when they started their journey to become parents. Recently ranked second in the Top 10 UK LGBT+ Blogs, LesBeMums now posts about family life with young T, and reviews days out and family activities. We spoke to Kate about the LGBT+ community (and why the bloggers are so supportive), politics and working with PRs who understand the value in bloggers.
What makes your blog unique?
Not only are we a same sex family, but we are two mums raising a son. In a male dominated world, we have the challenging task of making sure we raise a decent man, while also making sure he is not automatically hated for his gender. We talk a lot about tackling outdated stereotypes, raising a feminist, and hitting prejudice in the backside.
What's the LGBT+ blogging community like to be part of?
When we first started blogging, and reading blogs prior to writing one, the LGBT+ blogging community was almost non-existent, especially in the UK. Most of the blogs we read were in Australia and the US. Because of this, we decided to start our own blog and build on that community, to make families feel less isolated and to find others just like us.
Over the years the community has grown, and I am proud to see a number of families online and being visible; from adoptive two-dad families to single gay-mum families. It's a wonderful community to be a part of – I don't know anything quite as supportive.
What's the biggest issue facing the LGBT+ community today?
While the UK is moving forward when it comes to LGBT+ rights, it seems the rest of the world (especially the US) is moving backwards. One of the biggest issues I see for the LGBT+ community at the moment is religious freedom. While I respect those that believe in religion, I see no purpose for it in modern society if it means members of the LGBT community – humans – are being denied the same rights and services as heterosexual people.
Where is the best Pride event?
I'm biased when I say Brighton, but what more could you want from a Pride event? Sun, sea, and (stone) beaches. It's a wonderful place to be during the Pride weekend, with an amazing atmosphere, and while I'd love to visit other Pride's across the world, Brighton will always have my heart.
What do you make of Theresa May's LGBT Action Plan?
While it is a step in the right direction, it doesn't take much research to see Theresa May's voting history when it comes to LGBT+ rights, and as a member of the LGBT+ community I will never forgive the implementation of Section 28 in the 1980s. Therefore, I am always apprehensive when it comes to new Tory legislation. Nevertheless, I am pleased to see that the Government has listened to so many voices and I welcome any work that changes the way schools can address homophobic bullying as well as how Police can tackle hate crimes, but I want to see results (and real funding!) before I start dishing out the praise and high fives.
What one thing should PRs know about you?
Being a two-mum family, we're open to something that bit different. Not THAT you filthy animals(!), but something that may challenge gender stereotypes and norms, or even challenge what 'family' looks like. We would love PRs to think outside the box and be more inclusive when choosing families to be a part of a campaign. If I don't feel represented it puts me off a product. I want to see a variety of families taking part in campaigns.
What are the best campaigns or collaborations you've been part of?
Being a part-time blogger, I don't often have the time to take part in massive campaigns. We're often overlooked because our stats are a lot lower that others, but one of the biggest campaigns (for us, anyway!) to date, is collaborating with Camp Bestival. We're still pinching ourselves to this day that they invited us to work alongside loads of other wonderful travel and family bloggers. The festival really represents us as a family, and considering we had only been once the previous year it really gave me a confidence boost that I was doing something right as a blogger. It proved to me that stats weren't the priority or that important, but instead the interaction and engagement we got from our loyal audience during the festival was much more valuable.
Do bloggers need their own industry association?
Absolutely! Blogging as a business is hard work (which is why I still work full-time in a difference sector!) and it's made even harder when either the media make a mockery of bloggers and 'influencers', or when PRs are still offering peanuts (and expecting a lot) for the work we produce. It's hard to fight back when we don't know where we stand or what our rights are.
There needs to be clear guidelines and rules like any other job role in another industry. Bloggers clearly have a purpose and a role to play, otherwise why else would 66% of marketers in 2017 use blogs as their social media content? Not to mention the money that's now being invested into bloggers (we're talking thousands for some).
What other blogs do you read?
Other rainbow families are always going to be at the top of our list, families like Tom & Daniel from The Unlikely Dad, Amy and Laura from MamaEdenandMe, or Kirsty and Clara from My Two Mums, but we also like reading lots of other blogs, like Nyomi from Nomi Palony and Lauren from Scrapbook Blog who each tick different boxes for me, which I love. We've been reading blogs a lot longer than we've been writing them. We love finding new blogs to read!
LesBeMums, Kate and Sharon are listed on the Vuelio Influencer Database along with thousands of other bloggers, vloggers, journalists and opportunities.
https://www.vuelio.com/uk/wp-content/uploads/2018/07/LesBeMums.jpg
430
760
Holly Hodges
https://www.vuelio.com/uk/wp-content/uploads/2023/09/vuelio-logo-200px.png
Holly Hodges
2018-07-05 15:38:29
2018-07-05 15:38:29
Spotlight with Top LGBT blog LesBeMums