Syrian Electronic Army hacks 'The Press'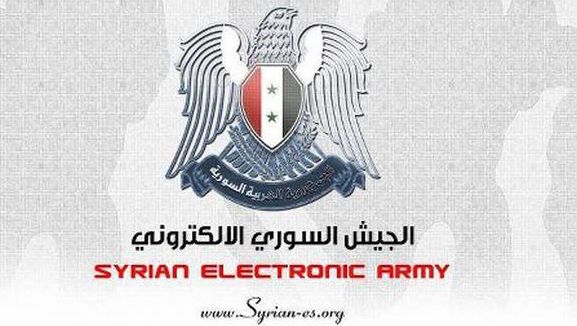 Several high-profile media websites have been affected by a hack that claims to have come from the Syrian Electronic Army, a group of computer hackers supervised by the Syrian Assad regime. Some users accessing the affected sites have been met with a  popup message that says "you have been hacked by the Syrian Electronic Army" before being redirected to an image of a crest, representative of the group.
Media reports indicate that the hackers have exploited an ad or content delivery network (CDN), and in most reported cases via the Gigya comments system.
A number of global websites, said to include the Chicago Tribune, CNBC, PC World, Forbes, the Independent, OK magazine, and the Telegraph, have reportedly been affected by the same issue.
A part of our website run by a third-party was compromised earlier today. We've removed the component. No Telegraph user data was affected.

— The Telegraph (@Telegraph) November 27, 2014
We are aware of the issue with our site & hope it will pass soon. It's not affecting all users http://t.co/MnZ9Tn4baO pic.twitter.com/reMRVWqclJ — The Independent (@Independent) November 27, 2014
Despite updates from affected sites, users remain confused about the implications for them:
Does the @Telegraph website have malware? Was reading an article, then a popup appeared that said "You have been hacked by the Syrian Army" — Nick Hamilton (@nickhhh) November 27, 2014
You have been #hacked by the Syrian Electronic Army – What is going on? #SyrianElectronicArmy http://t.co/nM0s6OqT4n

— Jules Samuels (@IamJulesSamuels) November 27, 2014
Meanwhile, the group's official Twitter account @Official _SEA16 seems to taken responsibility of the hacking after tweeting the following message to 'The press.'
Happy thanks giving, hope you didn't miss us! The press: Please don't pretend #ISIS are civilians. #SEA pic.twitter.com/ZXzMWbXoYp

— SyrianElectronicArmy (@Official_SEA16) November 27, 2014
According to The Independent, 'The SEA has been active since 2011, though attacks increased in 2013. As well as news sites, the group have hacked into pages owned by the US Marines, Gmail accounts and Twitter pages.'
https://www.vuelio.com/uk/wp-content/uploads/2014/11/Syrian-Electronic-Army-crest.png
326
577
Priyanka Dayal
https://www.vuelio.com/uk/wp-content/uploads/2019/09/vuelio-logo.png
Priyanka Dayal
2014-11-27 16:20:14
2014-11-27 16:20:14
Syrian Electronic Army hacks 'The Press'