Guardian tops newspaper sites on Twitter; pet food video most popular story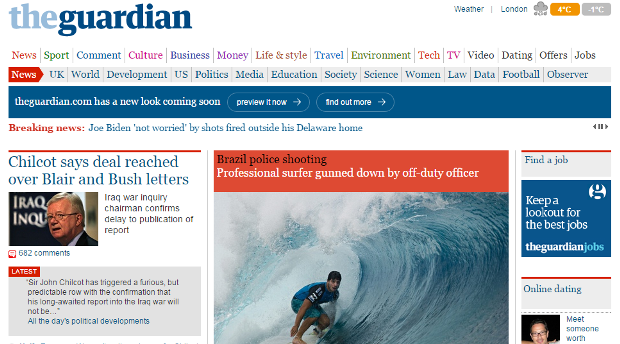 The Guardian tops the list of the most popular UK newspaper sites on Twitter followed by The Daily Telegraph and the Daily Mail, according to a Searchmetrics survey on the most tweeted UK newspaper sites and stories in 2014.
The study, which analysed the number of tweets per week generated by content on 11 leading UK newspaper websites, revealed that The Guardian website drives an average 392,358 tweets per week, The Daily Telegraph with 307,690 tweets per week and the Daily Mail 237,381 tweets per week.
Meanwhile, the most tweeted newspaper story of 2014 was not the World Cup, Middle East crisis or the Scottish referendum, as one would have thought – but a story that appeared in the Daily Mail on a YouTube TV show that teaches dog-owners how to make homemade pet food. The article was tweeted nearly 77,000 times.
The Daily Mail boasted of a total of three stories among the top 10 most tweeted newspaper stories on the micro-blogging platform.
Marcus Tober, CTO and founder of Searchmetrics said: 'Twitter is an ideal tool for driving additional traffic to news content and our research indicates that many leading newspaper sites are succeeding in this area.  Interestingly our list of the most tweeted stories indicates it's not always the biggest and most high profile news stories that get the most tweets. Often it's the quirkier stories or those with a human-interest angle that catches people's imagination and goes viral.'
Most popular UK newspaper websites on Twitter
1.    The Guardian (theguardian.com), 392,358 tweets per week
2.    The Daily Telegraph (telegraph.co.uk), 307,690 tweets per week
3.    Daily Mail (dailymail.co.uk), 237,381 tweets per week
4.    Independent (independent.co.uk), 214,868 tweets per week
5.    The Mirror (mirror.co.uk), 113,194 tweets per week
6.    Financial Times (ft.com), 61,065 tweets per week
7.    Daily Express (express.co.uk), 24,165 tweets per week
8.    Daily Record (dailyrecord.co.uk), 11,107 tweets per week
9.    The Times (thetimes.co.uk), 8,772 tweets per week
10.    Daily Star (dailystar.co.uk), 6,556 tweets per week
11.    The Sun (thesun.co.uk), 3,531 tweets per week
Most frequently tweeted newspaper website stories of 2014
1.    Daily Mail, Paw-fect recipes for your pet's plate: The cooking show that teaches dog owners how to prepare homemade treats for their four-legged friends: 76,752 tweets
2.    Daily Mail, WORLD EXCLUSIVE: Jack the Ripper unmasked: How amateur sleuth used DNA breakthrough to identify Britain's most notorious criminal 126 years after string of terrible murders: 37,192 tweets
3.    The Daily Telegraph, Revealed: the Palestinian children killed by Israeli forces: 23,830 tweets
4.    The Mirror, Devoted dad makes best Halloween costume ever for his disabled son: 21,584 tweets
5.    The Guardian, Turkish women defy deputy PM with laughter: 20,762 tweets
6.    The Independent, Tamir Rice: 12-year-old boy playing with fake gun dies after shot by Ohio police: 20,629 tweets
7.    The Independent, Girl, 7, gets Tesco to remove 'stupid' sign suggesting superheroes are 'for boys: 20,377 tweets
8.    Daily Mail, 36 now feared dead in Japanese volcano disaster: 19,611 tweets
9.    The Mirror, Fury as Tory party donors are handed NHS contracts worth £1.5BILLION under health reforms: 18,041 tweets
10.  The Sun, Heaven 'n Ell Revealed: The stunner in Heyman's corner: 17,852 tweets
https://www.vuelio.com/uk/wp-content/uploads/2015/01/guardian-website.png
344
620
Priyanka Dayal
https://www.vuelio.com/uk/wp-content/uploads/2023/09/vuelio-logo-200px.png
Priyanka Dayal
2015-01-21 14:47:14
2015-01-21 14:47:14
Guardian tops newspaper sites on Twitter; pet food video most popular story