The Mumsnet for dads: spotlight on top daddy blog MusicFootballFatherhood
Elliott Rae is the founder of MusicFootballFatherhood, which recently joined the Top 10 Daddy Blogs ranking for the first time. With a diverse team of authors covering their own experiences of fatherhood, MusicFootballFatherhood has grown rapidly since it was started in 2016.
We caught up with Elliott to find out how the team finds time to write content, issues facing fathers in the UK, the appeal of a blogging association and how the blog works with PRs.
What makes your blog unique?
We are unique as we are a collaborative platform of different bloggers. We have a team of 14 diverse bloggers who write openly and honestly about their fatherhood journey while also providing a nice mix of football and music content.
​What's the best thing about being a dad?
Oh, there are so many great things about being a dad! Seeing my daughter learn new things is always a highlight. The unconditional love is special and she most definitely keeps us entertained with the funny things she does!
​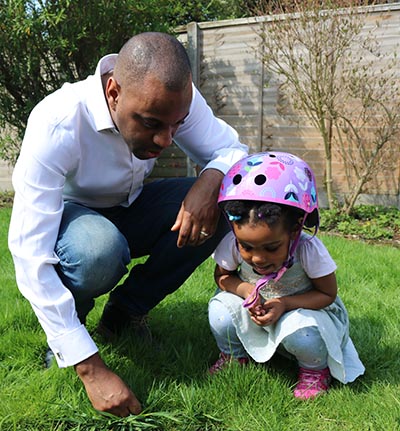 How are daddy and mummy blogs different?
Hmm, good question. I'm not sure if they are too different at all, except the obvious gender difference. I think both mummy and daddy bloggers are parents trying to figure out this parenthood thing and seeking comfort and fun in sharing their journey with others.
​How would you describe the daddy blogging community?
It's great actually! All the dad bloggers are very supportive of each other, we celebrate each other's successes and share around opportunities. It's really nice to be part of a supportive network which is very much in contrast to the dog eat dog world we live in!
When do you create most of your content?
Our content is created by our team of contributors as well as myself. For me personally, I usually create content when I've got some time to myself (which is usually while I'm travelling on the tube!) and when I'm really compelled to share an experience or reflection. I'm also getting more into documenting stuff on Instagram stories, which I'm finding to be a really fun and spontaneous platform.
​What are the biggest issues facing dads in the UK today?
I think work life balance is a big one. Most dads want to have thriving careers while being involved parents. It's hard to get the balance but there are ways to make it happen. Through our website and podcast we try to provide some inspiration and practical tips for people to reflect on. I think mental health is probably the other major issue at the moment.
​Do bloggers need their own association or industry institute (and why)?
It would be nice to have an association or institute, somewhere to go for legal advice, community and training. As a blogger, you can feel a bit lost sometimes so it would be nice to know there's somewhere you can go for community and help with issues, like the recent GDPR where no one was quite sure what to do! This is a great idea, maybe Vuelio could lead the way!
​What one thing should PRs/brands know about you?
We are the coolest and most exciting platform for dads in the country! We have a unique and engaged audience so if you are looking to reach a diverse range of dads, come and see us.
​What are your favourite collaborations you've worked on?
We recently worked with Arsenal and their Junior Gunners which was a highlight and great fun. Other favourites would include the Emirates cable car experience and Memory Makers. These were all collaborations where we really enjoyed the experience and it was a pleasure to work with the respective PR teams.
​What other blogs do you read?
Between family, the blog, work and all the other things I do, I don't have much time to read other blogs! I will usually click on a link on Twitter if an article looks interesting but I wish I had more time to follow other platforms!
Elliott, his team and the blog are all listings on the Vuelio Influencer Database along with thousands of other bloggers, vloggers, journalists and opportunities.
https://www.vuelio.com/uk/wp-content/uploads/2018/06/Elliot-Rae-musicfootballfatherhood.jpg
430
760
Merryn Williams
https://www.vuelio.com/uk/wp-content/uploads/2023/09/vuelio-logo-200px.png
Merryn Williams
2018-06-18 14:05:34
2018-06-18 15:17:14
The Mumsnet for dads: spotlight on top daddy blog MusicFootballFatherhood