The Press Awards for 2012
With an online paywall protecting its content, can The Press Awards hauled in by The Times last night be seen as recognition of its business model as much as anything else?
Scooping Newspaper of the Year and News Team of the Year, as well as being highly commended for Sports Team of the Year (losing out to overall winners The Sunday Times), The Times has been championed above all others.
The Team Awards it won are judged by former newspaper men and women as well as people from other walks of life. They look at all aspects of the shortlisted papers including the quality of the product delivered in print, online and through other platforms.
Investing in quality rather than quantity is seen by some as a more sustainable route for the industry. The Times has consistently charged for content and this has allowed it to reinvest in quality and maintain its high-value reputation.  
The Digital Award was won by the Mail Online, a force unto itself on the internet and the largest news website in the world. The Guardian Interactive was Highly Commended in the same category and both newspapers have chosen the free access approach to online content. While they both reach a huge audience, with the Mail Online even turning a profit, they have been accused of writing link-bait and controversial material to chase high volumes of traffic.
Winning, or being highly commended for, the Digital Award does not translate into a social media achievement; on Twitter it was The Times that dominated once again. Using Cision Social Media and data from CisionPoint, each of the big winners from the night can be ranked according to Twitter mentions which also include 'Press Awards', '@PressAwardsUK' or '#pressawards'.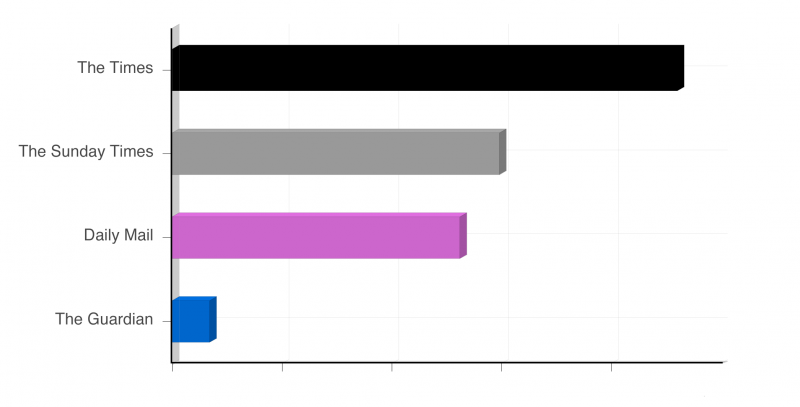 While the Guardian didn't win any awards, it was highly commended for five. As Twitter is restricted to 140 characters, the individual journalist awards are largely being discussed without mentions of the paper they write for. It is the team awards that benefit and raise awareness of the brands, and for The Times they can count this night a huge, all-round success.
Top Award winners: The Sunday Times, five; The Times, four; Daily Mail/Mail Online, four.
Highly Commended: The Times, five; the Guardian, five; Daily Mail, four. 
Editorial information on all the Press Awards for 2012 winners, as well as thousands of other media contacts, can be found in the CisionPoint Media Database. 

https://www.vuelio.com/uk/wp-content/uploads/2019/09/vuelio-logo.png
0
0
Priyanka Dayal
https://www.vuelio.com/uk/wp-content/uploads/2019/09/vuelio-logo.png
Priyanka Dayal
2013-03-08 13:03:11
2013-03-08 13:03:11
The Press Awards for 2012