Today's Political Headlines – 12 December 2017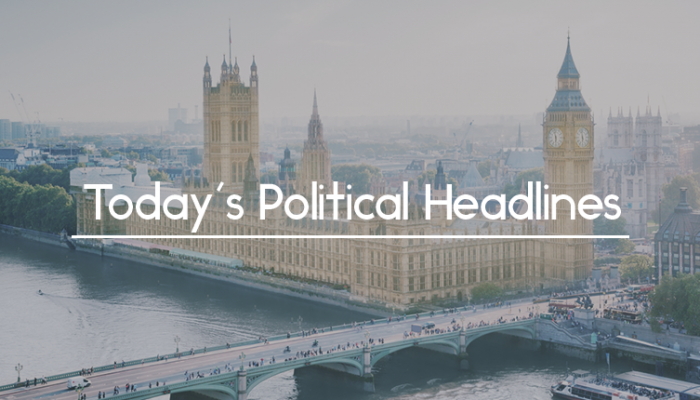 A round-up of the latest political headlines, including disagreements in both parties on Brexit, new reforms announced by Michael Gove and Labour MP Clive Lewis cleared of sexual harassment allegations. 
Social media firms should be prosecuted over abuse, May told
The Times reports that the Committee on Standards in Public Life is to advise the Prime Minister that social media companies should face fines or prosecution if they fail to remove racist, extremist or child sex abuse content. The committee is to recommend laws to shift liability for illegal content to social media firms, making them publishers, not platforms.
Corbyn refuses to agree more detailed Brexit plans
The Guardian says that Jeremy Corbyn is resisting pressure to add more detail to Labour's Brexit plans, as the shadow cabinet meets today. Whilst some members have signalled a shift towards a closer future relationship with the EU, Corbyn's team reportedly believe that a more specific position could alienate key groups of voters.
Brexit: May unites party for now
The Financial Times claims that May managed to unite her party yesterday in support of her deal with the EU, aided by the Government making a concession on the 'Henry VIII powers' which would have reduced the amount of parliamentary scrutiny of the implementation of Brexit. However, the paper says that this unity could be short-lived, and warns of splits over the details of a future UK/EU trade deal.
Gove: new rules on animal sentience & spend aid cash on plastic pollution
Michael Gove is the focus of two stories in today's Times. He is pressing for more of the UK's overseas aid budget to be spend on reducing plastic pollution of the oceans, after a new report found that 90% of the waste came from ten Asian and African rivers. Separately, new animal cruelty legislation to be unveiled today by Gove will 'bind the government to consider "the welfare needs of animals as sentient beings"'.
Hammond sides with EU to demand Trump drops tax reforms
Philip Hammond has sided with four other European finance ministers to warn Donald Trump that his proposed tax reforms could prompt a trade war, The Daily Telegraph reports. The ministers have joined together to warn that the proposed changes might contravene World Trade Organisation rules, whilst the paper reports that the Government is increasingly worried by signs of protectionism in the US.
NHS 'bloody stupid' to expect £4bn cash injection, says former NHS Improvement chief
Jim Mackey, the former head of NHS Improvement, has said that NHS bosses were 'bloody stupid' to expect a £4bn cash injection in the budget, The Guardian says. He warned that statements made by NHS bosses will have alienated ministers, and that the amount given by the Government was 'not enough'.
Tom Watson: 'embrace an android'
Labour's Deputy Leader, Tom Watson, is to mark the final report of the Future of Work Commission today by giving a speech in which he will call on people to 'embrace an android', according to The Mirror. The report will conclude that 'mass technological employment is highly unlikely.'
Clive Lewis cleared by Labour investigation
The Guardian reports that Labour MP Clive Lewis has been cleared of allegations of sexual harassment, following a party investigation. He had been accused of grabbing a female party member's bottom at the party's conference, but an internal investigation has dismissed the claim. Lewis said that he was 'pleased' to have been cleared.
Get Vuelio political services
https://www.vuelio.com/uk/wp-content/uploads/2017/11/Todays-Political-Headlines.png
430
760
Thomas Stevenson
https://www.vuelio.com/uk/wp-content/uploads/2019/09/vuelio-logo.png
Thomas Stevenson
2017-12-12 09:22:33
2017-12-12 09:22:33
Today's Political Headlines - 12 December 2017