Today's Political Headlines – 18 December 2017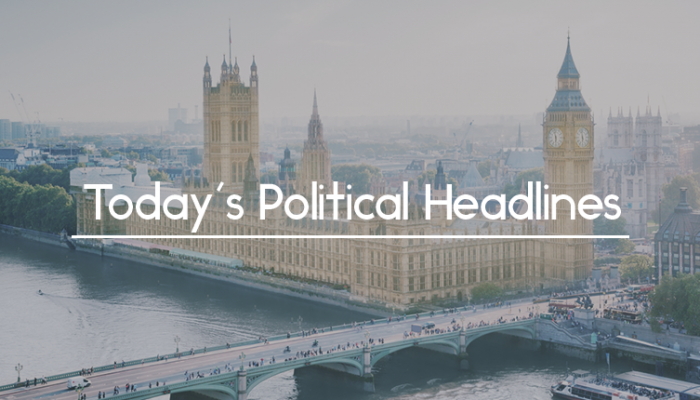 A round-up of the latest political headlines, including the 'Brexit Cabinet', divisions in Labour, cold war relations and May being urged to remain as PM. 
May to hold a Brexit Cabinet meeting
Reuters reports that Theresa May will hold a meeting with her 'Brexit Cabinet', to discuss what the relationship between the UK and the EU should look like going forward. This could cause conflict as different members of May's cabinet have very different ideas of the relationship that should be pursued.
Labour divided over second referendum policy
Diane Abbott insisted a second EU referendum is not the policy of the Labour Party. The Guardian reports on this in the interview Abbott conducted on the Andrew Marr Show. The same article also looks at remarks Deputy Leader of the Labour Party, Tom Watson made on Pienaar's Politics where he said backing for a second referendum could not be ruled out.
A return to Cold War relations
The Independent reports on remarks made by Boris Johnson, the Foreign Secretary, who said relations between Russia and the West have not been so bad since the Cold War. He went on to accuse Russia of undermining democratic elections. These remarks come ahead of Johnson's visit to Russia where he will hold talks with his counterpart Sergey Lavrov. Johnson said collaboration is needed with Russia.
May urged to stay on as PM
The Times has reported that Theresa May is being urged by cabinet ministers and senior backbenchers to stay on as leader of the Conservative Party until 2021 to avoid conflicts within the party during a time of essential trade talks with the EU. This contrasts with suggestions that the Prime Minister would struggle to remain in the job beyond Christmas after losing a Commons vote last week.
Damian Green to learn inquiry outcome
Damian Green will likely learn the outcome of the inquiry into allegations against him regarding misconduct in the next couple of days. The Telegraph suggests the outcome will focus on Green's denial that pornography was found on his work computer. It has been suggested that Green will likely be cleared as the incidents under investigation took place when he was not a minister.
Cable accuses Corbyn of deceit
The Daily Express reports that Vince Cable has accused Jeremy Corbyn of deceiving young people over his true feelings regarding Brexit. Cable also went on to say that there is no chance of him aligning in a coalition with Corbyn in the future. Cable's remarks come after Nigel Farage claimed Corbyn hid his true Brexit beliefs due to pressure from his party.
Do you need to secure Vuelio political services?
https://www.vuelio.com/uk/wp-content/uploads/2017/11/Todays-Political-Headlines.png
430
760
Daniel Loman
https://www.vuelio.com/uk/wp-content/uploads/2023/09/vuelio-logo-200px.png
Daniel Loman
2017-12-18 10:10:33
2017-12-18 10:13:16
Today's Political Headlines - 18 December 2017