Today's Political Headlines – 21 December 2017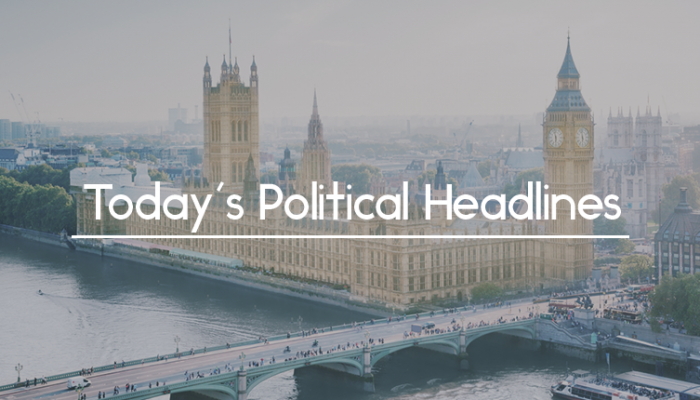 A round-up of the latest political headlines, including Damian Green's 'resignation', the movable EU Withdrawal date, unfair leasehold practices and how Brexit is damaging the UK economy.  
Damian Green ordered to resign after Cabinet Office investigation
As The Times reports, Damian Green was ordered to resign as First Secretary of State last night, after a Cabinet Office investigation found that he had made 'misleading and inaccurate' statements about his knowledge of pornography found on an office computer during a police raid in 2008, while allegations of inappropriate behaviour made by Conservative activist and journalist Kate Maltby were 'plausible'.
Government backs down on Brexit date amendment
The Guardian says the Government has accepted a compromise over its plans to set the Brexit date in the EU (Withdrawal) Bill. The Government had tabled an amendment setting the Brexit date (29 March 2019), but climbed down by also backing an amendment tabled by Oliver Letwin allowing this date to be changed by MPs with EU agreement. As a result, the Bill passed committee stage, and will move onto report stage in the new year.
Government goes further than expected in leasehold crackdown
The Government has gone further than expected in its plans to crackdown on unfair leasehold practices, The Times claims. Ground rents will be outlawed on newly built flats, it will be made easier and cheaper for leaseholders to buy out their freeholds and better information will be made available on redress for those facing the most onerous terms.
IMF: Brexit vote damaging UK economy
The International Monetary Fund has said that the UK's vote to leave the EU is damaging the economy. As the Financial Times reports, the IMF's report shows that economic growth rates have declined in the UK while they have grown in Europe, the US and Japan. The IMF's UK growth forecast for the next year has been cut from 1.7% to 1.6%.
Gove: UK will not compromise with US food standards and will support hill farmers
The Guardian reports that Michael Gove told the Environment Select Committee that the UK will not compromise on 'high animal welfare and environmental standards', for example chlorine-washed chicken or use of neonicotinoid pesticides, when seeking to reach a trade deal with the US. The Times adds that Gove confirmed that hill farmers will continue to receive subsidies after 2022.
Barnier: Brexit transition must end in December 2020
EU Brexit negotiator Michel Barnier has said that it would be 'logical' for the Brexit transition period to end on December 31 2017, according to the Financial Times. The European Commission has published its directives for the negotiation. A spokesperson for No 10 said that the UK was looking at a period of around two years, adding that 'The commission have said just over 21 months, but it's a negotiation.'
UK building cyber deterrent
The annual report of Parliament's Intelligence and Security Committee reveals that the UK is building a cyber deterrent to ward off attacks from countries such as China, Iran and Russia. As The Daily Telegraph says, the report also raises concerns about so-called Islamic State's ability to hack infrastructure using cyber weapons available for sale online.
Zac Goldsmith wished 'cancerous new year'
Zac Goldsmith posted an image on Twitter of what he dubbed a 'sweet Christmas message from a local Remain group', The Daily Telegraph reports. The card carried a variety of abusive messages, including one wishing him a 'cancerous new year'.
Find out more about Vuelio political services
https://www.vuelio.com/uk/wp-content/uploads/2017/11/Todays-Political-Headlines.png
430
760
Jake O'Neill
https://www.vuelio.com/uk/wp-content/uploads/2019/09/vuelio-logo.png
Jake O'Neill
2017-12-21 09:29:57
2017-12-21 09:29:57
Today's Political Headlines - 21 December 2017