Today's Political Headlines – 22 December 2017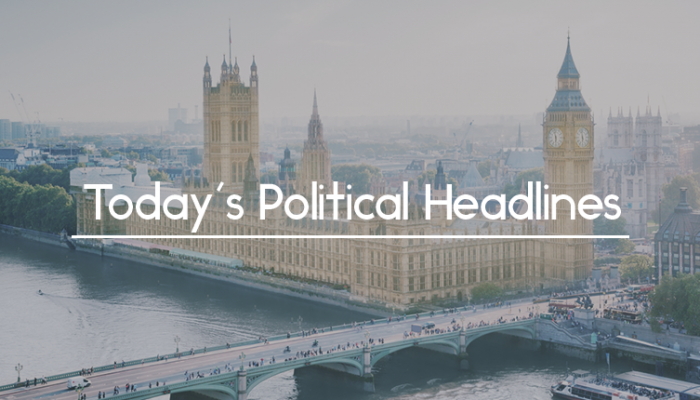 A round-up of the latest political headlines, including the former police officers criticised over Damian Green leaks, Boris Johnson delivering a warning to Russia, Passports returning to the colour blue and Diane Abbott's turned down requests to visit Yarl's Wood.  
Former police officers criticised over Damian Green leaks
The Times reports that Ken Marsh, chairman of the Metropolitan Police Federation, has joined forces with Tory MPs to condemn the actions of former police officers Bob Quick and Neil Lewis in leaking details of the pornography found when Damian Green's office was raided nine years ago. The leaks are now the subject of a criminal inquiry. The paper also says that Lewis has liked anti-Tory posts on Facebook.
Boris Johnson to deliver warning to Russia
According to the Guardian, Foreign Secretary Boris Johnson is to deliver a warning to Russia that the UK will retaliate if Russia continues to use cyber-attacks. He is the first Foreign Secretary to visit Russia for five years. The paper adds that 'neither side expects any major breakthrough'.
Passports to turn blue post-Brexit
In an exclusive, The Sun broke the news that from October 2019 the Government is to produce passports in what it calls 'the dark blue colour that was once famous across the globe.' People will have the option of requesting that their existing burgundy passport is replaced by a blue one.
Diane Abbott request explanation over being denied access to Yarl's Wood
Diane Abbott has written to the Home Secretary, Amber Rudd, after more than a dozen requests to visit Yarl's Wood immigration detention centre were turned down, the Guardian reports. In a statement, she said 'It is of critical importance that we are able to scrutinise the conditions in which people are held, especially given the allegations of appalling treatment, abuse, and a lack of legal advice and medical support in this centre.'
Brexit sector reports released amidst criticism
The Guardian says that the Brexit sector reports, published in redacted form yesterday, have been 'criticised for containing little more than padding, repetition and plagiarism'. Lord Jay, former Foreign Office head and acting chair of the Lords Brexit Committee described the reports as containing 'little overarching analysis' and being 'inconsistent in approach and in the use of statistics'.
Mark Garnier cleared of wrongdoing
International trade minister Mark Garnier has been cleared of wrongdoing, as The Times reports. He had been accused of calling his secretary 'sugar tits' and asking her to buy him sex toys, but an inquiry by the Cabinet Office concluded that 'that there was no evidence to suggest that Mr Garnier's conduct as a minister since 2016 had breached the expected standards of behaviour', Number 10 said.
EU preparing Canada-style deal for the UK
The Financial Times claims that the EU is preparing to present the UK with a Canada-style deal in early summer unless the UK is able to clarify its demands. As the paper reports, this would fall short of what Britain hopes for, as it will give only limited access for services.
Puppy farmers to be cracked down on
According to the Daily Mail, Theresa May has promised to 'eradicate animal cruelty from our society' by cracking down on puppy farmers. Proposals include forcing breeders to show puppies alongside their mother before selling them, ensuring sales are completed in the new owners' presence, banning licensed breeders from selling puppies they haven't bred, and regulation of adverts.
Find out more about Vuelio political services
https://www.vuelio.com/uk/wp-content/uploads/2017/11/Todays-Political-Headlines.png
430
760
Thomas Stevenson
https://www.vuelio.com/uk/wp-content/uploads/2019/09/vuelio-logo.png
Thomas Stevenson
2017-12-22 09:56:48
2017-12-22 09:56:48
Today's Political Headlines - 22 December 2017