Today's Political Headlines – 02 January 2018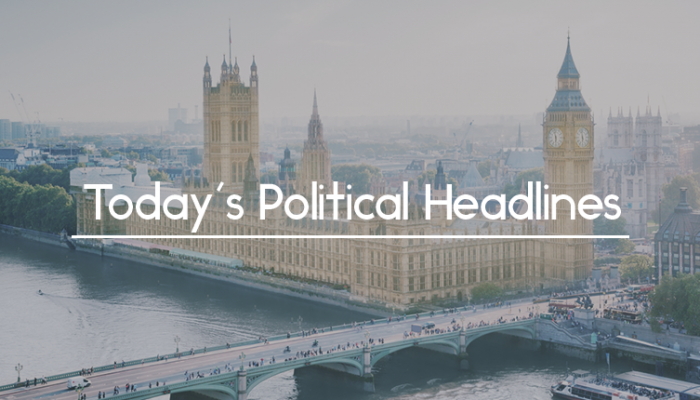 A round-up of the latest political headlines, including May's cabinet reshuffle, David Davis saying the EU cannot cherry pick terms and rail fares.  
May plans new cabinet reshuffle with Boris Johnson leading a new Brexit 'super-ministry'
Following reports over the last few days that the Foreign Secretary will now take on a new Brexit delivery role, The Independent reports David Davis's role in the Cabinet will be further weakened if a looming reshuffle hands Boris Johnson a new job directly involved in the Brexit negotiations. The Telegraph reports that Mr Johnson could be asked to replace Greg Clark, the Business Secretary.
David Davis says EU cannot 'cherry pick' terms of free trade deal
As The Guardian reports, the Brexit Secretary has used the phrase of EU chief negotiator Michel Barnier to say UK wants 'full sweep of economic cooperation'. The Daily Mail reports that David Davis warned of more 'thunder and lightning' to come in Brexit talks today – as he vowed that financial services must be covered by any deal with the EU.
Whitehall warned there can be no 'excuses' for going slow on Brexit preparations
The Telegraph have reported that Ministers have warned Whitehall that there can be no more 'excuses' for going slow on Brexit preparations, including readying the UK for the prospect of leaving the EU without a deal. The Times have reported that Senior government officials have accused Brussels of trying to undermine David Davis before the next round of Brexit negotiations.
Rail fares: unions and Labour condemn 'staggering' increase
Sky News are reporting commuters are being 'priced out of going to work' by the largest rail fare increase in five years, according to a campaign group. The Guardian reports that Labour and trade unions have condemned 'staggering' annual increases to rail fares, which come into force today, triggering protests at dozens of stations in England.
Theresa May is preparing to take international students out of immigration figures
The Independent reports that the Prime Minister is facing a humiliating climb down on including international students in official immigration figures. A new Immigration Bill to be brought forward this year will allow MPs to force – and almost certainly win – a vote on the controversy.
Priti Patel demands investigation of Remain campaign spending
The Times reports that former International Development Secretary Priti Patel is calling for an investigation into claims of unlawful co-ordination between the campaigns pushing Britain to stay in the EU in the 2016 referendum campaign. She is writing to the Electoral Commission to urge an investigation into Britain Stronger in Europe (BSE), now Open Britain, over whether it breached the rules to get round strict spending limits.
Timewasting patients are costing NHS £1bn a year
The Times have reported that missed hospital appointments cost the NHS almost £1 billion a year and deprive patients of vital care. The article cites claims made by Jane Cummings, the chief nursing officer for England, who has called for the public to be more responsible about wasting time and resources.
300,000 jobless Britons not claiming benefits
The Guardian reports that many people are not claiming support they are entitled to, with about 300,000 people without jobs or on very low wages missing out on at least £73 a week.
Find out more about Vuelio political services
https://www.vuelio.com/uk/wp-content/uploads/2017/11/Todays-Political-Headlines.png
430
760
Jake O'Neill
https://www.vuelio.com/uk/wp-content/uploads/2019/09/vuelio-logo.png
Jake O'Neill
2018-01-02 10:02:04
2018-01-02 10:02:44
Today's Political Headlines - 02 January 2018