Today's Political Headlines – 6 March 2018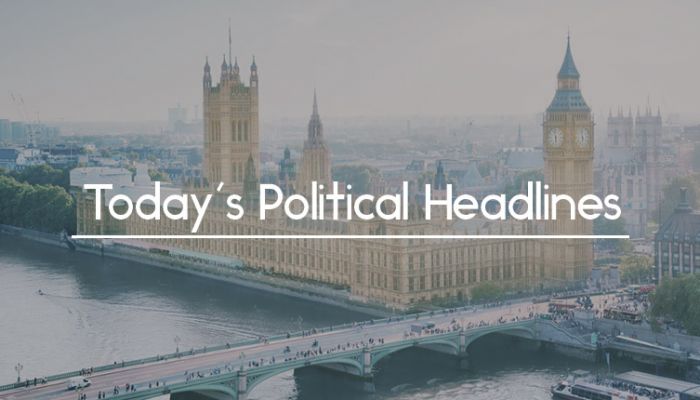 Today's Political Headlines include the former Russian spy crisis, EU adviser upsetting May's free trade plans, the EU/USA trade wars and the country on a diet. 
Former Russian spy collapses in Salisbury following contact with unnamed substance
The BBC reports that Russia claims to have 'no information' about what could have caused Sergei Skripal and an unnamed woman to collapse in Salisbury yesterday, following contact with an unnamed substance. Skripal was a former Russian spy, who had been convicted of passing secrets to MI6 and was sent to the UK as part of a prisoner swap. The widow of Alexander Litvinenko, poisoned in London in 2006, said the incident felt like 'déjà vu'.
EU adviser strikes blow against May's free trade deal plans
The Guardian says that Stefaan de Rynck, adviser to the EU's chief Brexit negotiator Michel Barnier, struck a blow against Theresa May's 'chances of securing a deep free-trade deal with the EU' last night, criticising her proposed mutual recognition of standards. The paper also reports that the Irish Taoiseach has dismissed Theresa May's suggestion that the US-Canada border could be a model for the UK-Ireland border after Brexit.
EU prepares for trade war with the USA and UK-USA air talks are cut short
The Times reports that the European Union is 'gearing up' for a trade war with the USA, following President Trump's decision to impose high tariffs on imported steel and aluminium, and threats towards car imports. Products to be targeted by the EU in retaliation include Harley-Davidson motorcycles, bourbon whiskey and Levi jeans, with the French President, Emmanuel Macron, saying the EU should react 'quickly' and 'in a proportionate manner'. Meanwhile, the Financial Times claims that talks between the UK and the USA over a post-Brexit 'Open Skies' agreement have been cut short after the UK was offered a worse deal.
Local authorities and developers deny responsibility for the housing crisis
Following Theresa May's announcement of a shake-up of planning rules yesterday, the Financial Times reports that local authorities and developers have denied that they are to blame for the housing crisis. The Guardian adds that the Government has yet to enact its pledge in the autumn budget to give councils more powers to crack down on empty homes.
Public Health England recommends calorie cut for processed foods
The Financial Times reports that Public Health England has recommended the calorie content of processed foods is cut by 20% by 2024 and extended the remit of a campaign against childhood obesity beyond sugar. The body estimates that reaching the target will prevent 35,000 premature deaths and save £9bn in health and care costs over 25 years.
Jobs or services would have to be cut to fund public sector pay rise
New analysis by the Centre for Labour and Social Studies (Class) published in The Guardian, reveals that the Government cannot fund a 1% pay increase for public sector workers without cutting jobs or public services. The report, commissioned by the PCS union, casts doubt on the Government's claim to have lifted the public sector pay cap.
Justice Secretary targets violence and gangs in jails
The BBC reports that Justice Secretary David Gauke is to unveil measures to clamp down on violence and smuggling drugs, phones and weapons in prisons. Gauke will promise to 'remove the influence of gangs', so that prisons can become 'places of hope not despair'.
Safeguarding incidents reported to Charity Commission include claims of child sex abuse
International Development Secretary Penny Mordaunt has said that 26 charities have come forward to report safeguarding cases, including claims of sexual abuse of children and rape, The Guardian reports. Seven groups reported incidents that occurred in the last financial year and reports of serious incidents across all charities have doubled in the last month.
Vuelio Political services are available on a bespoke basis.
https://www.vuelio.com/uk/wp-content/uploads/2018/01/Vuelio-Political-News.jpg
430
760
Thomas Stevenson
https://www.vuelio.com/uk/wp-content/uploads/2019/09/vuelio-logo.png
Thomas Stevenson
2018-03-06 09:31:17
2018-03-06 09:31:17
Today's Political Headlines - 6 March 2018