Today's Political Headlines – 7 March 2018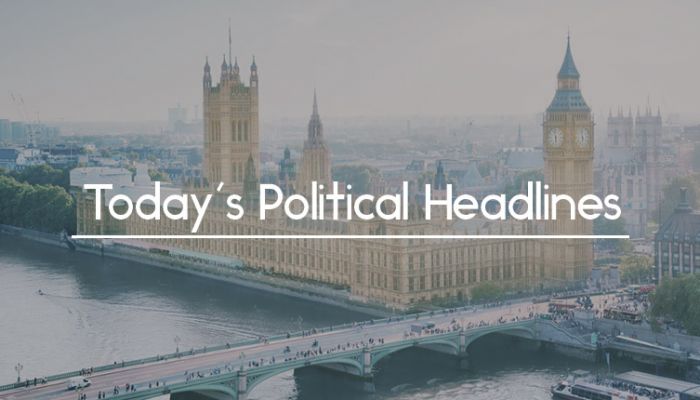 Today's Political Headlines include MI5 now investigating the Russian poisoning, the EU's dismissal of Theresa May's speech, Hammond's Brexit speech and Junk food adverts to be curbed. 
MI5 treating poisoning as assassination attempt linked to Russia
The Times claims that it has been told by 'Whitehall sources' that the suspected poisoning of the former Russian double agent Sergei Skripal and his daughter is being treated as an assassination attempt linked to Russia by MI5. If this is found to be the case, Boris Johnson has promised that the Government 'will respond appropriately and responsibly' and also suggested that British dignitaries might boycott the World Cup in protest.
EU dismisses Theresa May's speech as 'double cherry-picking'
In an exclusive, The Guardian publishes a leaked document in which the EU dismisses Theresa May's Brexit speech as 'a change in tone, but not in substance'. The analysis says that the trade model proposed by May is 'double cherry-picking' and is unworkable, and that the speech was aimed May's 'domestic audience'. The paper also says that carmakers are stepping up their warnings about the impact of Brexit, while the Daily Mail reports that Ryanair's boss has threatened to ground planes in an attempt to force a rethink of Brexit.
Hammond to give speech on Brexit and financial services
Chancellor Philip Hammond will give a speech today, telling European leaders that it is in the mutual interest of both the UK and the EU to include financial services in a free trade agreement, The Daily Telegraph says. He will warn that prices for financial services will go up without a deal. However, the Financial Times reports that Brussels and Paris will publicly rebuff May's proposals to secure the City's access to the EU single market.
Junk food adverts to be curbed
According to The Times, Theresa May is planning a U-turn on her obesity policy. She had ruled out restrictions on advertising and promotions of junk food, but new plans are now being drawn up by 10 Downing Street following pressure from Jeremy Hunt. A second child obesity strategy is now planned to be published later this year.
Nicola Sturgeon attacks former Children's Minister as he refuses to stand down
The Daily Telegraph says that Nicola Sturgeon has attacked her former Children's Minister, Mark McDonald, for refusing to step down as an MSP. McDonald has quit the SNP after an internal inquiry found that he had sent 'inappropriate and unwanted' messages, caused distress through 'unwanted attention' and abused his position of power.
Saudi crown prince starts UK visit
As the BBC reports, Saudi Arabia's Crown Prince, Mohammed bin Salman, begins a three-day visit to the UK today, during which he will hold talks with Theresa May and have lunch with the Queen. The BBC says he 'is seen by some as a modernising force' but that protests are planned against Saudi Arabia's role in the war in Yemen.
Jeremy Corbyn backs call for Wollstonecraft statue
The Guardian reports that the Labour leader Jeremy Corbyn and his deputy Tom Watson are among 40 men who have signed a letter calling for the feminist Mary Wollstonecraft to be commemorated by a statue. The letter has also been signed by Andrew Adonis and Sir Vince Cable. The paper says that Harriet Harman has welcomed the arrival of 'Tory feminist' MPs, claiming that this has the potential to boost the women's rights movement.
Government calls for tighter security on smart devices
The Daily Telegraph reports the Government will announce that smart devices must have far better security features to prevent them from being used by criminals. New guidelines and a code of practice for manufacturers are to be announced today.
Vuelio Political services can keep you informed at work, no matter what area of interest you have.
https://www.vuelio.com/uk/wp-content/uploads/2018/01/Vuelio-Political-News.jpg
430
760
Thomas Stevenson
https://www.vuelio.com/uk/wp-content/uploads/2019/09/vuelio-logo.png
Thomas Stevenson
2018-03-07 10:01:30
2018-03-07 10:01:30
Today's Political Headlines - 7 March 2018